Iran Sanctions Will Speed Up 'Multipolar World': says ex-Pentagon official
RT AMERICA / BATTLE FOR WORLD – November 6, 2018: Former Pentagon official Michael Maloof and journalist Hadeel Oueis join Rick Sanchez to share their insights to discuss the US ties with Saudi Arabia and antipathy toward Iran, the likelihood of Iran sanctions "accelerating a multipolar world order" wherein Iran looks more to China and Russia, and the role of US-Israeli relations in US foreign policy vis-a-vis Iran.
(BattleFoWorld: "The likelihood of Iran sanctions 'accelerating a multipolar world order'."  YES IT WILL!  As I have said, I do not believe that Trump is 100% aware of what he's doing. President Trump is not a natural anomaly, but some believe that he is.
The globalists are fighting Trump because he's unknowingly undoing their old financial order, and the globalists are using the Democrats to try and hinder the process. But even the Democrats will have to follow the master-plan because they have swallowed the Russian meddling bait and will not have any friends in the end.
What this midterm election will do is hasten disunity inside the United States between Republicans and Democrats; religious clashes are coming; and the resurfacing of racial tensions, etc. The corporate media and Hollywood are going to drama the people non-stop.
In the Middle-East, a powerful realignment will emerge in the interest of Russia. A new payment system is ready to go online, but waiting for the precise moment. Many things will begin to unfold after 2020. The curtain is coming down.)
END
---
Trump Gives US Treasury Powers to Impose Anti-Russia Sanctions – White House
SPUTNIK NEWS / BATTLE FOR WORLD – September 20, 2018: The article highlights that in early August, the United States announced a new round of sanctions against Russia over its alleged involvement in the poisoning of former Russian spy Sergei Skripal and his daughter Yulia in UK's Salisbury in March 2018.
The US President Donald Trump has given the Department of Treasury the authority, under the International Emergency Economic Powers Act (IEEPA), to impose sanctions on Russia, the White House said in a press release: "I have authorized the Secretary of the Treasury, in consultation with the Secretary of State, to take such actions, including promulgating rules and regulations, and to employ all powers granted to the President by IEEPA and certain sections of CAATSA [Countering America's Adversaries Through Sanctions Act] and UFSA [Ukraine Freedom Support Act] as may be necessary to carry out the purposes of the Executive Order."
(BattleForWorld: This sanction war, it's only a matter of time before it spins out of control to the point of no return, and we are getting there. Has anyone asked themselves the question if the United States is an underhand dictatorship?)
And the Treasury Department has declared that these sanctions may result in freezing all property and interest in property of sanctioned individuals, prohibitions on financial transactions transfers of credit or payments between the institutions, denial of visas and travel to the United States.
(In the "enhanced" Silent Revolution Of Truth Compilation Edition, the free PDF book: Download and read about the United States being an underhand dictatorship, page 1544. Note: Use the page number display located at top right to find the correct page. UPDATED, PDF Format – Links: Book Summary | and Download Book)
END
---
Economy Ministry: Russia Ready to Replace US As Importer to China Amid Trade War
SPUTNIK NEWS / BATTLE FOR WORLD – October 11, 2018: The article highlights that Russia is ready to increase imports to China to compensate for the decreasing supply of US goods to the Chinese market amid the trade war between the two countries, the Russian Economic Development Ministry said.
Russian Economic Development Minister Maxim Oreshkin and Chinese Commerce Minister Zhong Shan met in Beijing and discussed the prospects for the Russian-Chinese trade and investment growth, as well as the cooperation within the World Trade Organization (WTO), the press service of the Russian Economic Development Ministry said in a statement on Monday.
The Russian side has voiced its readiness to compensate for the decreasing supply of the US goods to the Chinese market," the ministry read.
END
---
US promises to 'disrupt' oil shipments to Syria, sanctions Russian & Iranian companies
RT / BATTLE FOR WORLD – November 20, 2018: The article highlights that the US has introduced sanctions against what it called a network of petroleum shipments to Syria, including Russian and Iranian companies and individuals. Washington says it wants to disrupt shipments to Syrian-owned ports.
Six individuals have been sanctioned over oil shipments to Syria, said the US Treasury Department. And three institutions have also been sanctioned.
In addition, the US Coast Guard has issued an advisory warning of "significant sanctions risks" on petroleum shipments to Syria.
The US has promised that it will "disrupt" any attempted shipments to government-owned ports in Syria.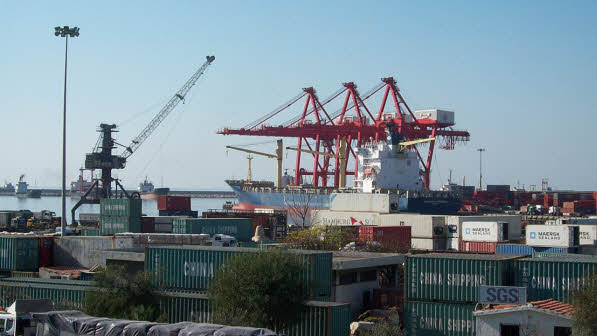 END
---
Harvesting in a trade war: U.S. crops rot as storage costs soar
YAHOO / BATTLE FOR WORLD – November 21, 2018: The article highlights that U.S. farmers finishing their harvests are facing a big problem – where to put the mountain of grain they cannot sell to Chinese buyers.
For Louisiana farmer Richard Fontenot and his neighbors who also farms, the solution was a costly one: Let the crops rot.
Fontenot plowed under 1,000 of his 1,700 soybean acres this fall (2018), chopping plants into the dirt instead of harvesting more than $300,000 worth of beans for storage and eventual sale. Because the beans were damaged by bad weather, made worse by a wet harvest. Normally, he could sell them anyway to a local elevator – giant silos usually run by international grains merchants that store grain.
But this year they aren't buying as much damaged grain and the elevators are already chock full, he said.
"No one wants them," said Fontenot in a telephone interview. As he spoke, he drove his tractor across a soybean field, tilling under his crop. "I don't know what else to do."
Across the United States, grain farmers are plowing under crops, leaving them to rot or piling them on the ground, in hopes of better prices next year, according to interviews with more than two dozen farmers, academic researchers and farm lenders. It's one of the results, they say, of a U.S. trade war with China that has sharply hurt export demand and swamped storage facilities with excess grain.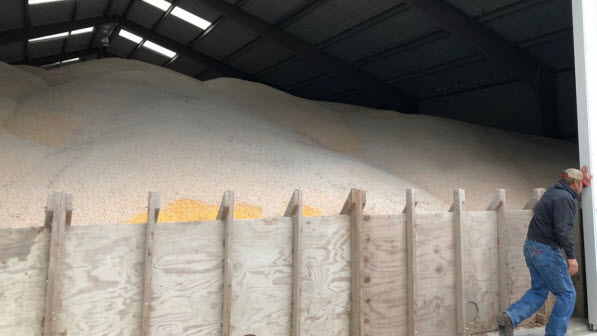 END
---
US Farm bankruptcies on the rise according to new Fed report
THE HILL / BATTLE FOR WORLD – November 27, 2018: The article highlights farm bankruptcies are on the rise in the Upper Midwest (Wisconsin, Minnesota, Montana, and North and South Dakota), according to a new report from the Federal Reserve, doubling from their recent lows in 2014, according to analysis from the Federal Reserve Bank of Minneapolis.
The report released earlier this month shows that over the same time period in 2014, 32 farms filed for bankruptcy, and the numbers have increased steadily since then, with 46 bankruptcies reported in 2015, 60 bankruptcies reported in 2016 and 67 reported in 2017.
In 2010, 70 bankruptcies were reported in the five states, but that was following the financial collapse that happened between 2008–2009 causing a brutal recession.
Financial experts fear the worst is yet to come amid falling commodity prices and the Trump administration's battles with China and other countries on trade.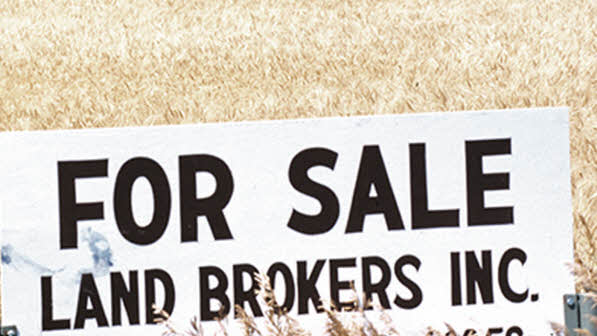 END
---
US sanctions policy against Russia undermines dollar's reserve currency position – Goldman Sachs
RT / BATTLE FOR WORLD – October 16, 2018: The article highlights that Washington's aggressive policy against Moscow could be a sufficient reason behind the recent fall of the dollar's share of global central-bank reserves, according to economist at US multinational investment bank Goldman Sachs.
Russia's Central Bank has sold some $85 billion of its $150 billion holding of the US assets from April through June after the US Treasury Department announced new sanctions on Russian businessmen, companies and government officials, says Goldman's strategist Zach Pandl said, as quoted by Bloomberg.
And: "The Central Bank of Russia likely sold a large portion of its dollar-denominated assets, and perhaps all of its US Treasuries held by US custodians, and transferred them to euro-denominated and yuan-denominated bonds in the second quarter," the economist said.
"This would account for more than half of the decline in the share of dollar reserves during the quarter."
END
---
DOJ Orders State Media to Register as Foreign Agents
WSJ – September 18, 2018: The article highlights that the U.S. Justice Department (DOJ) has ordered key Chinese state media firms to register as Foreign Agents. And that the order uses law employed in the Manafort case, and comes amid an escalating trade conflict between Washington and Beijing.
The Justice Department ordered two leading Chinese state-run media organizations to register as foreign agents, according to people familiar with the matter, as U.S. officials ramp up efforts to combat foreign influence operations and toughen their stance on a variety of China policies.
The DOJ in recent weeks told Xinhua News Agency and China Global Television Network—known as CGTN now and earlier as CCTV—to register under a previously obscure foreign lobbying law that gained prominence when it was used in the past year against associates of President Donald Trump, including Mr. Trump's former campaign manager, Paul Manafort, the people said.
The DOJ order comes as Washington and Beijing are involved in an escalating trade conflict, with China announcing on Tuesday (September 18) it would retaliate for the U.S. tariffs unveiled Monday (September 17) on $200 billion in Chinese goods.
END
---
Washington freezes Russian assets in US… EU fears repercussions
RT – August 21, 2018: Russian-owned assets in the United States worth hundreds of millions of dollars have been frozen as part of Washington's sanctions campaign against Moscow since 2013, said US Deputy Secretary of the Treasury Sigal Mandelker.
END
---
New US anti-Russia sanctions ban loans, arms exports & dual-use goods
RT – August 25, 2018: A new batch of US sanctions against Russia will prohibit issuing loans to Moscow, as well as exports of weapons and dual-use products. The sanctions package is expected to come into force on August 27.
END
---
Russian lawmaker suggests deploying nuclear weapons in Syria to respond to US sanctions
TASS – August 24, 2018: The article highlights that now Russia has to draw its own 'red lines, according to Vladimir Gutenev.
The US policy of putting pressure on Russia has crossed the "red line," and Moscow should think about an asymmetric response, such as the deployment of its tactical nuclear weapons abroad, a senior Russian lawmaker told TASS on Friday (August 24).
"I believe that now Russia has to draw its own 'red lines.' The time has come to ponder on variants of asymmetric response to the US, which are now being suggested by experts and are intended not only to offset their sanctions but also to do some retaliatory damage," said Vladimir Gutenev, the first deputy head of the economic policy committee of the State Duma, the lower chamber of the Russian parliament.
Among such measures, the official named the deployment of Russian tactical nuclear weapons in other countries, such as Syria, the use of gold-linked cryptocurrencies for Russian arms exports and the suspension of a number of treaties with the United States, including on non-proliferation of missile technologies.
END
---
The next round of sanctions against Russia includes banning their carrier Aeroflot's US flights
SPUTNIK NEWS – August 22, 2018: Russia's trade ministry has announced that Moscow has developed response measures that will offset a US ban on the export of dual-purpose goods to the country.
The next round of sanctions includes banning Russian carrier Aeroflot's US flights, limiting diplomatic ties and halting US exports. Washington said that the restrictions may be avoided if it can confirm that Russia "is no longer using chemical or biological weapons."
(BattleForWorld: The pending second wave of sanctions against Russia to target the Russian carrier Aeroflot US flights. It appears that this will be the one to keep an eye on when implemented. Scary and frighting times we are living in.)
END
---
Russia's response to US sanctions does not necessarily have to be tit-for-tat — Lavrov
TASS – September 3, 2018: The article highlights that Russia will respond to US sanctions not necessarily reciprocally, but steering clear of any harm to itself, Lavrov says.
"We will definitely respond to this and an announcement will be made in this connection," Lavrov said. "Our response will not necessarily be a tit-for-tat one. I believe that a tit-for-tat response is not always the best one," the Russian top diplomat added.
"Sanctions have been imposed based on totally false allegations. The words 'highly likely' are all the British authorities have been able to bring against Russia," Lavrov pointed out.
"We are not getting hysterical, we do not wish to respond tit for tat," he said. "We do respond to sanctions, we introduce retaliatory restrictive measures but in a way that will not be harmful to ourselves. We target specific personalities who have been accelerating this flywheel of Russophobia, which is utterly unnecessary to the Americans, Europe, or ourselves.".
(BattleForWorld: Lavrov is saying it like it is, but in code. And much of the world will not understand this.)
"I believe that the near future of Russian-US relations will be not very bright," he said. Lavrov voiced the hope that in the final count the relations would get back to the level of true strategic partners.
"When Russia and the United States are on good terms, the whole world benefits: less crises, less conflicts and more benefit to our economies," he said. "Let me remind you that we are prepared to move forward towards each other to the degree Washington is prepared to do so."
Further anti-Russian sanctions may ruin America's own financial system, expert warns
TASS – August 10, 2018: …Russian Prime Minister Dmitry Medvedev said earlier on Friday that possible tightening of the anti-Russian sanctions could be viewed as the declaration of an economic war, to which it will be necessary to respond by economic, political or other methods.
Russian PM Compares Further Anti-Moscow Sanctions to Economic Warfare
SPUTNIK NEWS – August 10, 2018: …All I can say is: if they ban banking operations or the use of any currency we will call it a declaration of economic war. And we'll have to respond to it – economically, politically or in any other way, if need be. Our American friends should make no mistake about it," he said during a trip to the Kamchatka region.
END
---
Russia sanctions bring US closer to 'point of no return' in international policy — embassy
TASS – August 27, 2018: The article highlights that the US' sanctions on Russia over Moscow's alleged involvement in the Skripal poisoning case came into effect on August 27.
Washington's new sanctions against Moscow bring the US closer to the point of no return in resolving current international issues with Russia. Besides, such measures are fruitless and futile, the message published on Monday by the Russian Embassy in Washington states.
"Washington issued another set of illegitimate one-sided sanctions against Russia. It feels like local politicians have an unhealthy craving for demolishing the fundamental basis of bilateral relations, on which rests the global security. Decisions are made with zero attempts to look into things, while ignoring our calls for dialogue, in absence of any real proof of "Russia's guilt". The U.S. mainstream media spreads absurd accusations against our country," the embassy stated.
"Political elites seem to ignore the fact that every new "seizure" of American sanctions "fever" brings the U.S. close to the point of no return in resolving pressing international issues – joint fight against terrorism and danger of WMD (weapons of mass destruction – TASS) falling into the hands of non-governmental entities," the message continues.
The embassy also noted that "Cold War scenarios, the ones the world should have forsaken 30 years ago, are now taking shape." "Instead, it turns out that no one is safe from brute pressure of Washington. Not everyone can withstand it. But Russia can," they stressed.
We do not accept Washington's hostile sanctions. They will have no effect on our determination to follow our own course in international relations. The U.S. public has to know that sanctions against Russia are futile. They meet the interests of neither Russian, nor American people," the diplomatic mission concluded.
END
---
US sanctions 'bill from hell' targeting Russian debt could backfire on Western allies – analyst
RT – September 16, 2018: The article highlights proposed US sanctions targeting Russian bonds, OFZs, will likely hurt not only Moscow, but also numerous holders of such bonds in the West, an analyst has said.
The measure was proposed by a group of US senators lead by Republican Lindsey Graham. The senator said he planned a "sanctions bill from hell" to punish Russia because "the current sanctions regime has failed to deter Russia from meddling in the upcoming 2018 midterm elections."
But the US Congress is unlikely to pass the bill, which includes restrictions on Russian sovereign debt transactions, experts tell RT.
"Cracking down on seven largest Russian state banks, the way it is described in the US bill, is unlikely. How will these banks and companies working through them settle on debt and contractual obligations in dollars with Western counterparties?" according to Peter Pushkarev, chief analyst at TeleTrade.
The US sanctions threat has sent yields on 10-year benchmark OFZ bonds soaring to two-year highs of 8 to 9 percent in August and September, while their price plunged almost 10 percent below their nominal value.
According to Pushkarev, sanctions targeting Russian debt bonds are unlikely and are only a part of an election campaign before the midterm elections in the US Congress this year.
END
---
Trade war mongers will sooner or later change their policy, says Russian official
TASS – August 22, 2018: The article highlights that "protectionism" in the global trade, which has taken shape of political sanctions and trade wars, can be stopped only by those players who initiated such policies, Maxim Medvedkov, head of department of trade negotiations at the Economic Development Ministry, said in an interview with TASS.
He expressed hope that sooner or later trade war mongers will change their policy.
"Unpredictable behavior of one of the key players in the world trading system, the growth of protectionism, in particular in forms that never occurred before, for example in the form of political sanctions, the inability of international institutions, including the WTO, to control these processes are directly and very negatively affecting the economic development in the world. Only the initiators of these policies can stop these processes – and perhaps this will happen sooner or later. The only question is when and how much the world economy will lose by that time," he said.
END
---
Russia stockpiling gold as shield from sanctions
CNN MONEY – August 22, 2018: The article highlights that Russia has been selling U.S. government debt and buying gold. A lot of gold!
And official data shows that the Russian central bank increased its holdings of gold by nearly 29 tons in July 2018, the largest monthly increase since November 2017.
Previously, the central bank added 20 tons in May 2018 and 17 tons in June 2018. Its total holdings of the precious metal have increased 37% since the start of 2016, and are now worth an estimated $76 billion.
The gold purchases have coincided with a dramatic reduction in the central bank's ownership of U.S. government debt, which plummeted 84% between March and May 2018 to just $14.9 billion. Treasuries now make up only 17% of reserves at Russia's central bank.
END
---
Boycott USA Movement Starts in Canada
WSJ – August 5, 2018: The article highlights that Canadian consumers are irritated by Trump's tariffs and bashing of Trudeau are buying Canadian; as cross-border production chains challenge boycotters.
As Canadians are ticked-off, irked by U.S. metals tariffs and President Trump's harsh words for their prime minister, are boycotting American products and buying Canadian.
"Usually we don't pay that much attention to it. …You tend to buy the products that taste good or you buy the products that are low in price where taste isn't an issue," said Garland Coulson, an entrepreneur from Spruce Grove, Alberta.
The push, is picking up speed, to buy more Canadian products—and to boycott American ones—gained strength after the U.S. levied 25% tariffs on Canadian steel and 10% on aluminum starting June 1 and President Trump called Canadian Prime Minister Justin Trudeau "Very dishonest & weak" on Twitter following a Group of Seven (G7) meeting the following week. Canada retaliated, in turn imposing tariffs on some U.S. products, including foodstuffs such as ketchup, orange juice and yogurt.
But Canadians' efforts to buy more local products often run into a conundrum. What's really Canadian? (BattleForWorld: The harsh reality of globalization over the decades where companies merged as subsidiaries to holding corporations.)
One Canadian customer said: "I'll swear up and down something is 100% Canadian," said Ms. Mouratidis, who curates a Facebook list of Canadian household goods, food products and other items. Ms. Mouratidis said she was convinced Old Dutch chips were all-Canadian until she found out Old Dutch Foods Ltd. is a subsidiary. The parent company, Old Dutch Foods Inc., is based in Minnesota, in the United States.
COMMENTS:
Reader, Profetenews: "In a global economy we don't know who is making what? There many cases for example in the automobile industry , aeronautics , computers, phones etc. …where internal components of a product are made in multiple countries and assembled in another one and the centralized banking system*1 is taking care of the transactions. To undo this mammoth economy is suicidal*2. To make it a fair trade and prosperity for all should be the ultimate goal."
BATTLE FOR WORLD: *1: That is why the banking system has to undergo changes. *2: Correct. The elites are running scared, because much of the secret plots they have been doing against the people's will have leaked out into the open.
END
---
Further anti-Russian sanctions may ruin America's own financial system, expert warns
TASS – August 10, 2018: The article highlights that the United States' new tougher sanctions against Russia may entail a collapse of the US financial system and ultimately 'bury' economic growth both in the United States and globally, a Russian expert told TASS on Friday (August 10).
"The US dollar became a world currency thanks to an international agreement. If the United States acts in respect of Russia as it has been acting in respect of Iran, and Russia is not Iran, the pyramid of the American financial system may simply collapse, burying both economic growth in America and in the rest of the world. So, such actions may be fraught with a most severe economic crisis," said Alexander Kalinin, head of the Opora Rossii association of small and medium-sized businesses.
(BattleForWorld: This has been my position all along for months about the sanction wars, that in the end, the United States will have kicked itself in the foot: What's Behind The Anti-Russian Sanctions And "Association Sanctions" Against Russia?)
Kalinin said he hopes the United States would not venture on tougher anti-Russian sanctions having analyzed their possible impacts.
The new sanctions have been announced by some notorious US congressmen. …That is why the prime minister noted – 'if they do impose.' I hope these crazy ideas of some congressmen won't be put into practice," the expert said.
Russia's financial system is strong enough to withstand the United States' new anti-Russian sanctions, if they are ultimately imposed, and Russian businesses will find other partners, primarily in Latin American and Asia Pacific countries, according to Vice President of the Russian Chamber of Commerce and Trade Maxim Fateyev.
From sanctions to economic warfare
Russian Prime Minister Dmitry Medvedev said earlier on Friday that possible tightening of the anti-Russian sanctions could be viewed as the declaration of an economic war, to which it will be necessary to respond by economic, political or other methods.
END
---
Lavrov: Excessive Use of Dollar Can Make Others Trade in National Currencies
SPUTNIK NEWS – August 14, 2018: The article highlights the Russian foreign minister working trip to Turkey, during which he will hold a bilateral meeting in Ankara on Tuesday with his Turkish counterpart Mevlut Cavusoglu to discuss burning international issues.
Lavrov has held a joint press conference with Turkish Foreign Minister Mevlut Cavusoglu after their meeting. The diplomats have exchanged views on other regional and international issues, including the situation in the Middle East and North Africa, in the South Caucasus, Central Asia, as well as in Ukraine and the Black Sea region.
Speaking at the press-conference, the Russian foreign minister said that Moscow hoped a reasonable approach would prevail in international relations and that countries would return to a depoliticized dialogue, adding that Moscow appreciated Ankara's refusal to join the anti-Russia sanctions.
I hope that objective reality will help common sense prevail and we will return to the fundamental principles laid down in the UN Charter and stipulating collective work on solving global problems while respecting the sovereign equality of states and non-interference in their interior affairs. Interest in solving numerous problems, shared by Russia and Turkey, rests upon such principles," Lavrov said.
"I have already spoken about the sanctions: they are illegal, undermine all principles of global trade and principles approved by UN decisions, under which unilateral measures of economic duress are unlawful," Lavrov said.
END
---
Ex-State Dept Official: US Domestic Economy Suffers From Sanctions 'Addiction'
SPUTNIK NEWS – August 13, 2018: The article highlights ex-State Dept Official: The United States will keep levying sanctions on Russia and other countries because of the political relief they provide even though they damage US and allied economies, former State Department Special Assistant on Soviet Policy, Nikolai Petro, told Sputnik.
The best way to think about the role of sanctions in US foreign policy is to regard it as an addiction," Petro said on Monday (August 13). "They offer the perfect escape from the real, but tedious world of diplomatic negotiation."
One should consider, Petro added, the profits US companies and all Americans have lost by not investing in Russia during the decade when it was more profitable than China and its stock market was the hottest in the world. America's own stupendous $21 trillion deficit could not have been achieved without the help of sanctions, he said.
The US inability to change the behavior of even the most "rinky-dink" nations, Petro observed, has left those in power enormously frustrated.
It [frustration] leads… to the search for compensatory mechanisms that can assuage this sense of failure, and reassure the US electorate of America's perpetual global dominance," he said. "Sanctions fit the bill perfectly."
"In reality, of course, all these services continue since there is a high demand for them in Ukraine, only now at a much higher cost to Ukrainians," Petro explained. "Therefore, to paraphrase a famous saying, when you go the route of sanctions, you should dig two graves: One for your rival's economy, and one for your own."
END
---
Russian PM Compares Further Anti-Moscow Sanctions to Economic Warfare
SPUTNIK NEWS – August 10, 2018: The article highlights that Russia's Prime Minister Dmitry Medvedev warned the United States on Friday (August 10) that sanctions it plans to impose in August over the ex-spy poisoning might be treated as a declaration of economic war.
Russian Prime Minister said that if some sort of ban on banking activities or currency ban was imposed on Russia — it would mean a declaration of economic war.
All I can say is: if they ban banking operations or the use of any currency we will call it a declaration of economic war. And we'll have to respond to it – economically, politically or in any other way, if need be. Our American friends should make no mistake about it," he said during a trip to the Kamchatka region.
END
---
'Unacceptable & unlawful': Russia slams new US sanctions imposed over poisoning of Skripals
RT – August 9, 2018: Dmitry Peskov, the press secretary of Russian President Vladimir Putin, says the use of a Russian link to recent UK poisoning incidents to justify fresh US sanctions against the Kremlin is a violation of international law.
END
---
'We won't let Washington dictate to us with whom we can do business' – German economy minister
RT – August 13, 2018: Washington cannot dictate trade rules to others, Germany's economy minister said, adding that his country should be more assertive and defy American sanctions – particularly by investing more in Iran.
END
---
Trump's trade battle with China hits home in Arkansas town
YAHOO – August 8, 2018: The article highlights that a Chinese company's announcement two years ago that it would spend more than $1 billion and hire hundreds of workers for a paper mill on the outskirts of this rural college town was seen as a much-needed shot in the arm for the region's economy.
But optimism has been giving way to concern in recent months amid President Donald Trump's escalating trade dispute with China.
The threat of a full-blown trade war has delayed the project further, prompting the state's governor to send his top economic development official to China to make sure it stays on track. It also has caused other Chinese companies considering investing in Arkansas to put their plans on hold for the moment.
It's like a dark cloud hanging over the future of the project," said Stephen Bell, the president and chief executive officer of the Arkadelphia Area Chamber of Commerce. "Right now, the clouds are off on the horizon. But I think no one knows where the trade situation is going right now."
The article noted that Trump's trade dispute has squeezed U.S. states and communities in at least two ways: It has slowed direct investment, as in Arkansas, and the retaliatory tariffs imposed by other countries have made it harder for local farmers and manufacturers to sell abroad.
END
---
Trump Tariffs See Beijing Use Economic 'Precision Strikes' Against US Brands
SPUTNIK NEWS – August 5, 2018: The article highlights the ongoing trade row between Beijing and Washington escalated in April after the US slapped 25- and 10-percent tariffs on steel and aluminum imports, respectively, from China. The Asian nation has now hit back by slapping reciprocal tariffs on a number of US imports, as US companies in China – reporting higher costs – begin to feel the heat.
According to the South China Morning Post (SCMP), one US manufacturer of mechanical equipment spare parts revealed that duties are expected to increase the cost of purchasing products from its China operations by $6 million.
We are one of those who have been hit by a 'precision strike,'" a Chinese executive in the company's Beijing office told SCMP on Sunday.
Because China imports less products from the US than the US imports from China, Beijing has vowed to institute "qualitative" measures in attempts to survive the tariff game.
END
---
Iran to Ease Currency Exchange Regulations Ahead of US Sanctions
SPUTNIK NEWS – August 5, 2018: The article highlights that the new rules by Iran will allow exchange offices to buy and sell hard currencies, among other assets.
The country of Iran has announced a relaxation of foreign exchange rules ahead of US sanctions that will target Iran's purchase of US dollars, trade in gold and precious metals, coal, cars and industrial-related software, according to media reports.
New US sanctions against Tehran will come into effect Monday (August 6). And the Central Bank of Iran announced Sunday (August 5) it will open currency markets, allowing exchange office to buy and sell hard currencies for purposes such as foreign trade.
"We are in conditions similar to an economic war," said Central Bank governor Abdolnaser Hemmati on state television, cited by Reuters.
END
---
Pompeo Vows to 'Enforce' US Sanctions Against Iran
SPUTNIK NEWS – August 6, 2018: The article highlights that the US Secretary of State Mike Pompeo said Sunday that the United States would "enforce the sanctions" it is reimposing after US President Donald Trump pulled out of the 2015 nuclear deal.
Mike Pompeo said that increasing pressure on Tehran was meant to "push back against Iranian malign activity," adding that Iranians "are unhappy with the failure of their own leadership to deliver the economic promises that their leadership promised them," Pompeo was quoted as saying by AFP.
"The United States is going to enforce these sanctions. We're going to enforce these sanctions. Just go look at the reporting on what's taking place.  The Iranian people are not happy – not with the Americans, but with their own leadership," Pompeo said at a briefing in response to a question on whether Iran would be able to break the US restrictive measures, as quoted in the statement of the US State Department.
And that: "This is just about Iranians' dissatisfaction with their own government, and the President is pretty clear, we want the Iranian people to have a strong voice in who their leadership will be," Pompeo quoted as saying according to AFP.
END
---
EU to Block US Anti-Iran Sanctions Starting August 7 to Defend Business
SPUTNIK NEWS – August 6, 2018: The article highlights that the EU foreign policy Chief Federica Mogherini noted earlier this month that the bloc intended to step up trade and cooperation with Tehran, despite US sanctions.
Federica Mogherini and foreign ministers from the UK, France, and Germany said in a statement that their counties would keep "effective financial channels" open with Iran, adding that they "deeply regret" that Washington had withdrawn from the Iranian Nuclear Deal and re-imposed sanctions on Tehran.
"This is why the European Union's updated Blocking Statute will enter into force on 7 August to protect EU companies doing legitimate business with Iran from the impact of US extra-territorial sanctions," the statement reads.
The statute will forbid European businesses from complying with the US sanctions, nullifying any foreign court rulings against them and allowing them to recover damages from the penalties.
END