Published By The Battle For World Supremacy – Version 1.01
May 11, 2016 – Updated July 26, 2016
BATTLEFORWORLD – May 11, 2016 – News Intel: On behalf of the U.S., Israel, England and Saudi Arabia, 17,461 al Qaeda (ISIS, Daesh) and IS (Islamic State) sleepers, mind-programmed for violence, have sneaked in with the flow of migrants into Europe. And at the opportune time Europe can expect acts of terrorism. The western secret services have thus far denied that this has happened.
"FIGU – Contact Report #642 – January 30, 2016
Meier: You have told me at our previous meeting on January 6 that you are about to clarify how many al Qaida and IS sleepers have sneaked in with the flow of migrants into Europe.
Ptaah: This evaluation was carried out, in fact the investigation lasted until January 20, but we still continue on with it. We identified 17,461 persons that are directly connected with the IS and the al Qaida terror organization that should be designated as so-called sleepers.
Meier: Then Europe can indeed expect quite some acts of terrorism. But when I spoke and wrote that killers of the terror organizations IS and al Qaida are smuggled into Europe with the flow of migrants then it only earned laughter and the secret services even denied that this was the case."

Meier had asked Ptaah in one of the early contacts if he thinks that radical Islam could spread to Europe. Ptaah said at the time that the possibility exists, but publicly he never said how such a possibility could unfold. Would the Europeans be so stupid as to accept radical Islamic immigrants into their country? The way the penetration is being done, using fleeing refugees, is very stealthy, where the European countries do not have much say in the matter, being forced by their darling European Union dictatorship assembly. (Download this PDF and read about the "EU Dictatorship", "the Zionist Angela Merkel" and "European Union Hostility Modern Dictatorship; Not Democracy" pages 367, 529 and 582: Link: > Download From Here – MediaFire )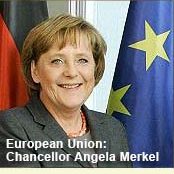 And Angela Merkel, a Zionist with an Israeli passport, is being ordered by the ruling elites (old wealthy families – Rothschild, the British Crown, Rockefeller, secret societies, etc.) to start a world war in Europe against Russia.

(Filed on September 5, 2015 – Writer: America has threatened Europe, that if Europe was to become friendly with Russia, that Europe would be destroyed. Not by (regular) war, but from Radical Islam Civil Wars.
Behind the scenes, Russia and (the bellicose elite faction in) America are feuding.  Russia knows why the U.S.-U.K.-Israel-Saudi created ISIS. ISIS (Daesh, IS, al Qaeda, etc.) is being used as a geopolitical virus. America told Europe that if it got too friendly with Russia, it was going to unleash refugees into Europe. This would be followed by terrorist acts inside Europe to tear Europe apart.
Russia has warned America that they will not allow ISIS to expand upward into Europe and Russia, and that America must get serious with destroying this ISIS, and if not Russia will. So, it is up to America to get serious with ISIS, if not Russia is going to step in officially to stop ISIS.)
The Elites are not the problem, the Population is, said German President Joachim Gauck. This opinion is coming from the Elites. The Terror War spreading on the planet is supposed to help decimate much of the population. The refugees are being used for a purpose. This is all preplanned to work against the people. [ And the author Samuel P. Huntington wrote a book that was published in 1996 on behalf of the Ruling Elites called: The Clash Of Civilizations ] The Elites are still using parts of the old plan, clearing the planet for the pending colonizers that no longer exist.
German text: Jedoch, wie Bundespräsident Gauck, sagt: "Die ELITEN SIND GAR NICHT DAS PROBLEM. DIE BEVÖLKERUNGEN SIND DAS PROBLEM !!!" Link: Video Reference
Future-Europe 2020 resembles Circa 700 A.D., Islam
"Glimpse into future-Europe 2020 resembles Circa 700 A.D. when cities and population centers were run by barbarians, thugs, warlords, marauders, pirates who engaged in rapes, looting, pilfering, enslaving, burning, and killing. Modern, advanced, secular, beautiful Western Civilization is being replaced with medieval, immoral, backward, cultic, filthy Arabian and Middle Eastern barbarity and it's coming sooner than you can say 'Allahu Akbar'. It's only logical that the cancer should be contained before it metastasizes. The sooner the disease is dealt with, the better the prognosis."
References – Links:
[ 'Merkel has lost contact with real world,' German politician who left her party tells RT | ISIS sends new waves of terrorists to attack Europe… | Germany to Call for Stockpiling Food, Water Fearing Catastrophic Terror Strike | Secret File Confirms Trump Claim: Obama, Hillary 'Founded ISIS' to Oust Assad | Captured Ukrainian infiltrator testifies he planned to blow up air hub, bus station in Crimea Show More
END