Israel President: Climate of Vicious Hatred Could Spark Assassination. Israeli Jewish Factions at War
BATTLE FOR WORLD / JERUSALEM POST | November 13, 2019: It appears that factions of Israeli Jews are feuding over the country's future, and President Reuven Rivlin broke his silence while speaking at the Ner Yitzhak ceremony which marks the official beginning of a series of annual memorial events on the anniversary of Rabin's death on Sunday (November 10) saying: …Vicious hatred could spark political assassination.
(BattleForWorld: As if the Likud Party [Zionist fanatics] is threatening the Labor Party?)
That the climate of vicious hatred and provocation caused from opposing political ideologies (Netanyahu's Likud Party and the opposition – the Labor Party), which is now spreading through Israel and permeating into the next generation and could trigger another political assassination, said President Reuven Rivlin and Dalia Rabin, the daughter of slain prime minister Yitzhak Rabin.
At the Rabin Square in Tel Aviv, a massive memorial rally is held annually on the Saturday night closest to the anniversary of the murder, dated according to the Gregorian calendar.
Israel's former deputy defense minister Dalia Rabin, about conspiracy theories regarding her father's assassination, said: In the past she ignored them, but that the present circumstances has compelled her to respond that her father was killed by a Jewish person who was spurred by a different political ideology.
Dalia issued a warning that the nation of Israel should wake up before it's too late. And Rivlin points to social deterioration into hatred, provocation and bloodshed that followed Rabin's assassination, and it's important not to to ensure that such a phenomenon occurs again – especially on the grounds of political ideology.
Rivlin said that we must not forget the social deterioration into hatred, incitement and bloodshed that preceded Rabin's assassination, and to do everything in our power to ensure that such a phenomenon never occurs again – referring to Israeli political ideology hostility.
And emphasized that: "This is not our way; this is not the way of the people of Israel," he declared. "We have to be cognizant of the destruction we could wreak with our own hands."
(In the Silent Revolution Of Truth, Compilation Edition, Volume 1, "enhanced", the free PDF book, and read about the last decisive sign for the breakout of the Third World-Fire (the Third World War), page 1484. Note: Use the page number display located at top right to find the correct page. Free book, PDF Format – Links: Book Summary | and Download Volume 1 Book )
(In the Silent Revolution Of Truth, Compilation Edition, Volume 2, the free PDF book: Download and read about the power of Israel would be broken, her cities destroyed and her people dispersed to the four corners of the Earth, page 262. Note: Use the page number display located at top right to find the correct page. Free Book, PDF Format – Links: Book Summary | and Download Volume 2 Book )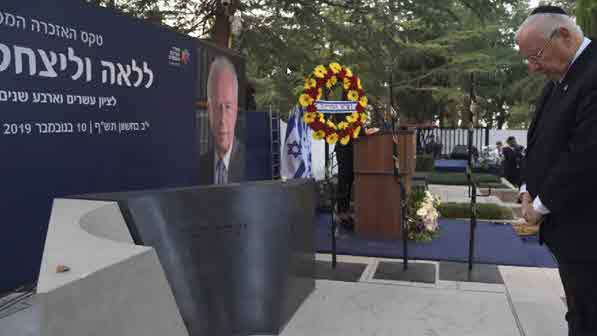 President Reuven Rivlin at the Rabin Square in Tel Aviv.
END
---
This is Time of Great Unease for US Jewish Community, Rabbi Says
BATTLE FOR WORLD | September 1, 2020: Jewish communities around the United States are feeling unease due to the burden from the coronavirus pandemic, social polarization from the approaching 2020 presidential race, and Black Lives Matter protests, all causing a great challenge for Jews, says Rabbi Abraham Cooper as he mentioned a recent anti-Semitic incident in Los Angeles, California.
Where on August 22 an anti-Semitic message was written on three banners saying "Honk if you know", "the Jews want a race war", and "GoyimTV.com" – spotted hanging on the overpass of the 405 Freeway in Los Angeles. The ADL posted a photo of the incident on Twitter.
Rabbi Cooper noted that after the hateful signs were spotted on the bridge, the Los Angeles officials were contacted "and within a relatively short period of time it had been removed".
He further stated with emphasis that "Nonetheless, it is extremely distressing to see the overt public display of Jew hatred manifest in so many different ways in this time of great, I would say, unease and concern not only in Los Angeles and the United States, but across the world because of the pandemic". And said "So, [they are] using the horrific anti-Semitic stereotypes, updating it to the current situation, repeating the big lie and denigrating the Jewish community".
(BattleForWorld: In the United States many saw the appearance of groups like Black Lives Matter, Antifa, etc., which have heightened racial tension  and civil unrest, etc. across the country. These groups do not appear on their own like that, because always, there are hidden hands, using these groups to incite things already planned. And anti-Semitism uprising will follow the same pattern like these groups. Always, always, it is the innocent who will be victimized to stir up incitement for the corporate media to hype, and the innocent ones have no idea that the hidden hands are now engaged in a secret faction war inside the US…which is going to spillover into the pubic in all directions. – People just don't wake-up being hateful and want to riot.)
(In the Silent Revolution Of Truth, Compilation Edition, Volume 2, the free PDF book: Download and read about anti-Semitism, which ultimately leads to anti-Zionism, which aims at Israel on one hand and the Jewish population, page 751. Note: Use the page number display located at top right to find the correct page. Free Book, PDF Format – Links: Book Summary | and Download Volume 2 Book )
END
---
Republican megadonor Sheldon Adelson cuts off Trump?
BATTLE FOR WORLD | August 8, 2020: Immediately after the explosion in Beirut President Trump said his generals told him, based on the explosion footage, that it was a bomb and an attack. (BattleForWorld: When Trump said that, a change was on the way. It says that Trump is slowly giving up trusting the Zionist faction in America. Two of the powerful Zionist gatekeepers in America are Sheldon Adelson and Alan Dershowitz.)
President Donald Trump in a phone call last week with Republican megadonor Sheldon Adelson – who donated millions of dollars to his 2016 presidential campaign – to which most likely favors for Israel were attached to the large donation sum. And election time is coming up again and some are saying the only person in the Republican party who can cut a nine-figure check to aid Trump's reelection is Adelson.
According to Politico: The phone call between Trump and Adelson took an unexpected turn to that of contention. (BattleForWorld: The question is asked – did Adelson attached favors in return for the new stash of donation money for Trump's reelection? Did Adelson request the closure of the Jeffery Epstein case and freeing Ghislaine Maxwell? And did Trump reply, no?)
But the Politico article said the casino mogul called up Trump to talk about the coronavirus relief bill and the economy. But Trump changed the conversation to the reelection campaign and asked Adelson about why he wasn't doing more to support his reelection, confirmed by three people with direct knowledge about the call. (BattleForWorld: This sentence exposes arrogance regarding what the source said.) "One of the people said it was apparent the president had no idea how much Adelson, who's donated tens of millions of dollars to pro-Trump efforts over the years, had helped him. Adelson chose not to come back at Trump."
And that Republican leaders are now pleading to billionaires for help. Trump advisers are hoping for new outside groups to form, and the White House is eager to see what Adelson, who has given hundreds of millions of dollars to Republican super PACs over the past decade, will do. (BattleForWorld: Adelson giving all these millions to the Republican or Democratic parties, you can be sure favors to further the interest of Israel are attached. Adelson's loyalty is to expand the influence of the family international order. Readers, this is not democracy, it's an oligarchy. It is the oligarchies who shutdown American factories and moved them to other countries, all in the name of more profits. China did not do that. – Most likely what little democracy that was left in the United States ended after John F. Kennedy was assassinated.)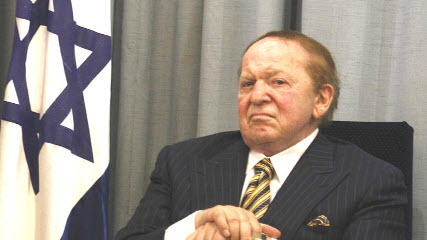 Casino mogul and billionaire philanthropist Sheldon Adelson.
END
---
Netanyahu blames Washington for stalled West Bank annexation, says Trump 'busy with other things'
BATTLE FOR WORLD | August 11, 2020: Israeli Prime Minister Benjamin Netanyahu has been frustration over stalled plans to annex the West Bank and blames the hold-up on Washington DC reluctance to approve the plan. And in August said he's waiting for Trump to give the signal to "apply sovereignty" to the West Bank.
And said: "It was clear from the start that the application of sovereignty would be done only with agreement from the United States. Otherwise, I would have already done it a while ago."
Netanyahu also claimed that the US President Donald Trump was "busy with other things" and that "issues of importance to Israel" were not a top priority for the Trump administration at the moment.
The annexation of the West Bank is part of Trump's 'peace plan' for the region, and was originally marked to begin in July (2020). The White House plan would have Israel absorb 30 percent of the occupied territory it captured from Jordan during the 1967 Six-Day War. With the rest of the West Bank to be governed by Palestinians, however with security and border policy decided by Israel.
However, at the moment, the Trump administration is reportedly unwilling to give final approval to push forward with annexation.
(BattleForWorld: The Zionists and the Bolsheviks in the United States are turning up the heat on Trump. News on August 11 surfaced that US Court sets deadline for Trump to submit DNA in defamation case over alleged rape. And also on the same date is the news headline that Ghislaine Maxwell has been 'taken off suicide watch' – indicating some type of secret breakthrough occurred.)
Source, RT.
END
---
President Donald Trump gives warning in speech – "I have a lot of enemies out there…this maybe the last time you'll see me"
BATTLE FOR WORLD | August 7, 2020: President Donald Trump visited the Whirlpool Corp. Manufacturing Plant in Ohio on August 6 and said the following:
"…Represented for a change, but during the course of the next four years we will bring our pharmaceutical and medical supply chains home. We are going to bring them home where they belong, and we are going to end reliance on China, just like we did with the washers and dryers; just like we did with many other things. …And support advanced manufacturing processes that will keep our drug prices low and allow American companies to compete on the world's stage. …We are now going to have the lowest prices as to opposed to by far highest prices. I have people that I know that go to Canada to buy prescription drugs…, because the prices are so much lower than the United States, and yet it's made by the same company, often in the same plant, it's a disgrace. And the politicians allowed this to happen for many, many decades. You have people called "middle-man". I don't know who the middle-man are, I don't know; they never say middle-woman, so they are politically not correct. But I have learned the term "middle-man" for a longtime. They are so wealthy…nobody has any idea who the hell they are or what they do. They make more money than the drug company, in all fairness at least the drug companies have to produce a product; it has to be a good product. But the middle-man, well the rebate that I'm doing cuts out the middle-man and reduces cost and the money goes back to the people purchasing the drugs. SO, I HAVE A LOT OF ENEMIES OUT THERE, and this maybe the last time you will see me for awhile. A LOT OF VERY, VERY RICH ENEMIES, but they are not happy with what I'm doing. But I figured that we have one change to do it and no other president is going to do what I do. No other president would do a favored nations, a rebate, a buy from other nations at much less cost, nobody. And they're a lot of unhappy people and they're very rich people."
"Here's my fourth promise to the American worker, beyond our medical supply chains over the next four years we will launch over millions of manufacturing jobs across many other critical sectors that are vital to our national security and prosperity – from electronics, to machine tools, to shipping aerospace autos and of course to iron and steel, and we will never forget your washers and dryers, OK. …"
President Donald Trump speaking at the Whirlpool Corp. Manufacturing Plant in Ohio.
END
---
Netanyahu wants war with Lebanon now! Warned Hezbollah in 2018 about a Missile Site in Beirut Warehouse
BATTLE FOR WORLD | August 5, 2020: The Israeli Trampel-Tramp, i.e., the ruthless-noisy Prime Minister Benjamin Netanyahu was at the United Nations in 2018 in which he delivered a speech warning about three missile sites in Beirut. One of the locations he tagged, "site 1", in the photo map was where the massive explosion occurred on August 4.
Now, fingers are pointing at Israel as the highly likely suspect who smuggled bombs into Beirut and set them off.
It appears, for this to have happened, an intermediary was paid a very hefty sum to stand down and let the ammunition in, to make the event happen.
President Trump said his generals told him, based on the explosion footage, that it was a bomb and an attack.
Countries around the world are offering aid to Lebanon, Russia and France have been sending emergency aid – military planes with personnel and equipment to the region.
TruNews, Rick Wiles: Several years ago on September 27, 2018, Israel publicly declared the port of Beirut to be a potential target. (After the Beirut explosion:) Hassan Nasrallah, head of Hezbollah, has threatened to blow up Israel with the same chemicals used in the Beirut blast. – A preemptive attack, if that's where Israel is going, Netanyahu must be arrested as a war criminal. Look at the destruction, a devastation on an urban area with women, children and senior citizen. You cannot let any government get away with something like that. If Israel did it, if they actually carried out an attack on downtown Beirut, they have to be held responsible. That's something like what Hitler would do. Who would blow up an urban area? A monster.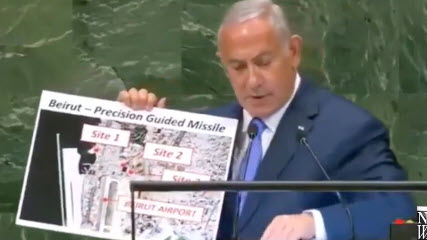 Netanyahu at the United Nations in 2018.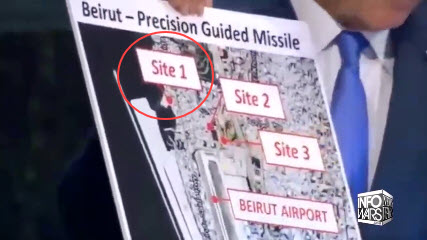 Netanyahu at the United Nations in 2018.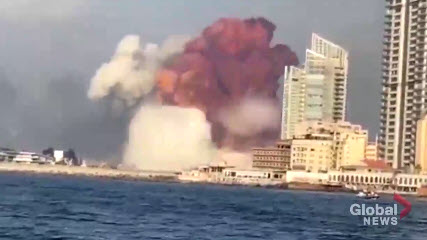 Explosion in Beirut on August 4, 2020.
Netanyahu pointing at the site.
END
---
Russia for the first time warned Israel about strikes against Syria

BATTLE FOR WORLD | August 6, 2020: As the world saw another provoked strike on Syrian territory by the IDF, the incident has angered Russia, with military brass hinting that no longer will they hold back the Syrian military from retaliatory strikes against Israeli Air Force fighters and retaliatory missile strikes on the territory of this country. The Ministry of Foreign Affairs of the Russian Federation issued a special statement on this matter directly warning Tel Aviv.
"Moscow opposes Israel's air strikes on Syrian territory and warns Tel Aviv against such actions in the future," in a released statement by the Information and Press Department of the Russian Foreign Ministry. "We warn the Israeli leadership against repeating such steps, fraught with dangerous consequences for the entire Middle East region," said the ministry. Earlier it became known about the Israeli aviation strike on the settlements of Syria in the province of Al-Quneitra, where at least four people died", reported the Russian publication 'Gazeta.ru'.
Source, Avia-pro.

Syria's air defenses shooting down Israeli missiles.
END
---
BATTLE FOR WORLD | July 31, 2020: According to the creator Itay Zalait of "The Last Supper", an exhibit on display in central Tel Aviv square showing Prime Minister Netanyahu sitting by himself at a supper feast, depicting the last minutes to save Israeli democracy.
Tel Aviv residents woke up Wednesday (July 29) to a strange display: a pop-up exhibit showing a life-sized statue of Israeli Prime Minister Benjamin Netanyahu enjoying a lavish meal served on a sprawling table all by himself, in a satire of Leonardo da Vinci's "The Last Supper".
The display in Tel Aviv's central Rabin Square is the latest protest in the summer of demonstrations against Netanyahu. In recent weeks thousands of people have taken to the streets calling on Netanyahu to resign, as anger grows over his incompetent response to the economic crisis caused by the coronavirus and depicting him as an egomaniac out of touch with common people.
Miri Regev, the Israeli transportation minister, denounced Zalait's latest public exhibit as incitement to violence.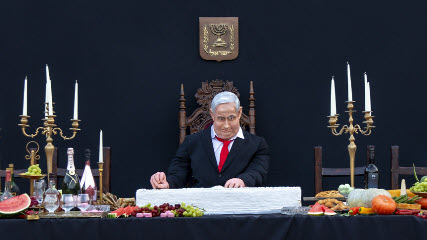 Artist takes aim at Netanyahu with life-size Last Supper statue.
Source, Times Of Israel.
END
---
Rivlin warns: Murder of Netanyahu or protestor no longer imaginary
BATTLE FOR WORLD | July 30, 2020: President Reuven Rivlin of Israel warned on Wednesday (July 29) saying: "I want to say clearly, given the violent developments over the last day: The murder of a demonstrator who goes to protest in the State of Israel, or the murder of an Israeli prime minister, are not imaginary scenarios," and that "God help our democracy if people start to kill each other." In an announcement after protesters were violently attacked in Tel Aviv the night before by far-right activists.
A group known as PEACE NOW, an NGO promoting a two-state solution for the Israeli-Palestinian conflict, has posted on Twitter, claiming that the attackers were associated with the far-right group La Familia, known to be violent in past conflicts due to political differences.
In a post on Twitter the group said: "Last night pro-Likud thugs from the La Famiglia group attacked a protesters in Tel Aviv with glass bottles and pepper spray. The picture below shows longtime Likud Minister Miri Regev posing with such racists."
Source, Jpost.
And Haaretz is reporting that: The far-right Israeli extremists hunt for 'Antifa A-holes' at anti-Netanyahu protests.
TruNews: What is going on in Israel now is Jew on Jew violence, and so Israel is entering into a state of civil unrest like what is going on inside the United States. Yet the government of Israel is trying to convince other countries that "Israel" is the shining example of democracy in the Middle-East. This is said every time the United States gives money and military aid to the country. According to some, Israel is turning into a failed state, it is collapsing. It was built on blood and violence. … You have to get your head wrapped around this one, about Antifa is in Israel now. …They have always been in Israel, because Antifa is a creation created by "anti-fa-scist", hence the name. And first started as a Jewish organization. At the time you had the fascists from out of socialism, fighting the communists for the control of a worldwide movement. Don't let the media and academics misinform you about history. The fascists were socialists who were clashing with the communists. …What are the odds today that Antifa has the same roots? It's very high. Antifa is in Israel today, how could this be, did they leave Portland in the United States and go to Tel Aviv to joint the fight? Is it also possible that they left Tel Aviv and went to Portland? The United States imports many of Israel's tactics, like the police putting the knee on the neck when arresting someone. Paid for by the ADL, said the host Rick Wiles. …
(In the Silent Revolution Of Truth, Compilation Edition, Volume 1, "enhanced", the free PDF book, and read about the last decisive sign for the breakout of the Third World-Fire (the Third World War), page 1484. Note: Use the page number display located at top right to find the correct page. Free book, PDF Format – Links: Book Summary | and Download Volume 1 Book )
(In the Silent Revolution Of Truth, Compilation Edition, Volume 2, the free PDF book: Download and read about the power of Israel would be broken, her cities destroyed and her people dispersed to the four corners of the Earth, page 262. Note: Use the page number display located at top right to find the correct page. Free Book, PDF Format – Links: Book Summary | and Download Volume 2 Book )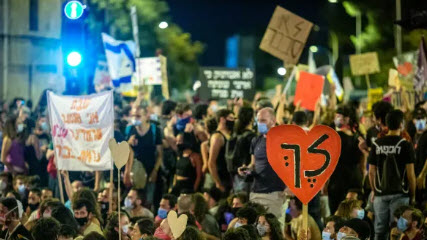 An anti-Netanyahu protest outside the prime minister's residence in Jerusalem, last Saturday. Credit: Emil Salman
END
---
Will Netanyahu win Prime-Ministership of Israel in the Third Reelection Attempt?
BATTLE FOR WORLD | January 9, 2020: It is the motto of the neocons to call for elections and if they don't win, to repeat again. This bunch will do anything to stay in power.
In several months time Israelis will go to the poles again to cast their votes to elect a new prime minister. And the third attempt could be the one that elects Netanyahu officially as prime minister of Israel.
Him winning the election, voices in the background are asking, will this be an omen for Israel? Because the political factions in Israel are not a monolith and some do have opinions and grievances with Zionism.
Will the world see Israel again engulfed in a political schism, a repeat of Rabin?
Some voices in Israel would rather Netanyahu bow out from Israeli politics, but he's impelled to stand the course to deliver whatever it is that he's so determined to accomplish for the elites.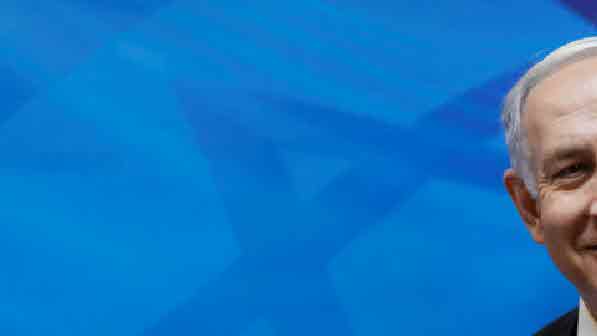 Prime Minister Benjamin Netanyahu.
END
---
Case against Netanyahu includes billionaire witnesses
BATTLE FOR WORLD / AP | December 3, 2019: Israel's Attorney General Avichai Mandelblit on Monday (December 2) officially submitted the indictment of Prime Minister Benjamin Netanyahu on corruption charges, detailing a sweeping case involving over 300 people, including a number of well-known billionaires that could be called to testify.
The parliament's legal adviser issued a notion that could give the prime minister several months to seek immunity from the Knesset, delaying trial, which raised the likelihood that the people of Israel could be heading to the election polls for the third time in a year.
Helping Netanyahu, the conclusion by the courts would not receive the indictment until after a ruling on immunity, possibly putting any trial on hold for months.
Some of the charges against Netanyahu include accepting $200,000 in gifts such as cigars and champagne from two billionaires, Hollywood-based Israeli movie mogul Arnon Milchan and Australian tycoon James Packer.
And the court ruling also gave Netanyahu another reason to allow the parliament to dissolve next week. The decision regarding a new election would allow him additional time in office and also give him the opportunity to secure a more sympathetic parliament.
END
---
Netanyahu defiant – as Israel on the edge of political chaos. US to strike Iran
BATTLE FOR WORLD / RT | November 23, 2019: Prime Minister Benjamin Netanyahu calls the charges against him an attempted coup.
(BattleForWorld: The message that is obvious is that factions of Jews in Israel and abroad are feuding over the country's future. You have the Zionist faction backing Netanyahu, who wants him to stay in power, and you have the opposing faction of Rabin pushing back, not wanting the Zionists to push Israel over the edge to bring about the final deciding judgement of an all-out World War 3, because the Zionist power block in America and Israel are now actively pushing, provoking Iran, for the United States to launch a military strike. The Zionists are determine that Netanyahu has to be Prime Minister when this event eventually materializes.)
Meanwhile, in the United States, President Trump shadowed by the disguise of a coup by the Zionists, his feet being held to the fire by impeachment to carryout a strike on Iran.
The Israeli newspaper Haaretz called Netanyahu "a self-absorbed tyrant". And it becomes evident that a faction of opposing Jews see the great darkness ahead for Israel if Netanyahu remains in power and want him out.
Segments of Israeli citizens are talking about protests and boycotts against Netanyahu, instead of voting in a third election.
Related articles:
1. Israeli Opposition Warns Netanyahu Against 'Empty' Allegations on Iran Nukes
2. Iran Deal: Trump 'Acts On Orders From Israeli Lobby In Washington'
3. Will Israel be able to convince President Trump to support bombing raids on Iran?
4. Bolton: Trump Told Me Iran Will Pay a Price if It Does Anything Negative
5. NATO chief says alliance won't aid Israel if Iran attacks
6. Israel, US' Arab Allies Pushing for Washington-Tehran Confrontation
7. Israel Using 'Planned Provocations' to 'Get the US into a War With Iran'
8. Report: Trump White House Examines Plan To Spark Iran Regime Change
9. 'Pandora's Box': Macron Warns US Exit From Iran Nuclear Deal Might Mean War
10. 'No Evidence of Iran Financing 9/11 Attacks Was Shown in the Case' – Writer. What they did to President Bill Clinton
END
---
Netanyahu charged in corruption cases, deepening Israeli political disarray
BATTLE FOR WORLD / NEWS TRUST | November 21, 2019: After many months of suspense by the Israeli Attorney General Avichai Mandelblit, on Thursday (November 21), Prime Minister Benjamin Netanyahu was charged with bribery, breach of trust and fraud. The criminal indictment is likely to plunge Israel deeper into political disarray.
The decision announced was the first of its kind against a serving Israeli prime minister, representing a serious crisis in the political career of the man popularly known as "Bibi" who has shaped and implemented Zionist policies with Israel attacking its neighbors (Syria, Iran, Lebanon, Palestine, etc.), which has led to thousands of death and bloodshed, as the United States gives its support.
Serving as prime minister since 2009 he has dominated Israeli politics and during the investigations denied wrongdoing in three corruption cases and referred to allegations as a political witch hunt and that he was the victim.
No immediate threat to Netanyahu from the indictment is foreseen to disrupt his decade-long hold on power, but his grip was loosened by elections in April and September (2019), from which neither the right-wing Likud leader nor centrist challenger Benny Gantz secured a governing majority. Both candidates failed to form a new government and the stalemate sets the stage for a possible third election within a year. And as possible new election looms, Netanyahu could secure parliamentary immunity from prosecution.
Netanyahu will remain as prime minister and is under no legal obligation to resign once charged. The opening trial as a result of the indictment could be delayed for months.
"These are harsh dark days in the annals of the State of Israel," President Reuven Rivlin said.
The prolonged political dark cloud continues to set over Israel as domestic and international challenges remain.
What Netanyahu could be hoping for is to widen conflict with arch-foe Iran, pulling President Trump along into war.
But in the Jerusalem Post are words to Netanyahu: "It is time to step down".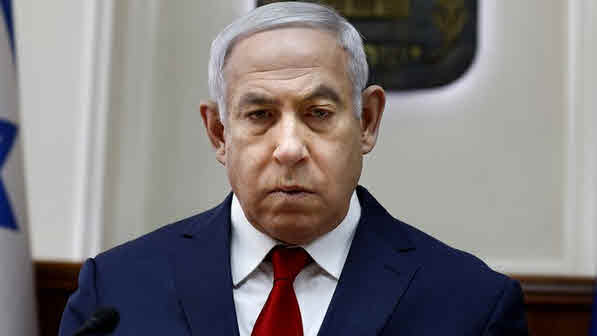 Prime Minister Benjamin Netanyahu corruption case.
END
---
Ultra-religious community growth existential threat to Israel
BATTLE FOR WORLD / RT | November 18, 2019: From the introduction of the Balfour Declaration plan recognizing the Sate of Israel, the country has been embroiled in decades of conflict as the Palestinians see what remains of their land taken away.
But now Israel is facing the threat of economic demise, if current demographic trends continue unchanged. An Israeli think-tank has issued a stark warning, saying that the country's growing ultra-Orthodox population is at the heart of coming problems.
The focus is on the current generation of ultra-Orthodox students in school as many are not signing up for subjects such as English, math, science, etc. And with more then 1 in 3 uneducated in secular subjects, Israel's future economy looks bleak as some of the ultra-Orthodox students are unemployable as adults. And Israel in the year 2020 will have a quarter of its student population unable to work and this will be a threat to Israel's future.
A rabbi noted that religious people don't need an expensive car, a huge house, etc. as they are more happy with the modest things in life.
Israel is one of the world's most danger regions as it requires a first world economy to sustain a modern effective army to continue existing.
END
---
'Fed Up' Likud Voters May Oust Netanyahu to Avoid Third Israeli Election
BATTLE FOR WORLD / SPUTNIK NEWS | October 1, 2019: Israel's Blue and White Party, led by Benny Gantz, announced on Wednesday (Sept. 2) that they would not meet with negotiators from Prime Minister Benjamin Netanyahu's Likud party on the day originally planned, reason given was that conditions for a productive meeting among the negotiation teams were not achieved.
Political analyst Mitchell Plitnick appeared on Radio Sputnik with some insights:
"First of all, I was [surprised] at how many people seem to think that a third election was not possible, that there was going to be a clear path for someone to form a government at the end of this. The polling numbers never suggested anything of the kind – not even close," Plitnick commented to hosts Eugene Puryear and Sean Blackmon, and noted that neither Blue and White nor Likud had a chance of reaching the 61-seat majority necessary to form a government.
Further commenting that "the real question is: is Likud going to rise up and vote Netanyahu out of the leadership, which would then open the door for that unity government? Right now, that can't happen. Netanyahu's support remains too strong within the party, but I think if it starts to become apparent that there's going to be a third election, and I think most people are not really considering that possibility … if people sense that more and more Likud voters are going to go to other parties, they may rise up against Netanyahu," said Plitnick, and that such a scenario may actually make justice for Palestinians even more challenging.
(BattleForWorld: Others have suggested that if Netanyahu and Gantz managed to form a coalition government taking turns sharing the Prime Minister position, the possibility exists that Netanyahu could instigate dirty tricks to get rid of Gantz. The word is that Netanyahu is not to be trusted. And he's determine to be at the helm when the United States is finally manipulated to attack Iran to clear the way for World War Three.)
Listen to "Will Israelis Tolerate A Third Election?" on Spreaker.
END
---
Israeli PM Netanyahu Tells President Rivlin He Can't Form Government
BATTLE FOR WORLD / SPUTNIK NEWS | October 21, 2019: Prime Minister Benjamin Netanyahu has informed Israeli President Reuven Rivlin who gave him until October 23 to form a new government that he's unable to form a governing coalition between the Likud party nor Benny Gantz's Blue and White party. And so Rivlin is expected to name another nominee with a strong chance of creating a coalition.
"Ever since receiving the mandate [to form a government] I have worked relentlessly … to establish a broad national unity government. This is what the people want", Netanyahu said in a video posted on Facebook, and noted that efforts to "bring Gantz to the negotiation table … and prevent another election" have failed, and that the leader of Blue and White "refused time after time".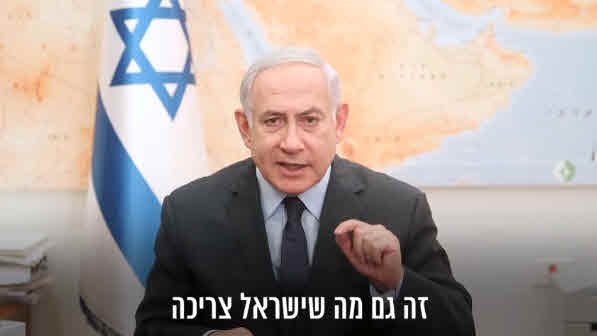 Prime Minister Benjamin Netanyahu reelection.
END