---
Part 1 – The Fall Of America Will Happen | Part 3 – The Fall Of America Will Happen
---
Arizona Lawmaker says US might look like South America
BATTLE FOR WORLD / AP | The article highlights that veteran Arizona Republican Sen. Sylvia Allen apologizes while defending herself from criticism for comments she made on immigration and birth rates.
The Phoenix New Times posted audio of a July 15 speech during which the state senator said a flood of immigration and low birth rates among whites and lack of cultural assimilation means "we're going to look like South American countries very quickly." And said the U.S. has to regulate immigration so the country can provide jobs, education, health care and other needs. "We can't provide that if people are just flooding us and flooding us and flooding us and overwhelming us," said Allen.
END
---
Cohen: There Will Be No 'Peaceful' Power Transition If Trump Loses 2020 Election
BATTLE FOR WORLD / SPUTNIK NEWS | February 27, 2019: The article highlights that President Donald Trump's ex-attorney Michael Cohen said during his congressional testimony on Wednesday (February 27) that he fears that there will not be a 'peaceful' power transition in the White House if Trump loses the 2020 presidential election.
Cohen before the U.S. House of Representatives Oversight Committee said: "Given my experience working for Mr. Trump, I fear that if he loses the election in 2020, there will never be a peaceful transition of power."
(BattleForWorld: Isn't that what the outgoing President Obama on orders from the ruling elites did to Trump?  The corporate media and Congress have been meddling with the peaceful transition of presidential powers since Trump went into the White House. So naturally Trump would seek to retaliate in the same way – tit for tat. And eventually the crime-syndicates operating in the U.S. are going to lose their composure.)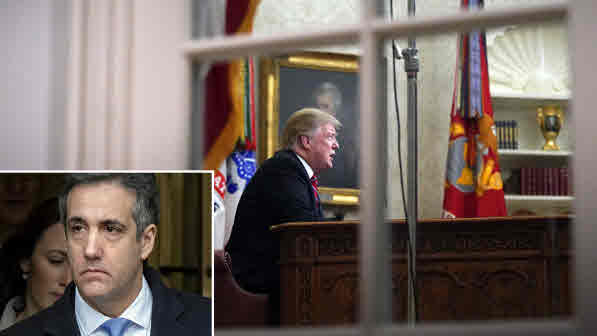 END
---
'Warlike posture' if Democrats investigate
WSJ / BATTLE FOR WORLD – November 8, 2018: The article highlights that President Trump pledged to retaliate against any investigations launched by majority House Democrats in the new Congress, during a post-midterm news conference in which he repeatedly struck a combative stance while also calling for bipartisanship and hailing Republican Senate victories.
If Democrats, when they take the majority, follow through on their pledges to investigate what they say are conflicts of interest facing the White House and the president's company, Mr. Trump said that would create a "warlike posture."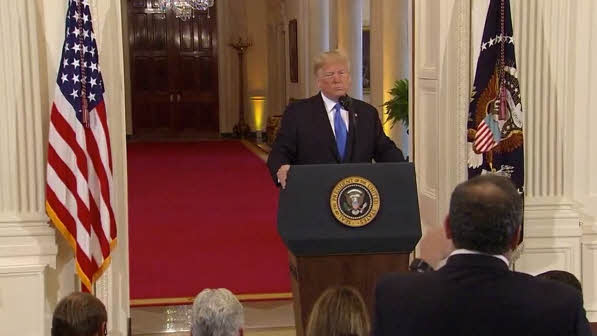 END
---
Deaths of Children at the Border are Strictly the Fault of the Democrats
BATTLE FOR WORLD / SPUTNIK NEWS – December 29, 2018: The article highlights Trump's statement blaming the Democrats for border death of children in a Twitter post amid a partial government shutdown, just a day after Trump threatened to close the Southern Border entirely, urging Democrats to provide $5 billion funding for the border wall construction and to change immigration laws.
The US President blamed the Democratic party for the deaths of the migrant children, calling their immigration policies "pathetic" and adding that the US Border Patrol needs a wall in order to prevent tragic incidents.
Any deaths of children or others at the Border are strictly the fault of the Democrats and their pathetic immigration policies that allow people to make the long trek thinking they can enter our country illegally. They can't. If we had a Wall, they wouldn't even try! The two…..

— Donald J. Trump (@realDonaldTrump) December 29, 2018
END
---
Far From United: Political Divide In America The Worst It's Ever Been
STUDY FINDS / BATTLE FOR WORLD – November 7, 2018: The article highlights it may not be so hard to believe during this murky political landscape, but a new study finds the divide between Democrats and Republicans is the worst it's ever been, more so than many people may even think.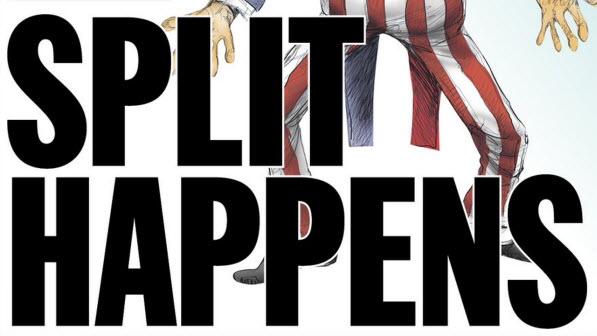 The study was conducted by Zachary Neal, an associate professor of psychology and global urban studies at Michigan State University, is among the first to measure polarization not only by examining the frequency of parties working together, but also by demonstrating how they've grown more distant than any other time in modern history.
"What I've found is that polarization has been steadily getting worse since the early 1970s," he explains in a university release. "Today, we've hit the ceiling on polarization. At these levels, it will be difficult to make any progress on social or economic policies."
Neal defines polarization in two ways: weak polarization, which occurs when parties simply don't work together; and strong polarization, which occurs when a party not only shuns the other side, but also outwardly attacks opponents or paints them in a negative light.
"This study raises new questions about the future of Congressional politics," he says. "In truth, the only thing that is bi-partisan in Congress is the trend toward greater polarization."
END
---
Only half of Americans have faith in democracy
AXIOS / BATTLE FOR WORLD – November 7, 2018: The article highlights that just 51% of Americans said they have faith in the country's democracy, and 37% say they have lost faith in democracy, according to a new poll conducted in late October by Axios/SurveyMonkey .
The poll suggests that recent political turmoil has caused people to doubt the very foundation of American society, particularly leading up to election day.
The overall big picture: SurveyMonkey also found that half the country believes America is more divided today than ever before — and that these divisions will probably continue far into the future (ranging between 46% and 51% over the past two years).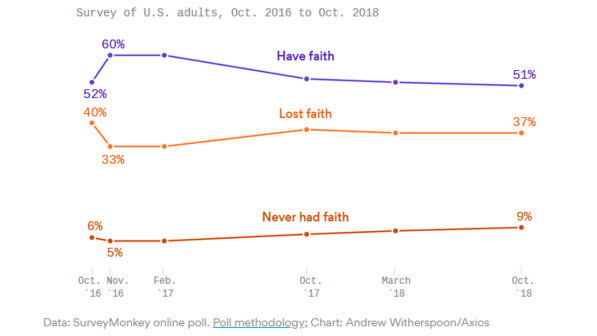 END
---
Trump Bars CNN's Jim Acosta From White House After Feud
HOLLYWOOD REPORTER / BATTLE FOR WORLD – November 7, 2018: The article highlights that White House press secretary Sarah Huckabee Sanders accused CNN's John Acosta of "absolutely unacceptable" conduct.
And so the White House is suspending CNN chief White House correspondent Jim Acosta's "hard pass" for what press secretary Sarah Huckabee Sanders deemed "absolutely unacceptable" conduct in a statement on Wednesday (November 7) night.
"I've just been denied entrance to the WH," Acosta wrote on Twitter. "Secret Service just informed me I cannot enter the WH grounds for my 8pm hit."
On Wednesday night, Sanders announced the punishment in a lengthy statement several hours after Acosta tussled with President Trump during a feisty press conference.
"I think you should let me run the country, you run CNN, and if you did it well, your ratings would be much better," Trump tells Acosta.
(BattleForWorld: The CNN reporter has made it a mission to disrupt and cause contention at White house briefings. As if the management of CNN has given him a pass to exhibit bad behavior. This seems to be the norm now for much of corporate media to disrespect President Trump. Incivility is on the rise.)
FULL EXCHANGE: Trump vs. @Acosta

"Put down the mic…"
"You are a rude, terrible person…" pic.twitter.com/hdnNGd2xLc

— Yahoo News (@YahooNews) November 7, 2018
END
---
America's Corruption: Spiritual, Not Political. Jim Acosta rude behavior; US democracy crumbling on the road to anarchy
TRU NEWS / BATTLE FOR WORLD – November 16, 2018: On today's TruNews, we discuss the corruption happening in our nation, CNN's Jim Acosta rudeness and the latest in the election malfeasance as votes go missing in the Florida recount process. Also, what will be the next turn in the road for Jerome Corsi and Roger Stone as the Mueller witch hunt zeroes in on the real target, Julian Assange? In the UK, Theresa May reveals her Brexit in name only, and Saudi Prince Mohamed bin Salman continues to not be challenged in the Khashoggi killing. Rick Wiles, Edward Szall, and Doc Burkhart. Airdate 11/15/18
All TruNews videos are available at their website. YouTube deleted their channel for violation of policy, which can be anything nowadays.
END
---
America Is Addicted to Outrage. Can it be Cured?
BATTLE FOR WORLD – December 1, 2018: A healthy society reserves anger for special occasions, but today taking offense has become a reflex, and America has become addicted to outrage. Can it be cured?
People are so used to it — the noise, the flying spittle of it all — more stupidly than rationality — not everything needs to be treated as an outrage, because a grown-up moment of grace is needed.
People have been mad as hell for much of the 21st century…followed quickly by 9/11. Fundamentals have been changing fundamentally where marriage, sexual identity, racial politics, geopolitics, etc. are concerned. Outrage flourishes, some believe, because of the rise of social media with the endless electronic brawls — and because it plays so well on our television screens to those who have become captivated.
It's simple, outrage is reductive and easy to understand. It is an idiom of childhood tantrum. And the political parties have broken off negotiations with all differing points of view where they excuse themselves from self-doubt and abandon the idea of anything so weak as to compromise.
People give themselves over to the pleasures of self-righteousness and self-importance in the passion of things. Among the civic emotions, outrage is a beast served during prime time news to harness anger with more fire to fuel whatever the agenda is at hand.
The normalcy often is that society reserves its outrage for special occasions like Pearl Harbor, the church bombing in Birmingham, Alabama, that killed four girls. But as society moves into the 21st century it has now become common place for mass shootings and other news wordy random eruptions, turning outrage into a twisted all-purpose national reflex with side effects of disgust and despair.
And pretty soon absolutely everything becomes an outrage as some find it easier to organize a lynch mob — with a surer, immediate and dramatic reward in the eyes of the public. Because conducting a fair trial requires brains and patience of adults, the patience outrage does not have. President Trump has become a victim of this outrage phenomenon.
It is now obvious that outrage is now widely abused and has become addictive. And the question has to be asked: Is outrage an American entitlement and a permanent state of mind?
Some believe there's something sinister and corrupt afoot because it has now become a habit assigning people to categories and if this type of behavior continues it can lead to genocide as people are consigned to shallow, mutually exclusive classifications. It appears we have not learned nothing where humanity is concerned.
Is our society on the way to exhaustion? Like so much else today, it has gotten to be a racket where the people are placated and again fused with anger.
Indignation has become a meme — not an authentic political or moral reaction to facts in a serious world, but rather a timely scam that reflexes the people into a kind of irresponsible playacting, or worse, a mania. When their is outraged, real grievances lose their meaning, and the endless indulgence of outrage, thanks to the media, becomes the norm and immoral.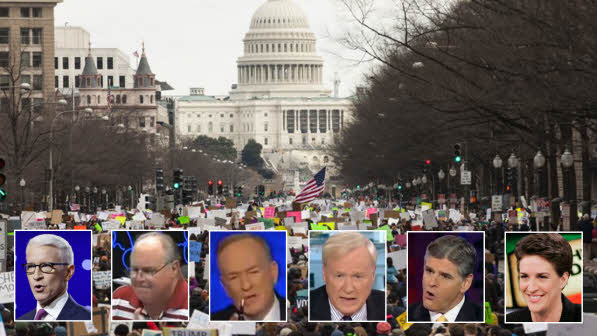 (Note: This write-up was written from Lance Morrow's Wall Street Journal opinion piece.)
END
---
Iran Sanctions Will Speed Up 'Multipolar World': says ex-Pentagon official
RT AMERICA / BATTLE FOR WORLD – November 6, 2018: Former Pentagon official Michael Maloof and journalist Hadeel Oueis join Rick Sanchez to share their insights to discuss the US ties with Saudi Arabia and antipathy toward Iran, the likelihood of Iran sanctions "accelerating a multipolar world order" wherein Iran looks more to China and Russia, and the role of US-Israeli relations in US foreign policy vis-a-vis Iran.
(BattleFoWorld: "The likelihood of Iran sanctions 'accelerating a multipolar world order'."  YES IT WILL!  As I have said, I do not believe that Trump is 100% aware of what he's doing. President Trump is not a natural anomaly, but some believe that he is.
The globalists are fighting Trump because he's unknowingly undoing their old financial order, and the globalists are using the Democrats to try and hinder the process. But even the Democrats will have to follow the master-plan because they have swallowed the Russian meddling bait and will not have any friends in the end.
What this midterm election will do is hasten disunity inside the United States between Republicans and Democrats; religious clashes are coming; and the resurfacing of racial tensions, etc. The corporate media and Hollywood are going to drama the people non-stop.
In the Middle-East, a powerful realignment will emerge in the interest of Russia. A new payment system is ready to go online, but waiting for the precise moment. Many things will begin to unfold after 2020. The curtain is coming down.)
END
---
MSNBC's Maddow Organizing Street Marches Against Trump's Decision
GARBIE NEWS / BATTLE FOR WORLD – November 8, 2018: The article highlights upset over President Trump firing Attorney General Jeff Sessions and MSNBC's show host Rachel Maddow is organizing mass marches.
On her Tweeter page Maddow posted that the protests are slated for today (Thursday, November 8) at 5 PM.
"It's happening," she wrote online. And that "This is a 'break the glass in case of emergency' plan to protect the Mueller investigation." She continues, "We knew this would happen at some point." "The day has arrived." Alerting her 9.54 million followers.
(BattleForWorld: Civil disorder on the rise. This is only the beginning because it is going to get worse in the United States as civil disorder degenerates into breakdown within pockets of Americana as the hate festers away. The people are going to lose all sense of reason as they are directed by the mischief-making ones into all forms of civil disobedience and violence.)
It's happening.

This is the "Break Glass in Case of Emergency" plan to protect the Mueller investigation.

5pm (local time) protests tomorrow/Thursday Nov 8.

We knew this would happen at some point — the day has arrived. https://t.co/pmv0aaxfYJ

— Rachel Maddow MSNBC (@maddow) November 7, 2018
END
---
Washington DC Antifa Publishes Home Addresses of Tucker Carlson and His Brother — Including Ann Coulter, Neil Patel, and Sean Hannity
THE GATEWAY PUNDIT / BATTLE FOR WORLD – November 8, 2018: The article highlights that hours after an Antifa mob showed up at the home of Fox News host Tucker Carlson, an affiliated Twitter account published his home address and also the home address of his brother Buckley Carlson — along with the addresses of Ann Coulter, the Daily Caller's Neil Patel, and another Fox News host, Sean Hannity.
(BattleForWorld: It is only going to get worse in the United States as civil disorder degenerates into breakdown within pockets of Americana as the hate festers away. The people are going to lose all sense of reason as they are directed by the mischief-making ones into all forms of civil disobedience.)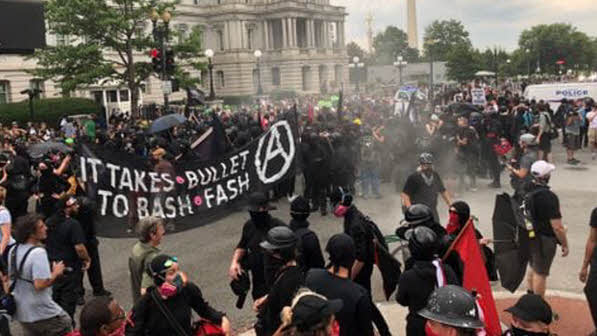 END
---
FBI: Ukrainian Nazis Train US White Supremacists
RT AMERICA / BATTLE FOR WORLD – November 8, 2018: The video highlights by Anya Parampil reports on a recent criminal complaint filed against the leader of the white supremacist "Rise Above Movement", which alleges group members traveled to Europe in order to celebrate Hitler's birthday and meet with likeminded organizations. The FBI specifically claims the Azov Battalion, a regiment of the Ukrainian National Guard known for Nazi sympathies, "participated in training and radicalizing United States-based white supremacy organizations". RT Producer, Nebojsa Malic, joins Anya to explain how Ukrainian Nazis have been emboldened since the 2014 US-backed coup in the country.
END
---
Race in America: US exports white nationalism
BATTLE FOR WORLD / RT AMERICA | March 24, 2019: The video highlights that President Trump announced he does not believe white nationalism is a rising global threat, despite lethal terrorist attacks by white supremacists doubling in the last few years. Retired police officer Ronald Hampton of the DC Justice Collaborative joins RT America's Ashlee Banks to discuss.
END
---
Ocasio-Cortez is a Progressive Fraud
BATTLE FOR WORLD / RT – November 2, 2018: Anya Parampil puts incoming Congresswoman Alexandria Ocasio-Cortez in question, explaining how as a candidate for the democratic nomination, she billed herself as a "socialist" and "progressive" which represented the next generation of the party—only to sell out upon winning office. Anya documents how Ocasio-Cortez has been embraced by corporate democrats, like DNC Chair Tom Perez, offered glowing praise for war-mongering Senator John McCain, and more recently, endorsed Nancy Pelosi for Speaker of the House. Daniel Haiphong, author of the upcoming book "American Exceptionalism and American Innocence", joins Anya to discuss his recent contribution to the Black Agenda Report which accuses Ocasio-Cortez running a PR stunt to help Pelosi.
(BattleForWorld: Ocasio-Cortez is not the only one. This is very typical in American politics.)
END
---
US neo-Nazis linked to Azov Battalion
RT AMERICA / BATTLE FOR WORLD – November 8, 2018: The video highlights that Federal prosecutors say that the founder of the Rise Above Movement, a violent white supremacist gang in the US, traveled to Europe to celebrate Hitler's birthday where he met with a Ukrainian paramilitary chief. RT America's Rachel Blevins has the story.
END