RT – July 15, 2018: The article highlights that one of Russia's largest banks, VTB is seeking to decrease the share of US dollar transactions at home as locals are choosing the Russian ruble over the US Dollar.
"There is one interesting thing I wanted to highlight. Since the beginning of this year, people seem to be less interested in making dollar deposits or taking out dollar loans, compared to ruble-denominated deposits and loans. We believe this to be an important step towards the de-dollarization of the Russian finance sector," said VTB head Andrey Kostin at a Kremlin meeting with President Vladimir Putin.
According to Kostin, VTB experts have drafted a package of proposals designed to further promote the ruble in international settlements. "I think that we need to create our own financial tools. This would serve as an additional safeguard for the Russian financial sector against external shocks, and would give a new impetus to its development," said Kostin. And that the financial tools Kostin mentioned are floating Eurobonds, shares and other derivatives that are now used only in the West.
Russia has been seeking ways of decreasing its dependence on the US currency after Washington and its allies imposed sanctions against Moscow in 2014. In the month of May, President Putin said Russia can no longer trust the US dollar-dominated financial system since America is imposing unilateral sanctions and violates World Trade Organization (WTO) rules. And Putin noted that the dollar monopoly is unsafe and dangerous for the global economy.
Related article:
Death Of US Dollar? China Launches Petro-Yuan To Challenge Greenback's Dominance
END
---
Russia accelerating efforts to dump dollar, warns senior diplomat
TASS – August 23, 2018: The article highlights that Sergei Ryabkov stressed that Moscow should not leave US sanctions unanswered.
Moscow will definitely respond to Washington's latest sanctions and in particular, it will step up efforts to abandon the dollar in trade operations, Deputy Foreign Minister Sergei Ryabkov said in an interview with International Affairs magazine. Extracts from the interview were available on the publication's website on Thursday.
"The time has come when we need to go from words to actions, and get rid of the dollar as a means of mutual settlements, and look for other alternatives," Ryabkov said. "Thank God, this is happening, and we will speed up this work," he emphasized.
"Besides that we must take retaliatory measures. Considering the logic and mentality that exist we should not leave their sanctions unanswered," he stressed.
The lack of a direct answer to the challenge is only seen as a sign of weakness there and for the hotheads in Washington it is another reason to crank up pressure," the diplomat noted.
END
---
Russian Central Bank building goes up in flames
RT – August 25, 2018: Russia's Central Bank building in central Moscow caught fire late on Friday (August 24), with footage showing flames shooting out of windows. Firefighting crews managed to promptly extinguish the flames. (BattleForWorld: Is Russia sending a message to the worldwide Central Bank network, that the financial shift from the West is now accelerating?)
END
---
"Thank God This Is Happening": Russia Says Time Has Come To Ditch The Dollar
ZERO HEDGE – August 25, 2018: With the US unveiling a new set of sanctions against Russia on Friday, Moscow said it would definitely respond to Washington's latest sanctions and, in particular, it is accelerating efforts to abandon the American currency in trade transactions, said Russia's Deputy Foreign Minister Sergei Ryabkov.
"The time has come when we need to go from words to actions, and get rid of the dollar as a means of mutual settlements, and look for other alternatives," he said in an interview with International Affairs magazine, quoted by RT.
"Thank God, this is happening, and we will speed up this work," Ryabkov said, explaining the move would come in addition to other "retaliatory measures" as a response to a growing list of US sanctions.
Previously, Russian Energy Minister Aleksandr Novak said that a growing number of countries are interested in replacing the dollar as a medium in global oil trades and other transactions.
"There is a common understanding that we need to move towards the use of national currencies in our settlements. There is a need for this, as well as the wish of the parties," Novak said.
According to the minister, it concerns both Turkey and Iran, with more countries likely to join the growing dedollarization wave.
"We are considering an option of payment in national currencies with them. This requires certain adjustments in the financial, economic, and banking sectors" to accomplish. Last week, we reported that the Kremlin was interested in trading with Ankara using the Russian ruble and the Turkish lira. India has also vowed to pay for Iranian oil in rupees.
Meanwhile, the world's second-largest economy and Washington's trade war nemesis, China, has been taking steps to challenge the greenback's dominance with the launch of an oil futures contract backed by Chinese currency, the petro-yuan. China and Iran have already agreed to stop using the dollar in global trade as China has ramped up purchases of Iranian oil in defiance of US sanctions.
END
---
Russia stockpiling gold as shield from sanctions
CNN MONEY – August 22, 2018: The article highlights that Russia has been selling U.S. government debt and buying gold. A lot of gold!
And official data shows that the Russian central bank increased its holdings of gold by nearly 29 tons in July 2018, the largest monthly increase since November 2017.
Previously, the central bank added 20 tons in May 2018 and 17 tons in June 2018. Its total holdings of the precious metal have increased 37% since the start of 2016, and are now worth an estimated $76 billion.
The gold purchases have coincided with a dramatic reduction in the central bank's ownership of U.S. government debt, which plummeted 84% between March and May 2018 to just $14.9 billion. Treasuries now make up only 17% of reserves at Russia's central bank.
END
---
Russia Liquidates US Treasury Holdings
ZERO HEDGE – July 18, 2018: The article highlights: Readers may recall that last month we first reported  that for all the confusion about sharply higher yields in April, the explanation was simple: it was Vladimir Putin who liquidated a whopping half of Russia's Treasury holdings, which declined by $47.4BN to just $48.7BN – the lowest since 2008 – from $96BN in March.
But wait, the treasury bond dumping gets better, because as Trump continued to jawbone about more sanctions targeting Russia, Putin did not stop and in May, he continued what was an outright liquidation of Russia's TSY holdings, which plunged by another $40BN, or 82%, from $48.7BN to just $9BN in May. Keep in mind this was over $100BN at the start of the year.
It appears that When Putin warned he would diversify Russia's state reserves  -out of Treasurys – he was serious.
And this is what a very politically motivated liquidation of Treasury holdings looks like.
And so, in other words, in just two months, Russia sold a whopping $81BN in treasurys, a liquidation flow that was likely responsible for much if not all the blow out in rates over the period. Because what else happened as Russia was liquidating 85% of its Treasury holdings in 2 months? 10Y yields soared from 2.7% at the start of April to the 7 year high of 3.11% in late May.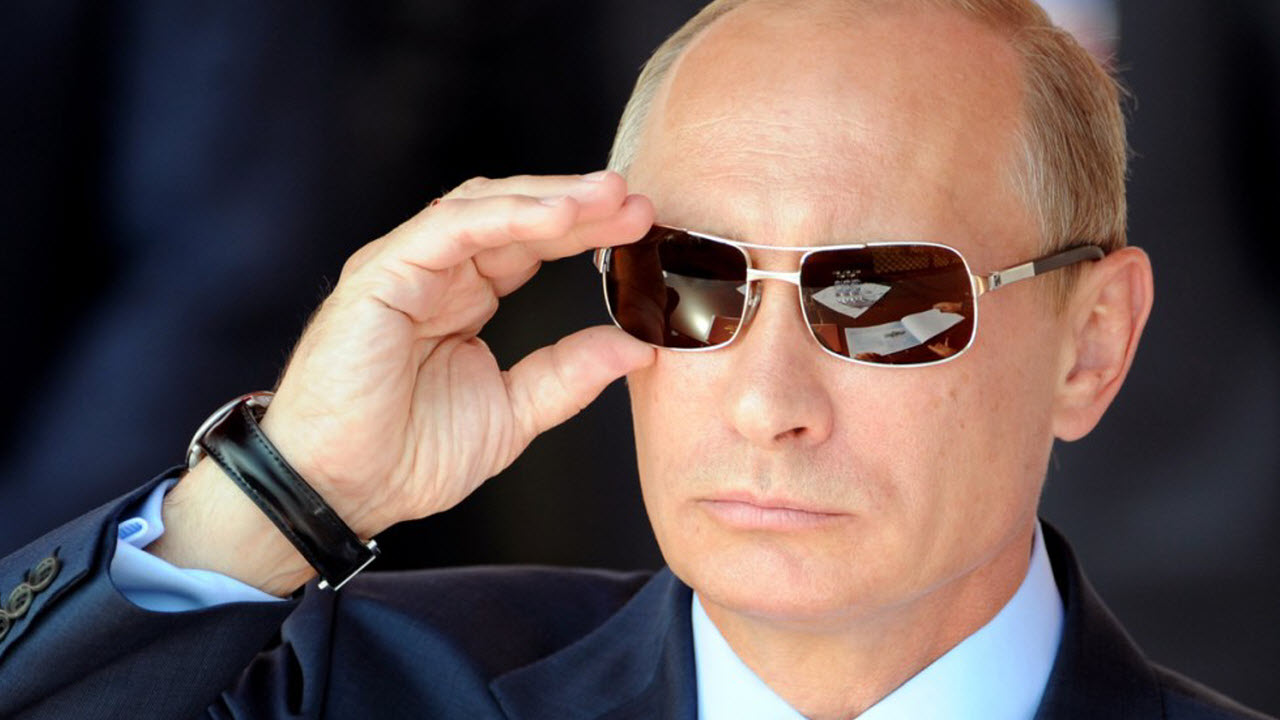 END
---
The Plot To End US Dollar Dominance
RT – Keiser Report: 'Mnuchin Massacre' (E1184) – February 3, 2018: The 'Mnuchin massacre' and one-way bets on the dollar are among the topics for Max and Stacy in this episode. In the second half, Max interviews Nomi Prins, author of the soon-to-be-released book, 'COLLUSION: How Central Bankers Rigged the World'. They also discuss the current market situation and how a new Fed chairman may approach a crash.
(BATTLEFORWORLD: In the "enhanced" Silent Revolution Of Truth Compilation Edition, the free PDF book, and read about the pending the economic crisis, page 1413. And even Zbigniew Brzezinski spoke about the approaching massive depression [i.e. economic collapse], page 1264. UPDATED, PDF Format – Links: Book Summary | and Download Book)
Partial transcript by BattleForWorld from Keiser Report (Episode 1184):
Max: This is the policy around the world – beggar thy neighbor, by trying to drive your currency lower to help your exports and to grab global market share. And China has been a king of this for a long time, so this is Trump taking on China directly saying, oh yeah, you think they Yuan is cheap, we (the United States) are going to make the US dollar even cheaper, so it makes the Yuan even higher, in value vs dollar, which makes it more difficult for them to export their way into global domination.
So now, currency war is venturing into a new phase. And Donald Trump obviously has a lot more understanding on how to fight this currency war more than anyone coming before him. Barack Obama was really a novice coming into office knew nothing about finance. He was finance illiterate as he proved over and over again. At least Trump knows the rules of the game, but whether he's successful or not we will see.
…And…first the question is, is the lower dollar the result of policy initiative or, is the lower dollar an inevitability of policy failure? And now the policymakers are now saying it's our policy for a lower dollar.
I do not think it makes any difference whether Steven Mnuchin or whomever else describes the dollar as their policy going lower. The dollar was going to go lower anyway, because the world is getting away from the US dollar as world reserve currency. The one road one belt policy linking up Russia and China is out of the dollar. And everyone want to trade oil away from the dollar and countries are desperate to get out of the US dollar, and so the dollar is going to lose value no matter what anybody says.
Here's the US Treasure Secretary (Steven Mnuchin) merely trying to make it look that's our policy for a lower dollar; it doesn't even matter what he says, the dollar is going lower as we have been saying for a number of years, because US DOLLAR IS A CURRENCY THAT OTHER COUNTRIES RECOGNIZE AS FUNDING THE WARS, THE WEAPONS AND THE POVERTY THAT THEY ARE TRYING TO ESCAPE.
Stacy: Steven Mnuchin standing in front of the world's reporters and saying that the dollar, his policy as treasure secretary, the guy who signs the dollar bills, the new dollar bills, says he wants it to go lower according to this headline here (at cnbc.com), they said that: "They basically open this up as a one-way bet for traders, and traders will keep pushing it and keep pushing it," said one strategist. AND THERE IS A POSSIBILITY THAT IT COULD BECOME A SPIRAL THAT GETS OUT OF CONTROL. But luckily we did hear on Keiser Report telling you a few weeks ago to load back up on gold, because of course we are going to get into that in the next headline why gold has obviously done very well against the dollar, as the dollar as been tanking in the opening weeks of 2018…  (BATTLEFORWORLD: Russian economist Dr. Koryagina forecasts the panicking of the stock market [stocks and bonds] until it finally tanks into the big worldwide crash. In the Keiser Report dialogue transcript main points are emphasized, and the conclusion is that they are going to panic the dollar until it crashes totally.)
END
---
Dumping the dollar: Iran joins Pakistan, China & Russia to limit use of US currency
RT – April 20, 2018: Iran has announced it's dumping the dollar in favour of the euro for official financial reporting. That will make it the latest nation to limit use of US money.
END
---
Petro-yuan helps Russia & China dump US dollar in oil trade
RT – March 27, 2018: China is the world's biggest crude consumer and buys most of its oil from Russia. However, most settlements are still in US dollars. The launch of the petro-yuan now allows Moscow and Beijing to use national currencies instead.
China and Russia are actively reducing dependence on the dollar in bilateral trade. In October 2017, Beijing launched a payment system for transactions in yuan and Russian rubles. This means that settlements for Russian oil deliveries to China, which have reached 60 million tons per year, can be done without using the dollar.
After Monday's launch of the yuan-backed oil futures in Shanghai, there have been negotiation between Russia and China on mutual promotion of oil futures in national currencies, RIA Novosti reported. In 2016, the St. Petersburg exchange in Russia launched Urals oil futures in the Russian ruble, and support from China could prop up Russian crude futures.
END