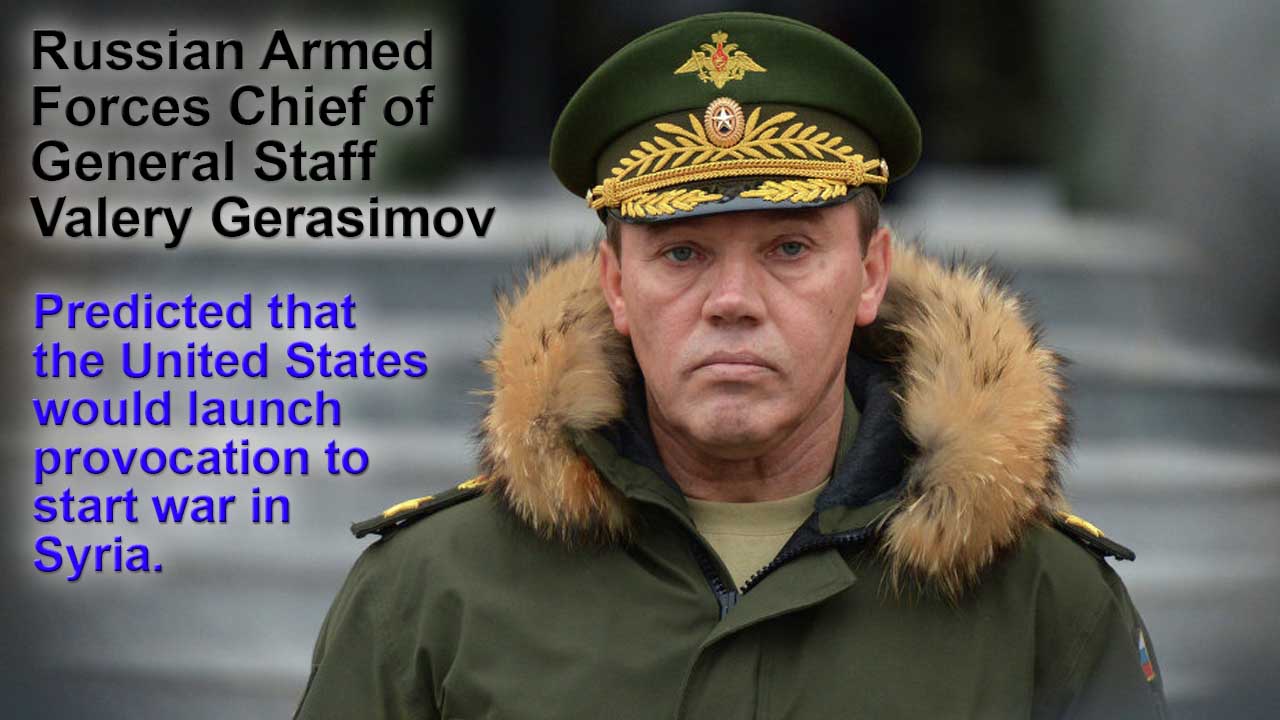 (In the "enhanced" Silent Revolution Of Truth Compilation Edition, the free PDF book: Download and read about how journalists and the public media in the West will spread lying stories and slander the truth, where truths are killed off, leading peoples into unreal facts and away from them the truth using thought up dishonest facts, page 1098. Note: Use the page number display located at top right to find the correct page. UPDATED, PDF Format – Links: Book Summary | and Download Book)
SPUTNIKNEWS – April 12, 2018: Russian Armed Forces Chief of General Staff Valery Gerasimov has warned that Russia would respond to any US military strike flowing from a false flag chemical weapons attack blamed on the Syrian government and Russia. So what's the big deal? The general made the warning nearly a month ago…
Speaking at a press briefing on March 13, Gerasimov warned that the Russian defense ministry had obtained "reliable information" about plans by terrorists in Eastern Ghouta to launch a false chemical attack on civilians in the region and blame it on the Syrian government. According to the officer, 'White Helmets' activists and the accompanying film crews had already arrived at the scene with the necessary satellite equipment to spread the news of this 'attack' to the world media.
Less than a month later, on April 7, General Gerasimov's prediction came true in Douma, Eastern Ghouta. Opposition reports fed by the White Helmets of an alleged chemical attack by government forces were almost immediately picked up by Western media, prompting the US and its allies to begin preparations for a possible military response.
Related articles:
Syrian Air Defense Intercepts Over 20 Missiles Fired By US, UK And France
Russia's State TV Instructing Russian Citizens To Start Preparing For Armageddon
March 13, 2018, General Gerasimov speech. Transcript: "Today we have reliable information about militants preparing to falsify a government chemical attack against civilians. In several districts of Eastern Ghouta, a crowd was assembled with women, children and old people, brought from other regions, who were to represent the victims of the chemical incident. "White Helmet" activists and film crew are already in place at the scene with satellite video transmitters. This has been confirmed by the discovery of a laboratory for the production of chemical weapons in the village of Aftris, which was liberated from terrorists. According to reports, after this provocation, the U.S. plans to accuse Syrian government troops of using chemical weapons, as well as provide the international community with so-called "evidence" of mass civilian casualties caused by the Syrian government and the Russian government supporting it.  In retaliation Washington (DC) plans to launch an airstrike on the government blocks of Damascus. …"
March 13, 2018, General Gerasimov speech. Transcript: "At the same time there are Russian military advisers, representatives from the Opposition Reconciliation Center, and service members from our military police in Damascus' Syrian MOD facilities and headquarters. In the event of threats toward our service members, Russian armed forces will take countermeasures, both on the missiles and carriers that launch them. …"
END
---
Pompeo: Killing Hundreds of Russians a Key Achievement in Countering Moscow
SPUTNIKNEWS – April 12, 2018: Killing a couple of hundred of Russians is an example of one of the Trump administration's key actions to counter Moscow along with sanctions policy and expelling diplomats, US Secretary of State nominee Mike Pompeo said during his confirmation hearing before the Senate Foreign Relations Committee. (BattleForWorld: That means US Foreign Policy under the Trump administration will become very, very aggressive. And this is a clarion sign that the US Senate Foreign Relations Committee is looking for this type of bombastic behavior to further world domination. And so this is only going to get worse for countries and people of the world in general. Continue to expect chaos.)
The list of actions that this administration has taken — I'm happy to walk through each of them," Pompeo said on Thursday when asked about actions taken to counter Moscow. "A handful of weeks ago, the Russians met their match and a couple hundred Russians were killed."
The nominee for top diplomat also pointed out that the Trump Administration has taken a number of other actions beyond mere sanctions to counter Russia.
The largest expulsion of 60 folks was from this administration," Pompeo said. "This administration announced a Nuclear Posture Review that has put Russia on notice that we're going to recapitalize our deterrence force in Syria."
The Russian Foreign Ministry said on February 20 that several dozens of citizens of Russia and CIS countries were injured in a clash in Syria, who were not servicemen. The ministry reiterated that Russian nationals were present in Syria, noting that they had gone there at their own will for various reasons.
END