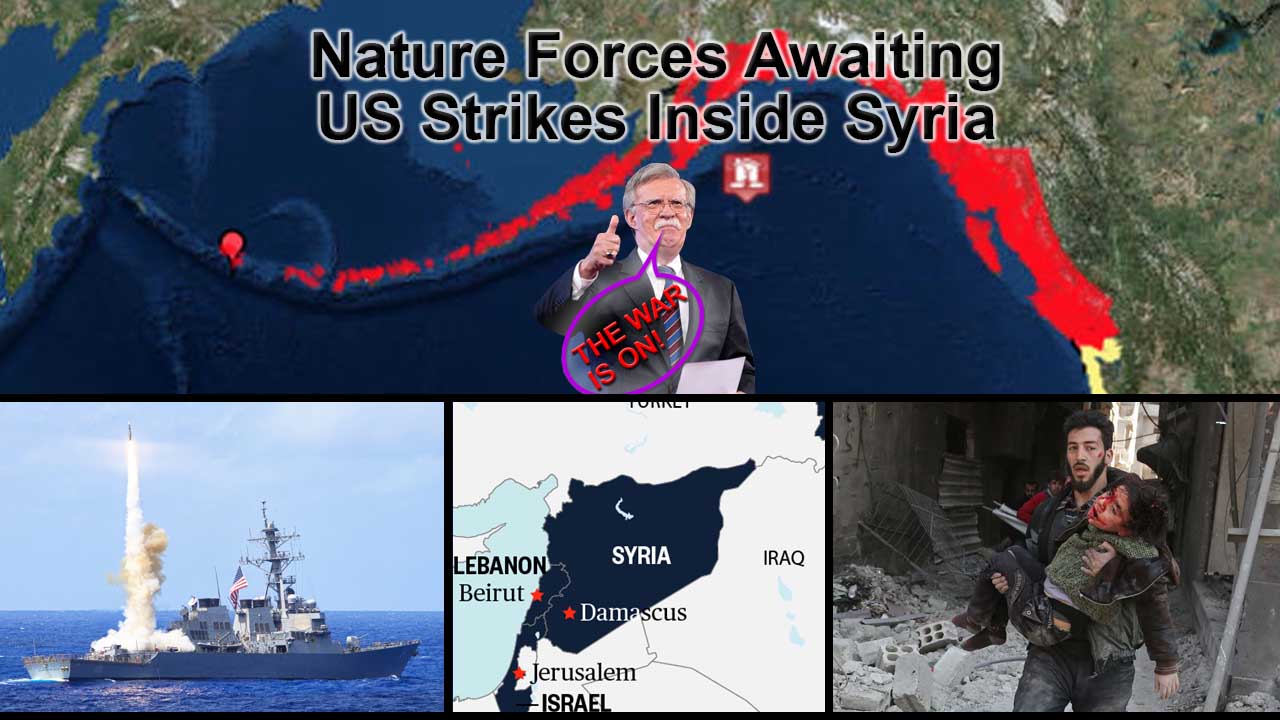 (In the "enhanced" Silent Revolution Of Truth Compilation Edition, the free PDF book: Download and read about the United States and the West using Fake News to antagonize Russia, in relentless taunting, pages 1072, 1098 and 1374. And the United States and the European Union Dictatorship provoking Russia will only make the country of Russia stronger!!!, page 1443. And President Putin alluded that there was some sort of deception going on with the American presidents and politicians, page 581. Note: Use the page number display located at top right to find the correct page. UPDATED, PDF Format – Links: Book Summary | and Download Book)
BATTLEFORWORLD – April 10, 2018: News reports are circulating that the United States military is amassing warships, etc. to attack Syria over the alleged chemical attack in Douma, Syria. An incident fabricated by the US, UK, EU and Israel as pretext to finally implement the long awaited war plan to attack Syria. The same style of fabricated lies were used on Iraq, Libya, and now its Syria's turn and it will not stop there, because more and bigger lies will be fabricated and used on other countries to bring about warfare, clearing the way for eventual world domination by the United States, Britain and Israel.
Related articles:
Syrian Air Defense Intercepts Over 20 Missiles Fired By US, UK And France
Top Russian General Predicted Douma, Syria Provocation A Month In Advance
US Plotting War In Syria Using Fake News
Russia's State TV Instructing Russian Citizens To Start Preparing For Armageddon
TASS – April 10, 2018: Russia will take all political, diplomatic and military retaliatory measures if necessary should the United States deliver a strike on Syria, Russian State Duma (lower house of parliament) Defense Committee Chairman and former Commander-in-Chief of the Russian Airborne Troops Vladimir Shamanov said on Tuesday.
"The politics of double standards have hit rock bottom. And here the United Russia party conscientiously states that all political, diplomatic and military measures if necessary will be taken. No illegal action will remain unanswered," Shamanov vowed at a plenary meeting of the State Duma.
The senior MP was indignant over US President Donald Trump's statement about Washington's response within 48 hours, saying: "They should not pin their hopes on their naval task forces and their deceptions. We are a sovereign country and we have allies and guarantors for those events taking place in Syria. We won't let the Americans hammer nails on someone else's anvil."
Shamanov stressed that Russia's possible measures need to be considered and responsible. He also emphasized that the report on the alleged chemical attack in Syria's Douma is absolute provocation.
END
---
White Helmets Staged Chemical Attack on Civilians in Douma – Russian MoD
SPUTNIKNEWS – April 11, 2018: The General Staff of the Russian Armed Forces revealed the results of analysis of Syrian Douma soil taken immediately after the alleged chemical attack.
"As a result of the examination of the territory, the visit to the medical facility shown on the set of the White Helmets, the interview of the medical staff and the patients, neither facts of the use of poisonous substances nor injured among the inhabitants of this city were detected," he stressed.
TASS – April 11, 2018: The chemical weapons attack on civilians in the Syrian town of Douma was staged and filmed by members of the White Helmets organization, First Deputy Chief of the Russian General Staff's Main Operations Department Lieutenant General Viktor Poznikhir told reporters on Wednesday.
"On April 7, probably the last attempt to stage a chemical weapons attack in Eastern Ghouta was made. The notorious White Helmets, who operate as part of terrorist groups, staged and filmed a chemical weapons attack on civilians in the town of Douma," he said.
END
---
Putin: The world is getting more chaotic, but we hope that common sense will prevail
RT – April 11, 2018: Russian President Vladimir Putin has expressed hope that "common sense" will eventually prevail in the modern world, which is becoming "more chaotic." The current international situation is very troubling, he added.
"The state of world affairs invokes nothing but concerns, the situation in the world is becoming more chaotic," Putin said on Wednesday during a ceremony to welcome new ambassadors to Russia.
"Nevertheless, we still hope that common sense will eventually prevail and international relations will enter a constructive course, the entire world system will become more stable and predictable."
Moscow will continue to advocate strengthening "global and regional" security, and will fully adhere to its "international responsibilities and develop cooperation with our partners on a constructive and respectful basis.
"We will pursue a positive, future-oriented agenda for the world; and work to ensure stable development, prosperity and the flourishing of mankind," Putin said.
Putin's statements came shortly after a new batch of threats from by his US counterpart. Earlier on Wednesday, Donald Trump warned Russia to "get ready" for "nice and new and 'smart'" missiles targeting Syria. His tweet followed a promise by Moscow to intercept any incoming projectiles in Syria, and to hit the locations from which they were launched.
END
---
Any US missiles fired at Syria will be shot down, launch sites targeted – Russian envoy to Lebanon
RT – April 11, 2018: The Russian military reserves the right to shoot down missiles and destroy launch sites in the event of US aggression against Syria, Moscow's envoy to Lebanon Alexander Zasypkin has warned.
Zasypkin stressed that "the Russian forces will confront any US aggression on Syria, by intercepting the missiles and striking their launch pads," al-Manar TV website reported, citing the envoy.
Speaking to the channel, the ambassador also said that the allegations of a chemical attack were being used to justify "offensive acts" in Syria, while "the US and Western escalation against Syria will lead to a major crisis."
END
---
Russia says it warned U.S. of 'grave repercussions' if Syria attacked
REUTERS – April 10, 2018: Russian U.N. Ambassador Vassily Nebenzia said on Monday that Moscow has warned the United States of "grave repercussions" if it carries out an attack against Syrian government forces over reports of a deadly chemical weapons attack.
U.S. Ambassador to the United Nations Nikki Haley told the council that Washington "will respond" to the attack on a rebel-held town in Syria regardless of whether the United Nations Security Council acts or not.
END
---
Russia warns US against Syria strike
TASS – April 10, 2018: Moscow has warned Washington of serious consequences of a possible strike on Syria if it causes casualties among Russian citizens, Russia's Permanent Representative to the European Union Vladimir Chizhov said on Tuesday.
"Russia has warned US representatives, both publicly and via corresponding channels, including military ones, about serious consequences that might follow possible strikes [on Syria], if Russian citizens are hurt in such strikes, accidentally or not," he said in an interview with Euronews.
END
---
'Assad had no reason to launch chem attack, unlike those who want US involvement' – Ron Paul
RT -April 10, 2018: Washington and the US media seem to have no doubts about the Syrian government's complicity in the Douma incident despite the fact that those who want America to stay in Syria have far more solid motives, Ron Paul told RT.
END
---
US Warships Reportedly Converging in the Mediterranean As Tensions Shoot Up
SPUTNIKNEWS – April 10, 2018: The US is mulling several options for striking Syria in response to a suspected chemical-weapons attack in Douma, which Washington blames on Damascus.
The next few days may see already a second US Navy destroyer entering the Mediterranean Sea, The Wall Street Journal reported, citing sources at the Pentagon.
"The US already has one guided-missile destroyer, the USS Donald Cook, in the eastern Mediterranean, where it could take part in any strike on Syria, according to US defense officials. A second, the USS Porter could get there in a few days," the newspaper wrote.
The Turkish newspaper Hurriyet wrote that Russian warplanes had allegedly buzzed the Donald Cook at least four times, but the report was later denied by the Pentagon.
END
---
US missile destroyer reportedly sailing toward Syria as Trump weighs options
RT – April 10, 2018: The USS 'Donald Cook', a guided-missile destroyer, has left Cyprus and is reportedly moving to the eastern Mediterranean. The movement of the vessel comes as top US officials have threatened to attack Syria.
The Arleigh Burke-class warship, which carries 60 Tomahawk cruise missiles on board, left the port of Larnaca in Cyprus on Monday, the US Navy reported. Several media outlets cited defense sources as saying that the destroyer is moving towards Syria. The ship is currently the only naval asset the US could use to strike targets in Syria with cruise missiles.
Red Crescent medics working on the ground failed to confirm an attack happened, while Russia said the reports were false – although Washington insists they warrant military action against the Syrian government.
END
---
Nature amassing her forces to strike
BATTLEFORWORLD – April 10, 2018: As if the elements of nature are listening, warning the United States not to start the breakout of war, a series of earthquakes continue to strike in succession in the US states of California, Oklahoma, Texas, Nebraska, etc.
Apparently nature is very upset regarding what is going on with war fervor in the United Sates and the West, but the neoconservatives, the ruling elites and the Zionists don't give a damn about nature, because they want war at all cost to bring about mass-destruction and world domination. And so, maybe nature won't give a damn when she let loose her might elemental-forces upon the Earth.
Related article:
Nature Amassing Her Forces To Strike
END
---
Volcano continues to spew lava on Hawaii's Big Island
RT – May 7, 2018: Kilauea volcano in Hawaii continued to spew lava on Sunday, after its eruption and earthquakes forced locals to flee the area.
END
---
Hawaii residents flee after Kilauea volcano eruptions
CNN – May 7, 2018: Hawaii residents faced the threats of more earthquakes, lava and dangerous gas Saturday after the Kilauea volcano erupted, spewing sulfuric acid and molten rocks into neighborhoods.
END
---
Massive tremor on way? Series of quakes shake California, Alaska
EXPRESS – April 11, 2018: The article highlights that near the end of January, a slew of Ring of Fire activity took place in many places. And that Alaska experienced an earthquake and a volcano erupted in the Philippines. At the time, the UN tweeted that the Pacific Ring of Fire was 'active'. And Nnow, eight earthquakes have shaken the US with several close to the Ring of Fire, where three earthquakes struck in California with others in Alaska, Nebraska, Texas, etc.
END
---
Earthquake strikes US: California, Oklahoma, Texas and Nebraska hit in quick succession
EXPRESS – April 10, 2018: The highlight of the article is that: A STRING of powerful earthquakes have rocked the west and central US with several of them hitting near to the dreaded RING OF FIRE.
Some eight earthquakes have rocked the United States in quick succession, all of which have taken place on April 9.
The strongest of the earthquakes, and also the most recent, came in Perry, Oklahoma, when a 4.3 magnitude tremor hit the central US state.
People took to social media to share their experience, with one writing: "Another earthquake in Oklahoma, shaking us awake just now!"
END
---
Climate Change: Climatologists Warn of Catastrophic Gulf Stream Collapse
SPTNIKNEWS – April 15, 2018: As recent studies detail the enormous Greenland ice sheet to be melting at its fastest rate in 450 years, climatologists now point to a new threat; the collapse of the mid-Atlantic Ocean Gulf Stream, which would severely affect weather patterns in Europe, Africa and the northeastern US.
Halting global warming is now more critical than ever, according to the new research, as the dispersion of the enormous Gulf Stream current in the Atlantic Ocean would cause catastrophic climate shifts, affecting large regions on several continents.
Following recent revelations published by senior scientists in Nature magazine observing that the Atlantic Ocean Gulf Stream system is at the weakest level of organization yet recorded, scientists and climatologists are warning that a collapse of the enormous ocean current would result in an extreme impact to the planet's climate, particularly in western Europe which will likely experience freezing winters and much stronger storms.
If the Gulf Stream dissipates, climatologists warn of increased storm severity in Europe, a faster sea-level rise on the eastern seaboard of the US and the likelihood of much more drought across the Sahel region of Africa, according to The Guardian.
The Gulf Stream, known in academic circles as the Atlantic Meridional Overturning Circulation (AMOC), brings warmer water toward the North Pole from equatorial regions, where it cools, sinks and returns southwards as a denser, deeper current.
END
---
Russia has figured out how to jam U.S. drones in Syria, officials say
CNBCNEWS – April 10, 2018: The article highlights that four U.S. officials said Russia's signal scrambling has seriously affected military operations. That the Russian military has been jamming some U.S. military drones operating in the skies over Syria, seriously affecting American military operations, according to four U.S. officials.
The Russians began jamming some smaller U.S. drones several weeks ago, the officials said, after a series of suspected chemical weapons attacks on civilians in rebel-held eastern Ghouta. The Russian military was concerned the U.S. military would retaliate for the attacks and began jamming the GPS systems of drones operating in the area, the officials explained.
END