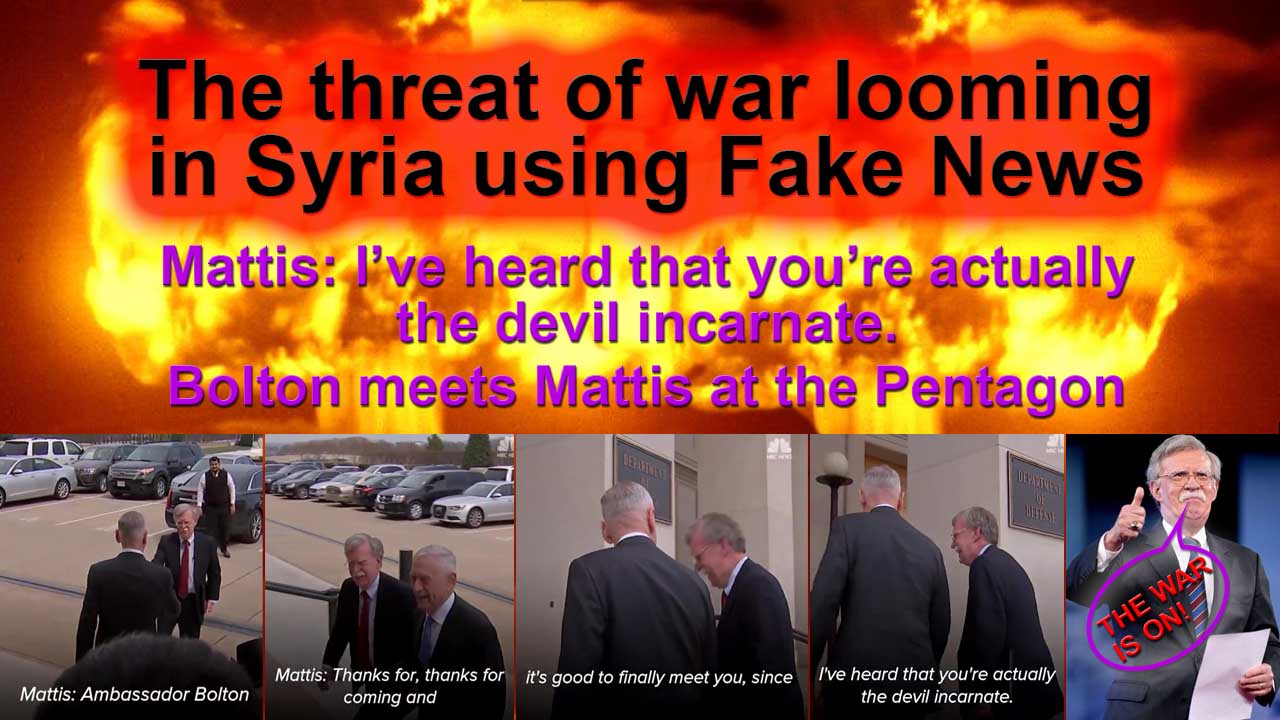 (In the "enhanced" Silent Revolution Of Truth Compilation Edition, the free PDF book: Download and read about the United States and the West using Fake News to antagonize Russia, pages 1072, 1098 and 1374. And the United States and the European Union Dictatorship provoking Russia will only make the country of Russia stronger!!!, page 1443. And President Putin alluded that there was some sort of deception going on with the American presidents and politicians, page 581. And the United States military was purposefully created to aggressively go after and overthrow governments, page 1412.  Note: Use the page number display located at top right to find the correct page. UPDATED, PDF Format – Links: Book Summary | and Download Book)
BATTLEFORWORLD – April 8, 2018: John Bolton and Mike Pompeo aren't even yet approved by the US congress, which is a sure thing, and they have already started to push war plans into the open to attack Syria using fake news – instigating chemical attacks using militants.
Many will have to concede that President Trump has been taken over by the warring neoconservatives and his psychology regarding meddling in foreign countries affairs will be the same as all the other US presidents that have participated in the endless world domination foreign policy wars.
Trump has surrendered to the command of the neocons' warfare foreign policy? And if he has indeed so the consequence will be truly trembling and Earth shattering.
Related articles:
Syrian Air Defense Intercepts Over 20 Missiles Fired By US, UK And France
Top Russian General Predicted Douma, Syria Provocation A Month In Advance
Nature is amassing her forces to strike
The rise of the beast-666, the Anti-Christ
Russia's State TV Instructing Russian Citizens To Start Preparing For Armageddon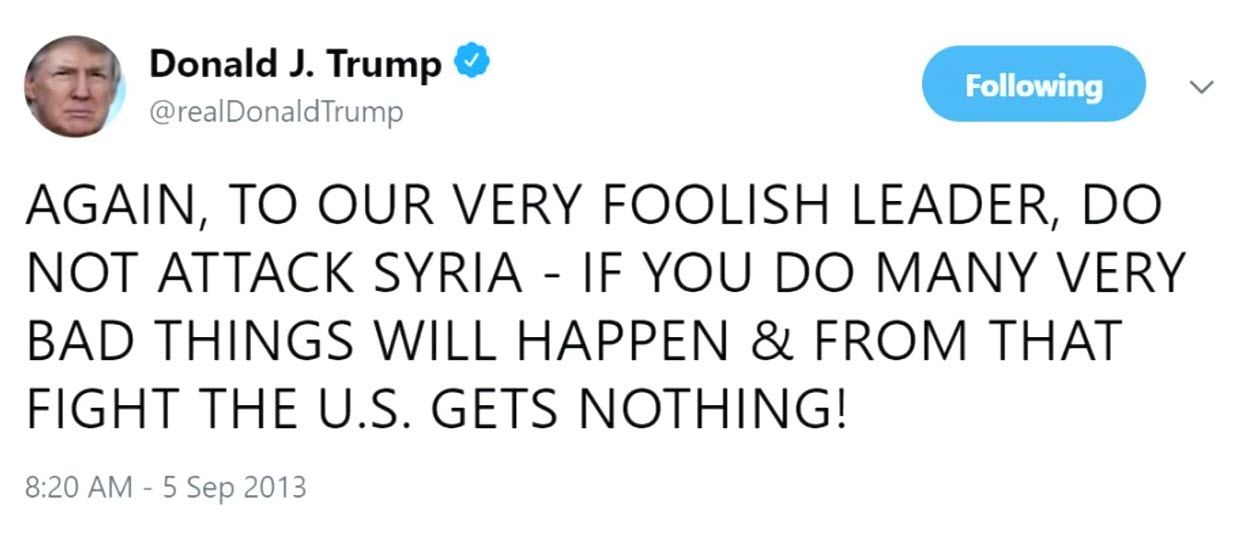 BATTLEFORWORLD – April 8, 2018: On September 5, 2013, Donald Trump tweeted: "Again, to our very foolish leader (President Obama), do not attack Syria – if you do, many very bad things will happen and from that fight the U.S. gets nothing!"
What has changed to make Trump an equal fool like President Obama?
END
---
Senate Panel Poised to Vote Against Backing Pompeo Nomination
WSJ – April 22, 2018: The highlight of the article is that the CIA director still expected to be confirmed as secretary of state by full Senate. Even though a Senate committee is on track to vote Monday against endorsing the nomination of CIA Director Mike Pompeo to be secretary of state, which would mark an unusual rebuke to a central member of President Donald Trump's foreign policy team. The Senate Foreign Relations Committee is scheduled to vote on Mr. Pompeo's nomination on Monday evening. All of the panel's Democrats have said they would oppose the former congressman's nomination, and they have been joined by one Republican, Sen. Rand Paul of Kentucky.
END
---
Bolton's Big U-turn
BATTFEFORWORLD – April 15, 2018: Maybe Bolton knew in advance that he would be called upon to partake in future Middle-East warfare and wanted Obama to be ridiculed for his then soft stance on Syria. It appears that there is some type of shadow government that hides behind the United States government elected by the people. And this shadow government has national and foreign policy plans already drafted for the elected government to implement.
MCCLATCHYDC – April 15, 2018: When President Barack Obama contemplated a military strike in Syria after its leader's use of chemical weapons five years ago, the pugnacious former U.N. ambassador John Bolton argued against intervention.
"I don't think it is in America's interest," Bolton said in a FOX interview in 2013. "I don't think we should in effect take sides in the Syrian conflict."
Yet for the last week, Bolton, President Donald Trump's new national security adviser, has been pushing for a more aggressive approach to Syria, illustrating his views in the region have changed dramatically as he has become more alarmed about the rise of influence by Russia and Iran, key allies of Syrian President Bashar al-Assad.
END
---
Bombshell: Top General Says Syria Attack Was Staged
INFOWARSNEWS – April 15, 2018: United States long ago secret plan to overthrow many governments in the Middle-East…and finally Russia using lies and deception.
END
---
Russia to take tit-for-tat steps should US strike Syria, senior MP warns
BATTLEFORWORLD – April 10, 2018: News reports are circulating that the United States military is amassing warships, etc. to attack Syria over the alleged chemical attack in Douma, Syria. An incident fabricated by the US, UK, EU and Israel as pretext to finally implement the long awaited war plan to attack Syria. The same style of fabricated lies were used on Iraq, Libya, and now its Syria's turn and it will not stop there.
TASS – April 10, 2018: Russia will take all political, diplomatic and military retaliatory measures if necessary should the United States deliver a strike on Syria, Russian State Duma (lower house of parliament) Defense Committee Chairman and former Commander-in-Chief of the Russian Airborne Troops Vladimir Shamanov said on Tuesday.
"The politics of double standards have hit rock bottom. And here the United Russia party conscientiously states that all political, diplomatic and military measures if necessary will be taken. No illegal action will remain unanswered," Shamanov vowed at a plenary meeting of the State Duma.
The senior MP was indignant over US President Donald Trump's statement about Washington's response within 48 hours, saying: "They should not pin their hopes on their naval task forces and their deceptions. We are a sovereign country and we have allies and guarantors for those events taking place in Syria. We won't let the Americans hammer nails on someone else's anvil."
Shamanov stressed that Russia's possible measures need to be considered and responsible. He also emphasized that the report on the alleged chemical attack in Syria's Douma is absolute provocation.
END
---
Syrian Army Uncovers Chemical Lab in Eastern Ghouta – State Media
SPUTNIKNEWS – April 13, 2018: The Syrian Army has discovered a facility in Eastern Ghouta used for making toxic biochemical weapons, the Syrian Arab News Agency (SANA) reported Friday.
The "Syrian Arab army units found a large lab for making toxic materials" and a workshop for producing artillery shells of various sizes while inspecting towns where terrorists were recently evacuated from in Eastern Ghouta, located just east of Damascus, SANA noted.
A military source explained that chlorine, hazmat gear, and ampoules for mixing substances were located at the facility.
According to the source, the lab was found in the town of Aftris.
The workshop also produced, or stored, 60mm, 80mm, 180mm shells, SANA cited the military source as saying.
END
---
We Have Evidence of UK's Role in Staging Douma, Syria Provocation – Russian MoD
SPUTNIKNEWS – April 13, 2018: An apparent false flag chemical attack in the Syrian town of Douma on April 7 has served as a pretext for the United States to threaten the Middle Eastern country with a missile strike; Russia has been calling for a transparent investigation while local doctors have said no one has requested any medical treatments for poisoning.
'Planned Provocation'
He added that   the United States and Western countries continue their "indiscriminate and unfounded accusations" against the legitimate Syrian government over the alleged use of chemical weapons against civilians in Eastern Ghouta.
The Russian Defense Ministry held a press briefing on what the Western narrative describes as an alleged chemical attack in Syria's Eastern Ghouta. No evidence has been presented to support the claim. A Russian chemical corps commission that has been sent to Douma reported that no traces of chemical poisoning were found. On April 12, the US defense secretary acknowledged that the Pentagon had no evidence of chlorine or sarin use in Douma.
"The Russian Defense Ministry has plenty of evidence that on April 7, a planned provocation was carried out in Douma with the aim of misleading the world community. The provocation's real purpose today is clear to everyone — to prod the United States to launch missile strikes against Syria," Konashenkov stressed.
"We managed to find direct participants in the shooting of this video and interview them. Today we are presenting a live interview of these people. Duma residents in detail told us how the filming was conducted, in what episodes they took part themselves and what they did," Konashenkov said.
"During the provision of first aid, unknown people ran into the hospital, some of them with video cameras, who started screaming, panicking and pouring everyone with water from hoses, shouting that everyone was poisoned with toxic agents. Patients… and their relatives in panic began to pour water on each other," the ministry spokesman said.
"Right now, the Russian Defense Ministry has other evidence indicating Britain's direct participation in organizing this provocation in Eastern Ghouta," Konashenkov noted.
"A total of 170,152 people were evacuated from the area, including 63,117 militants and members of their families," Konashenkov said.
END
---
Russia's top diplomat: Chemical attack in Syria's Douma staged by foreign special services
SPUTNIKNEWS – April 13, 2018: Moscow has the irrefutable data that this chemical attack was staged, according to Sergey Lavrov.
Russia has indisputable data that the chemical attack in the Syrian town of Douma was staged by special services of a foreign country, Russian Foreign Minister Sergei Lavrov said on Friday.
"The mission of the Organization for the Prohibition of Chemical Weapons [OPCW] has set off to Syria not so quickly and without abundant enthusiasm but under our and Syrian pressure. It is due to arrive in Damascus in the morning of April 14," the Russian foreign minister said.
"We expect the mission to go without any delay to Douma where Russian specialists who examined this place have not found any confirmations of the use of chemical weapons," Lavrov noted.
END
---
Syrian diplomat names those responsible for bringing chemical weapons to Syria
SPUTNIKNEWS – April 12, 2018: Toxic agents, used during the military conflict in Syria, have been illegally brought into the country from Libya with the assistance of the United Kingdom, Saudi Arabia, United States, Turkey and France, Syria's UN envoy said on Thursday.
The terrorists have acquired chemical substances from Libya a long time ago from the Libyan stock. This operation was facilitated by the Turkish intelligence, Saudi intelligence and the American and French intelligence services. They smuggled chemicals from Libya to Istanbul on board of civilian airlines and the guy who was in charge of transporting these substances was a guy named Haitham al-Qassar," Bashar Ja'afari told reporters.
END
---
Israeli aircraft were in the sky during missile attack on Syrian airfield – TV
(In the "enhanced" Silent Revolution Of Truth Compilation Edition, the free PDF book: Download and read about the role of the Israeli Zionists in worldwide machinations, wars and bloodshed, pages 249, 250, 465, 477, 478, 529, 530, 833, 1081 and 1374. Note: Use the page number display located at top right to find the correct page. UPDATED, PDF Format – Links: Book Summary | and Download Book)
TASS – April 9, 2018: The Israeli Air Force carried out reconnaissance flights in the border area between Syria and Lebanon when a missile strike was delivered on the T-4 military airfield in Syria's Homs province, Al-Mayadeen television reported on Monday.
The SANA news agency earlier reported citing a military source that Syrian air defense systems had shot down eight missiles when repelling the attack. There are no reports yet on how many of these missiles actually hit the targets. According to SANA, the attack has left several military servicemen dead and wounded
END
---
Forget about Gaza, bomb Assad! Israeli hawks urge US to strike Syria over Douma 'chem attack'
RT – April 9, 2018: Israeli officials have called on the US to attack the Syrian Army, following what they called a "shocking attack" in Douma. Israel's own crackdown on Gaza protesters was "self-defense" and not worthy of attention, they said.
Washington must launch a strike against Damascus in response to the alleged chemical attack in the city of Douma, the Israeli Strategic Affairs and Public Security Minister Gilad Erdan told the Army Radio on Sunday, commenting on the reports coming from anti-government groups in Syria. Erdan also said he personally hopes that the US would take military action against the Syrian government, which he blamed for the attack, the Jerusalem Post reports. The minister added that the Douma incident shows the "need" for a US troop buildup in Syria.
The Israeli construction minister and former IDF major general, Yoav Galant, went even further and called for a military strike aimed directly against the Syrian president. "[Bashar] Assad is the angel of death, and the world would be better without him," Galant said. The Israeli opposition leader Isaac Herzog called on the US to take "decisive military action" against Syria.
At the same time, Israeli officials were apparently uncomfortable with the international community paying unwanted attention to developments in Gaza. Dozens of Palestinian protesters were killed by the Israeli Defense Forces (IDF) during mass protests in the Gaza Strip – but Erdan says the global community has been looking in the wrong direction.
"The shocking attack shows the incredible international hypocrisy of the international community focusing on Israel confronting the terrorist organization Hamas that is sending civilians to our [border] fence, when dozens are being killed in Syria every day," he said.
END
---
Syrian Airbase in Homs Province Hit by Missile Attack
SPUTNIKNEWS – April 8, 2018: A T-4 airbase in the Syrian province of Homs has been hit by a missile strike, local media reported, suspecting the United States. However, Pentagon did not confirm the reports of involvement.
A Syrian T-4 airbase in the Homs province has been hit by rocket fire, according to SANA news. According to the agency, the strike caused casualties. It was also reported that the Syrian Air Defense Force opened fire on the upcoming missiles and intercepted several.
An informed source told Sputnik on Monday that the Syrian Air Defense Force shot down the missiles. "The Syrian Air Defense Force has destroyed a few missiles, which attacked the T-4 air base. The missiles fell in the vicinity of the airfield," the source said.
According to Syria's SANA news agency, the attack might have been carried out by the United States.
"We are aware of the reports, we have nothing to confirm," a Pentagon representative said commenting on the reports of the US involvement in the attack.
END
---
Russia warns of 'most serious consequences' if US strikes Syria over alleged chemical attack on its citizens
YAHOO – April 8, 2018: Russia is warning the U.S. against any "military intervention" in Syria over the government's alleged chemical attack against civilians this weekend, saying any such response would be "unacceptable" and lead to the "most serious consequences".
The foreign ministry in Moscow also says in a statement on its website that allegations of the chemical attack are "fabricated," suggesting the claims were invented by rebel forces and the Syrian Civil Defense known as the White Helmets.
END
---
Russian Foreign Ministry slams reports on Douma chemical attack as fake news
TASS – April 8, 2018: The Russian Foreign Ministry has rejected as fake news Saturday's reports on a chemical attack carried out by the Syrian government forces in Douma near Damascus.
"Fake news on the use of chlorine or other chemical agents by the government forces continue," the ministry said. "Another piece of such fabricated information on the alleged chemical attack in Douma emerged yesterday."
Allegations about the use of chemical agents by the Syrian government forces are aimed at justifying external military strikes, the ministry said. "The goal of these false speculations, which are not substantiated by any facts, is to cover up terrorists and irreconcilable radical opposition, which opposes political settlement, and to simultaneously try to justify potential external military strikes," the ministry said.
END
---
Moscow Warns Against Foreign Attack in Syrian Areas Where Russian Troops Located Using Fake/Fabricated Pretext
SPUTNIKNEWS – April 8, 2018: Earlier, the US State Department had expressed concern about the reports of chemical weapons use in Douma that allegedly led to deaths of 40 people, claiming that Russia was accountable for targeting Syrians; the Russian military has refuted the allegations, saying they were aimed at disrupting of Jaysh al-Islam militants' evacuation from E Ghouta.
"Hoaxes of attacks using chlorine or other poisonous substances by Syrian government forces are continuing to emerge. Another such hoax that has supposedly taken place is the alleged chemical attack in Douma yesterday. At the same time, references have been made to the notorious NGO "White Helmets," which has been repeatedly caught acting with terrorists, as well as other so-called humanitarian organizations based in the United Kingdom and the United States," the ministry said in a statement.
The ministry went on to say that it had repeatedly warned about possible provocations involving the use of chemical weapons in Syria. Their major aim is to accuse Syrian government forces of chemical weapons use and justify possible military intervention in Syria from abroad, according to the ministry's statement.
END
---
Russia Convenes UNSC Meeting to Discuss Threats to International Peace
SPUTNIKNEWS – April 8, 2018: Russia convenes on Monday a meeting of the UN Security Council to discuss threats to international peace and security, Russia's Permanent Mission to the United Nations said Sunday.
Thus, the UN Security Council will hold two meetings on Monday. The meeting initiated by Russia will take place approximately at 15.00 local time (19.00 GMT). Upon its completion, the Security Council will proceed to discuss the situation in Syria.
Earlier in the day, nine out of 15 members of the UN Security Council have urged the convocation of an emergency meeting to discuss reports about alleged use of chemical weapons in Syria.
On Saturday, several media outlets, citing Syrian militants, accused Damascus of using chemical weapons in the city of Duma in Syria's Eastern Ghouta. US President Donald Trump's Homeland Security Advisor Tom Bossert said earlier on Sunday that he did not rule out military actions against the Syrian government in connection with the reports.
END
---
All Evidence Points Towards False Flag In Syria
THEALEXJONESCHANNEL – April 8, 2018: This is not the first time that a convenient chemical attack has threatened to bring the US into the war in Syria.
END
---
Trump Slams Putin, Iran for Backing "Animal Assad" Amid Chemical Attack Claims
SPUTNIKNEWS – April 8, 2018: One of President Donald Trump's top homeland security advisers has said that the US will not rule out launching a missile attack in response to news reports about a chemical attack on a rebel-held town in Eastern Ghouta, Syria.
US President Donald Trump has accused Russian President Vladimir Putin, Moscow and Tehran of backing Syrian President Bashar Assad in light of the reports about the alleged use of chemical weapons in the Arab Republic, adding that Damascus would pay a "big price."
Trump  has referred to the alleged "mindless" chemical attack as a "humanitarian disaster for no reason."
END
---
'I give you 24 hours to resign': 1st OPCW chief on how John Bolton bullied him before Iraq War
RT – April 7, 2018: The first OPCW chief, who tried to bring Iraq and Libya into the organization, told RT how US foreign policy hawk John Bolton threatened him over his refusal to resign prior to the 2003 Iraq War.
Jose Bustani, the first director-general of the global chemical weapons watchdog Organization for the Prohibition of Chemical Weapons (OPCW), sat down with RT and revealed how John Bolton, a Bush-era official and now Donald Trump's pick for National Security Adviser, bulldozed the way for the 2003 Iraq invasion.
Bustani, a Brazilian diplomat, led the organization from 1997 until 2002, when he was ousted after falling out of favor with the US. At the time, he was trying to convince Iraq and Libya to join the organization, meaning that the two countries would have been obliged to dispose of all chemical weapons if they had any.
He said that according to reliable intelligence he had as director-general, "it was obvious that during the first Iraq War everything had been destroyed [by Iraq]," and there was "nothing left for Iraq to be accused of possessing chemical weapons."
In 2001, OPCW inspectors examined Iraqi facilities, and it was "a successful operation," after which Bustani's informal dialogue with the Iraqis and Libyans about joining the organization made a breakthrough, he recalled.
But diplomatic efforts and peacemaking did not sit well with Washington, because "they had plans already to take some action – military action – against Iraq," Bustani claims. Shortly afterwards, the Bush administration began to aggressively lobby for his removal, and it became "a tragic story" for him, he said.
"I got a phone call from John Bolton – it was first time I had contact with him – and he said he had instructions to tell me that I have to resign from the organization, and I asked him why," Bustani told RT. "He said that [my] management style was not agreeable to Washington."
He resolutely refused to resign, only to see Bolton again at OPCW headquarters in The Hague several weeks after the phone conversation. "He came to my office and said: 'You have to resign and I give you 24 hours, this is what we want. You have to leave, you have to resign from your organization, director-general.'"
END
---
John Bolton Threatened Then OPCW Director General Jose Bustani To Go After His Kids
RT – April 7, 2018: Former OPCW Director General Jose Bustani, 1997 – 2002: …I got a phone call from John Bolton from Washington (DC). It was the first time I had contact with him. He said that I (Bolton) had instructions to tell you that you should resign from the organization (OPCW = Organisation for the Prohibition of Chemical Weapons) and I asked him why. And he (Bolton) said that your management style is not agreeable to Washington to Dick Cheney the Vice President etc., he (Bolton) said no way I don't accept that.  So he came to the Hague and he came to my office and he said: You have to resign and I give you 24 hours! This is what we want! And I said that no way, I don't have any reason to do that; I don't owe it to you, I was elected by acclamation by all the member states of the organization. It is only you the United States, they are challenging my management style. And he said, but then again I tell you, we have already discussed with your government that you should resign. I said, I don't know of any agreement with my government. And then he (Bolton) said, OK so, there will be retaliation then, prepare to accept the consequences: WE KNOW WHERE YOUR KIDS ARE.  And at that moment two of my kids where in New York; they studied in the United States. One of them is an American for that matter, was born in New York, he's Brazilian American, and I had another daughter in London. And I said, I am prepared, my family is aware of what is going on, so I am prepared to face the consequences, go ahead. And he (Bolton) was a little bit shocked and he left. He's is not a man you can have a dialogue with.
The Devil Incarnate: Mattis Greets Bolton Outside Pentagon
END
---
Worldwide Destabilization – Wars and Financial Chaos
BATTLEFORWORLD – April 8, 2018: The Anti-Christ is not a human person, a man, but rather the testosterone/masculinity of a movement that is bestial and degenerate in behavior. This devilish animal is seeking one world domination using force organized by the ruling elites (old wealthy selfish-greedy families – Rothschild, Rockefeller, British Royal Family, Fondi Family, secret societies, etc.). All the narratives coming from the West about the Anti-Christ are based on theology and ideology from western schools of thought and are cloaking the accurate meaning. Neither Napoleon nor Hitler was The Anti-Christ; however, they were only a tool, a figurehead (not the real power) of The Anti-Christ – which in truth is a movement seeking world domination through One World Government – the Global Beast of World Governance – The International Order. The Anti-Christ is very handsome, implying that the illusion, the image that it propagandizes to the people – continuous war, money, fashion, lifestyle, behavior, (smokescreen) human rights, (smokescreen) humanitarianism, (smokescreen) justice, etc. And the popularity of sweet hypnotic words, implying that the illusion that has wrapped itself into a one/uni world movement knows what to say to the people using "global/corporate media" to get their attention and have them believe the narrative. The Anti-Christ one world movement controlled by the ruling elites tried to grab power using Napoleon as the front-man and Europe as the battle ground, but failed. It then used Hitler as the front-man and Europe as the battle ground and also failed. (But Hitler only failed publicly, because privately after World War II Europe-Germany was subdued into forming the European Union Dictatorship for the British and the Americans, part of the leg for their One World Order Government.) But now the ruling elites have become more clever and are using radical Islam and terrorism narratives (to finish the world domination job they started).
Exploiting the United States, the ruling elites are, to spread their propaganda image of democracy, crony capitalism/economic system ideology and military, along with their conquered allies and military NATO. The third attempt, the front-man for the Anti-Christ one world movement is the image that the United States propagandizes to trick the people of the world that what it is doing is good and for peace, but it is truly a movement based on lies nonstop. (The name MABUS in Nostradamus' Century 2, Quatrain 62 is referring to a "treaty" that the United States is involved in – the US-ABM treaty. The United States will break the US-ABM treaty that has held together the balance of world power preventing nuclear war. And so the treaty will die and if world war breaks out it will surely bring catastrophe across the Earth. But the Peace Faction in Russia continues to ask the United States for written guarantees that the US-ABM Defense Shield is not directed at Russia, but the United States refuses to give Russia written guarantees, and informs Russia that verbal words should be sufficient to trust.)
END
---
US Senator Wants to Sanction Russia, Iran Over Alleged Chemical Attack in Syria
SPUTNIKNEWS – April 8, 2018: Senator Ben Cardin, a Democrat from the state of Maryland, has called on additional sanctions against Russia and Iran in connection with accusations of an alleged chemical attack on the town of Douma in Syria's Eastern Ghouta.
Cardin, who serves on the US Senate Foreign Relations Committee, told CBS's Face the Nation weekly news show on Sunday that he was pleased with US President Donald Trump's accusation of Russian President Vladimir Putin, Moscow and Tehran in backing Syrian President Bashar Assad, in light of claims about the alleged use of chemical weapons in the Arab republic.
The Syrian regime under President Assad cannot exist without Russia's support and the activities of Iran," the senator asserted.
The United States, the international community, need to take action against Russia and Iran for what they're doing in Syria […] we need to take a pretty strong response for another use of chemical weapons," he urged.
"No chemical weapons were used in this area, and all accusations against the government troops from the West are nothing more than another fake," the center's commander, Maj. Gen. Yuri Yevtushenko, said during his daily briefing.
END