Qatar cleric films shocking guide on how Muslim men should beat their wives
BATTLE FOR WORLD / THE SUN | April 16, 2019: The article highlights that a leading academic and cleric from World Cup host country Qatar has filmed a shocking guide on how Muslim men should beat their wives. The video described as vile, features Abd Al-Aziz Al-Khazraj demonstrating how to "punish" a woman in accordance with Islamic law.
In a further sick and disturbing display, the sociologist used a school-age boy called Nayef as example to show how to deliver beatings "out of love", he says, so a woman can feel a "man's strength".
And he repulsively said that some women enjoyed being married to "violent and powerful husbands".
But he cautioned that: "Some people punch her or slap her on the face… That's not allowed."
(In the Silent Revolution Of Truth, Compilation Edition, "enhanced", the free PDF book: Download and read about the position of the women, page 1425. Horrible bad habit of the men of different cultures, page 1426. Many societies are influenced by millennium-old oppression of women by the majority of the men, page 1428. Note: Use the page number display located at top right to find the correct page. Free Book, PDF Format – Links: Book Summary | and Download Book)
(The Youtube video title is: "Qatari Sociologist Abad Al-Aziz Al-Khazraj Al-Ansari Demonstrates Correct Wife-Beating in Islam".)
END
---
US State Department Approved Thousands of Child Bride Requests – Report
BATTLE FOR WORLD / SPUTNIK NEWS – January 12, 2018: The article highlights that the US Department of State has approved thousands of requests made by older men wanting to bring their underage spouses or fiancées to the Land of the Free, according to government data collected by the Associated Press reveals.
Reviewing the data from 2007 to 2017, reporters found that the US Citizenship and Immigration Services (USCIS), which is the agency that first examines petitions before passing them to the State Department for approval, received some 3.5 million petitions during that period of time.
Of the 3.5 million petitions, the data shows that the State Department gave their seal of approval to 5,556 cases that detailed applicants, 149 of whom were aged 40 and older, wanting to bring their minor spouses or fiancées stateside. Another 2,926 approvals were given to minors seeking to bring older spouses to the US.
But the matter of child brides isn't only linked to petitions submitted to the USCIS. A 2017 report by the Tahirih Justice Center, an advocacy organization focused on protecting the rights of immigrant women and girls, found that more than 200,000 children under 18 were married in the US between 2010 and 2015.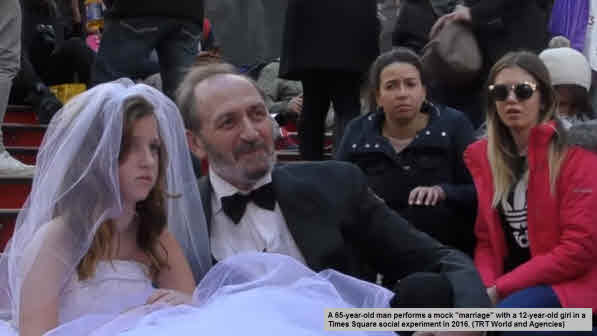 END