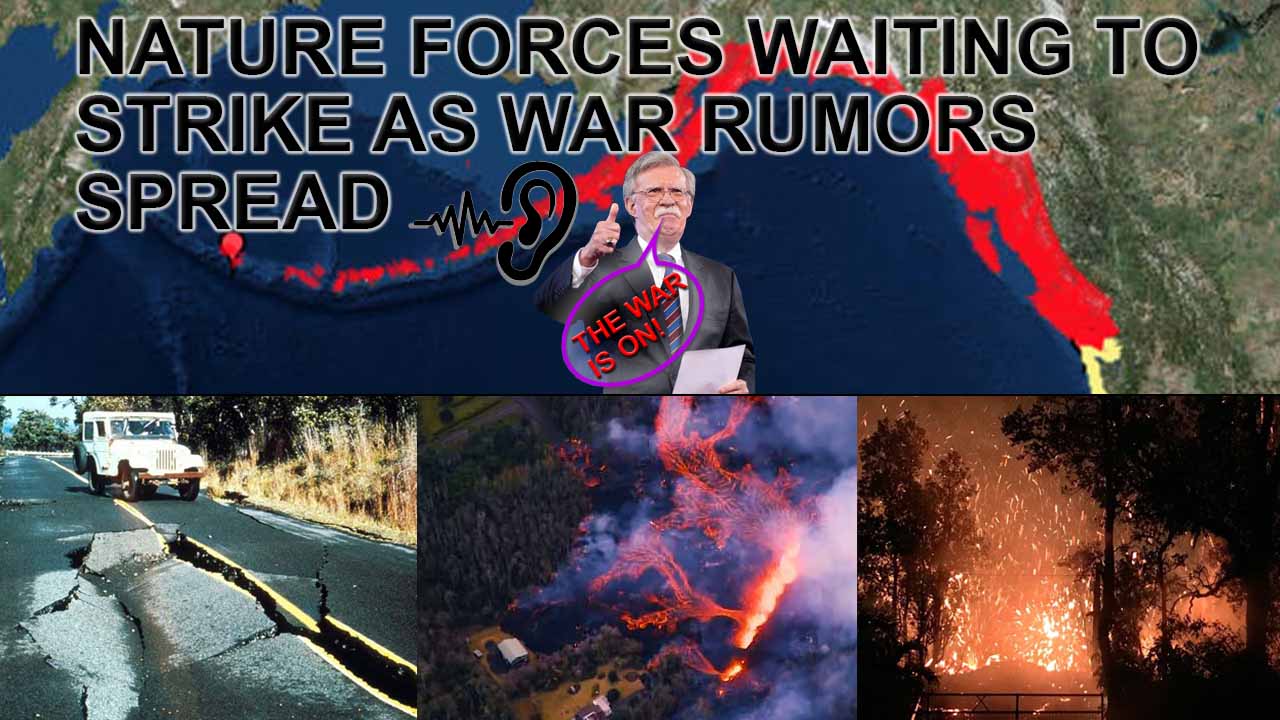 BATTLE FOR WORLD – April 10, 2018: As if the elements of nature are listening, warning the United States not to start the breakout of war, a series of earthquakes continue to strike in succession in the US states of California, Oklahoma, Texas, Nebraska, etc.
Apparently nature is very upset regarding what is going on with war fervor in the United Sates and the West, but the neoconservatives, the ruling elites and the Zionists don't give a damn about nature, because they want war at all cost to bring about mass-destruction and world domination. And so, maybe nature won't give a damn when she let loose her might elemental-forces upon the Earth.
Related article:
Wildfires, Hurricanes, Earthquakes, Tsunamis, Floods – Nature Disorder All Over The World
END
---
Nature Raging Mayhem, Strange Weather
BATTLE FOR WORLD – December 6, 2017 (updated December 24, 2017): As politicians and political forces unleash their power, to see who can dominate the world, all sorts of madness are being let loose on lands and people. And the world is to experience erratic disorders of great magnitude for awhile – fireballs, wildfires, firestorms (i.e. wildfires energized by wind which causes the fire to become hotter and spread faster), hurricanes, earthquakes, tsunamis, floods, volcanoes erupting, etc. – nature and cosmic weapons. And some things are best left unsaid, but when the factions fight civilians are caught up in the casualties.
The "fireballs" sensation is still premature and not fully implemented. Their appearance for now is similar to fireworks in the day and night skies, but eventually will come fear and mayhem into the years of 2020 and beyond.
END
---
Arizona Preparing For California Earthquake Evacuees
CBS LOCAL – May 27, 2018: The article highlights that Californians aren't the only ones getting ready for the big one. And that Arizona is preparing for an influx of evacuees after the next major earthquake. We all know it's coming but how ready are we and where would we go as disaster strikes?
As CBSLA's Elsa Ramon reports, Arizona is holding practice runs just outside of Phoenix, preparing for 400,000 evacuees from California.
END
---
Hawaii volcano prompts new warning — heed evacuation order or face arrest
FOX NEWS – June 1, 2018: As molten lava continued spewing from Hawaii's Kilauea volcano Thursday, Hawaii County ordered all residents of a designated portion of the hard-hit Leilani Estates development to evacuate by Friday morning or face possible arrest.
Big Island Mayor Harry Kim declared a roughly 17-block swath of the estates "off limits indefinitely" and gave residents 24 hours to get out by 12:06 p.m. local time Friday, Reuters reported.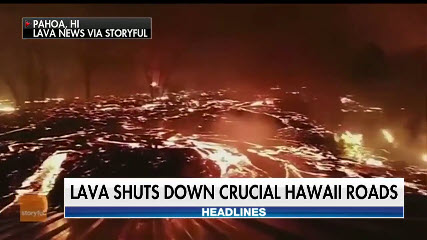 Hawaii volcano prompts new warning – heed evacuation order – video, here.
END
---
Massive solar storm to slam Earth; Could knockout power, damage satellites
(In the "enhanced" Silent Revolution Of Truth Compilation Edition, the free PDF book: Download and read about how nature weather forces will retaliate against the people of Earth: Nature strikes back in vengeance, page 1386. The coming extreme weather conditions, page 1132. The weather changes will assume apocalyptical proportions, page 1054. All sorts of disasters in terms of the weather and the climate, page 878. The pole shift, page 842. The weather will break down, page 99. Weather and terrible nature catastrophes, page 1245. The weaponization of nature, weather warfare, page 1165. The changing weather/climate events on the Earth, pole shift, page 413. Foretold decades ago. Note: Use the page number display located at top right to find the correct page. UPDATED, PDF Format – Links: Book Summary | and Download Book )
DAILY MAIL – March 13, 2018: The highlights of the article state that Nasa spotted a solar flare releasing a coronal mass ejection earlier this week (in March 2018). And that the National Oceanic and Atmospheric Administration issued a 'G1' storm watch. The solar flare coincides with the formation of 'equinox cracks' in the sun, formed by an enormous explosion in the sun's atmosphere, which form around the equinoxes on March 20 and September 23 weakening the magnetic field.
The huge solar storm is heading for Earth, and it's likely to hit tomorrow (March 14). And the warning is that the storm could knockout satellites, disrupt power supplies and spark stunning displays of the Northern Lights.
The anomaly was created last week by an enormous explosion in the sun's atmosphere known as a solar flare, and charged particles from that flare are now on their way to our planet.
These cracks weaken our planet's natural protection against charged particles and could leave commercial flights and GPS systems exposed to the incoming storm.
END
---
Huge fissure opens on Hawaiian volcano
ABCAUSTRALIA – May 15, 2018: A massive new fissure opened on Hawaii's Kilauea volcano, hurling bursts of rock and magma with an ear-piercing screech on Sunday (May 13) as it threatened nearby homes within a zone where authorities had just ordered an evacuation.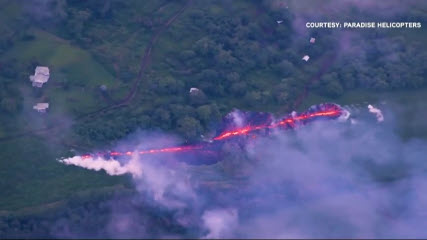 Huge fissure opens on Hawaiian volcano – video, here.
END
---
Hawaii volcano raises concerns of eruptions along West Coast
AP NEWS – May 12. 2018: The eruption of a Hawaii volcano in the Pacific "Ring of Fire" has experts warily eyeing volcanic peaks on America's West Coast that are also part of the geologically active region.
The West Coast is home to an 800-mile (1,300-kilometer) chain of 13 volcanoes, from Washington state's Mount Baker to California's Lassen Peak. They include Mount St. Helens, whose spectacular 1980 eruption in the Pacific Northwest killed dozens of people and sent volcanic ash across the country, and massive Mount Rainier, which towers above the Seattle metro area.
"There's lots of anxiety out there," said Liz Westby, geologist at the U.S. Geological Survey Cascades Volcano Observatory in Vancouver, Washington, in the shadow of Mount St. Helens. "They see destruction, and people get nervous."
Kilauea, on Hawaii's Big Island, is threatening to blow its top in coming days or weeks after sputtering lava for a week, forcing about 2,000 people to evacuate, destroying two dozen homes and threatening a geothermal plant. Experts fear the volcano could hurl ash and boulders the size of refrigerators miles into the air.
END
---
Volcano continues to spew lava on Hawaii's Big Island
RT – May 7, 2018: Kilauea volcano in Hawaii continued to spew lava on Sunday, after its eruption and earthquakes forced locals to flee the area.

(Note: The video was deleted by YouTube due to guidelines.)
END
---
Hawaii residents flee after Kilauea volcano eruptions
CNN – May 7, 2018: Hawaii residents faced the threats of more earthquakes, lava and dangerous gas Saturday after the Kilauea volcano erupted, spewing sulfuric acid and molten rocks into neighborhoods.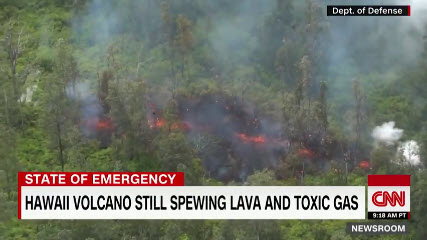 Hawaii residents flee after Kilauea volcano eruptions – video, here.
END
---
6.9 Earthquake moment in Hilo, Hawaii | May 4, 2018
NATURAL DISASTER – May 7, 2018: That looks like a very strong quake.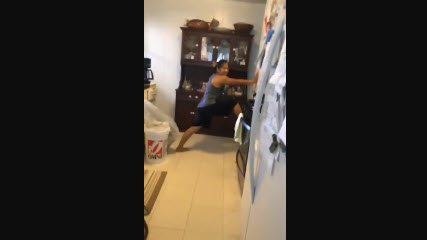 INCREDIBLE! 6.9 Earthquake moment in Hilo, Hawaii – May 4, 2018 – video, here.
END
---
Mystery BOOMS Across US Sparks Secret Underground WW3 Preparation Fears
DAILY STAR – April 14, 2018: The highlight of the article is that the US government is running a secret underground tunnel system in preparation for a devastating third World War – according to claims being posted online.
And to make the situation more airy, bizarre new footage has emerged from Cleveland, Ohio, US, that shows a CCTV recording of one of these mysterious occurrences – that of booming sounds.
Residents say they have become accustomed to these activities but this one left many scared as pieces of their home started breaking.
Homeowners say the noises come from below the surface as floorboards shake – but no earthquakes or natural occurrences were reported at the time.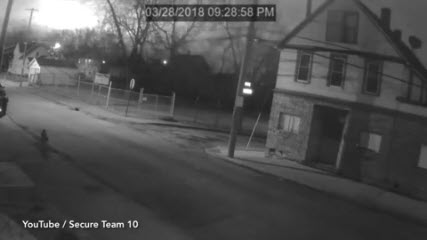 Mystery BOOMS across US sparks secret underground WW3 prepared – video link, here.
END
---
Tornadoes, Blizzards, Floods: Freak Weather Menaces US
SPUTNIK NEWS – April 16, 2018: Severe tornadoes in the US South and blizzards in the Plains and Midwest through the weekend continue to bring snow, rain and wind to large parts of the country, shutting down airports and knocking out powers for tens to thousands of people.
According to the National Weather Service (NWS), a tornado with winds of 135 miles per hour and a path at least 300 yards wide hit Greensboro, North Carolina, on Monday. Neighborhoods near Hampton Elementary School on the eastern side of Greensboro were most affected.
On Monday, a WFMY crew was getting ready to broadcast before the tornado knocked out power and communications at the station itself.
END
---
Massive tremor on way? Series of quakes shake California, Alaska
EXPRESS – April 11, 2018: The article highlights that near the end of January, a slew of Ring of Fire activity took place in many places. And that Alaska experienced an earthquake and a volcano erupted in the Philippines. At the time, the UN tweeted that the Pacific Ring of Fire was 'active'. And Nnow, eight earthquakes have shaken the US with several close to the Ring of Fire, where three earthquakes struck in California with others in Alaska, Nebraska, Texas, etc.
END
---
Earthquake strikes US: California, Oklahoma, Texas and Nebraska hit in quick succession
EXPRESS – April 10, 2018: The highlight of the article is that: A STRING of powerful earthquakes have rocked the west and central US with several of them hitting near to the dreaded RING OF FIRE.
Some eight earthquakes have rocked the United States in quick succession, all of which have taken place on April 9.
The strongest of the earthquakes, and also the most recent, came in Perry, Oklahoma, when a 4.3 magnitude tremor hit the central US state.
People took to social media to share their experience, with one writing: "Another earthquake in Oklahoma, shaking us awake just now!"
END
---
Climate Change: Climatologists Warn of Catastrophic Gulf Stream Collapse
SPUTNIK NEWS – April 15, 2018: As recent studies detail the enormous Greenland ice sheet to be melting at its fastest rate in 450 years, climatologists now point to a new threat; the collapse of the mid-Atlantic Ocean Gulf Stream, which would severely affect weather patterns in Europe, Africa and the northeastern US.
Halting global warming is now more critical than ever, according to the new research, as the dispersion of the enormous Gulf Stream current in the Atlantic Ocean would cause catastrophic climate shifts, affecting large regions on several continents.
Following recent revelations published by senior scientists in Nature magazine observing that the Atlantic Ocean Gulf Stream system is at the weakest level of organization yet recorded, scientists and climatologists are warning that a collapse of the enormous ocean current would result in an extreme impact to the planet's climate, particularly in western Europe which will likely experience freezing winters and much stronger storms.
If the Gulf Stream dissipates, climatologists warn of increased storm severity in Europe, a faster sea-level rise on the eastern seaboard of the US and the likelihood of much more drought across the Sahel region of Africa, according to The Guardian.
The Gulf Stream, known in academic circles as the Atlantic Meridional Overturning Circulation (AMOC), brings warmer water toward the North Pole from equatorial regions, where it cools, sinks and returns southwards as a denser, deeper current.
END
---
Geostorm: Some Deadly Weather Is Brewing
ZERO MEDIA / FILM IS NOW – March 13, 2018: Geostorm Official Teaser: Watch the all new teaser trailer for upcoming disaster thriller GEOSTORM starring Gerard Butler, Jim Sturgess, Abbie Cornish, Ed Harris, Andy Garcia and directed by Dean Devlin.

Geostorm Trailer – Some Deadly Weather Is Brewing in the Sci-Fi Action Movie – video, here.

(Note: The video was blocked by YouTube due to guidelines.)
END