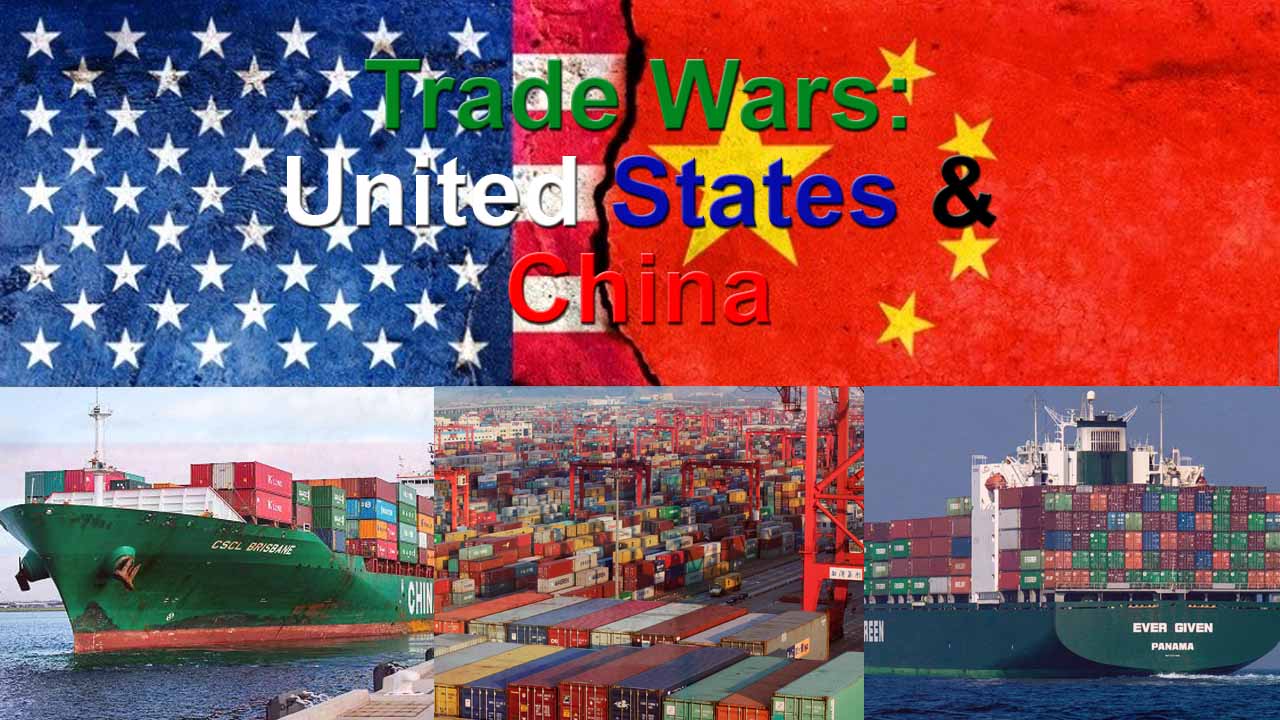 BATTLE FOR WORLD – March 22, 2018: And so, it has started, the long awaited trade war with China, and later others. Trump is fulling his presidential campaign promise, saying it was always about China, China, China.
RT – March 22, 2018: US President Donald Trump has announced a $60 billion package of tariffs against China. According to the White House, the move is aimed at curbing theft of intellectual property.
Trump has signed a Section 301 trade action with China that could be about $60 billion in tariffs, he said adding that he asked China to reduce trade surplus immediately by $100 billion.
"We have right now an $800 billion dollar trade deficit with the world," he said before signing a memorandum."It is the largest deficit of any country in the history of our world. It's out of control."
"We're gonna get it taken care of. Frankly it's going to make us a much stronger, much richer nation."
"Just use the reciprocal. If they charge us, we charge them the same thing."
END
---
Trump: China stole technology from US
BATTLE FOR WORLD / GERALD CELENTE | August 25, 2019: This post highlights one of Gerald Celente's vlogs, commenting on President Trump's speech about China:
Trump went on to say, our country (United States) has lost stupidly, trillions of dollars with China over many years. They have stolen our intellectual property at a rate of hundreds of billions of dollars a year and they want to continue, I won't let that happen, Trump says. We don't need China.
Celente: You know what that is? Bullshit.
They (China) did not steel anything. The slimy manufactures; the big giants and everybody else that wanted to use slave labor back when China joined the World Trade Organization (WTO), that's right, in 2001. [They] brought all the technology over there (to China) so they can use it – from Europe to the United States. That's how they got the technology! They did not steal it!
(BattleForWorld: Wow. You mean Alex Jones has been lying to his audience for all these years about China stealing US technology?)
And we heard from the Fed. Chair, Powell and here's what he has to say: Our challenge is to do what monetary policy can do to sustain the expansion, so the benefits of the strong job market extend to more of those still left behind.
Celente: You know that is? Bullshit. Bullshit detected take precaution. It's Powell bullshit, one bullshit things after another. Monetary policy only enriches the big guys. The too big to fail. That's right. The job stink, the wages aren't near [what] real inflation is. Way behind in immediate household income, Powell!!! …
END
---
Is America Prepared for China's Long March to Cut Off Exports of ALL Rare Earth Metals?
BATTLE FOR WORLD / TRU NEWS | May 22, 2019: The video highlights  Chinese President Xi Jinping next move, purported to be the cut off of Chinese rare Earth minerals to the United States.
Xi Jinping visited (on May 21, 2019) one of Chinese rare Earth mining companies and did a photo-op, signaling to Trump the next move.
Almost all generic pharmaceutical drugs used in the United States are made in China.
END
---
JPMorgan Warns a Trade War May Trigger China Corporate Defaults
BLOOMBERG – July 2, 2018: The article highlights that Escalation would weaken wider economy, hurt credit quality, and that Smaller banks most vulnerable to any trade war, according to Ulrich.
An escalation of trade tensions could add to defaults in China's financial system, which is already in the midst of a deleveraging campaign, warns JPMorgan Chase & Co.
If U.S. President Donald Trump imposes sweeping tariffs on Chinese imports later this week, there will be spinoff effects on the country's financial sector, according to Jing Ulrich, JPMorgan's vice chairman for Asia Pacific. Consumer demand and the wider economy are likely to weaken and that "may translate into worse credit quality down the road," Ulrich said in a Friday interview in Hong Kong.
That would add to some Chinese firms' repayment difficulties at a time when the country is already seeing bond defaults, she said. Bank shares fell sharply on Monday ahead of the July 6 deadline for a decision on whether Trump will slap tariffs on $34 billion of Chinese goods, a move Beijing has vowed to match. China's smaller banks are most vulnerable to the outbreak of a trade war, Ulrich said.
END
---
United States strategy of containing China poses key risk of dividing Asia, experts warn
TASS – June 20, 2018: The United States' strategy of containing China, with the Indo-Pacific Region concept as its key instrument, threatens to divide and polarize Asia, according to the report titled The Rise of Rimland: The New Political Geography and Strategic Culture that was presented on Tuesday at the Valdai Discussion Club.
Thus, according to experts, the United States has made a definite choice in favor of strategic containment of Russia and China. "Not only has Washington affirmed the competitive nature of its relations with Moscow and Beijing, it has adopted a strategy with the ultimate goal of defeating them," the report reads.
Notably, the idea of improving relations with Russia is unlikely to come to the fore at least in the coming years, as is the idea of US-China strategic partnership.END
---
Trump slaps China with $50 billion in trade tariffs on imports
RT – June 15, 2018: And the trade wars continue as the White House announced a 25-percent tariff on $50 billion worth of Chinese goods in what it calls a clampdown on unfair trade practices by Beijing.
The US trade representative's office said it issued a revised China tariff list covering 1,102 separate product categories. The first package of revised tariffs will apply to $34 billion of Chinese imports, on 818 product lines, and will enter into effect from July 6. The second package will target the remaining $16 billion of Chinese goods, on 284 product lines.
Since his presidential election campaign, US President Donald Trump has pledged to cut the trade deficit between the US and China and to curb Beijing's allegedly unfair trade practices. Trump has also accused China of stealing US technology and intellectual property.
END
---
Canadians boycott American products, cancel vacations
NY POST – June 15, 2018: The article is reporting, blame America. Canadians have taken to practicing pocketbook diplomacy in defense of Prime Minister Justin Trudeau, who is caught in a trade war of words with President Trump, by boycotting American goods and canceling vacations to the United States, according to a report.
Shoppers are shunning Kentucky bourbon, California wine and Florida oranges, and avoiding American companies like Starbucks, Walmart and McDonald's, Canadian network CTV News reported on Wednesday.
On Twitter, hashtags like #BuyCanadian, #BoycottUSProducts and #BoycottUSA are spreading as outrage over Trump's trade tariffs grows.
END
---
US, China agree to abandon trade war: Beijing
YAHOO – May 20, 2018: Washington and Beijing have agreed to abandon any trade war and back off from imposing tariffs on each other, Chinese state media reported.
The announcement came after high-level talks in the US capital and followed months of tensions over what President Donald Trump has blasted as an unfair commercial relationship between the two economic giants.
Vice-Premier Liu He, who led Chinese negotiators in Washington said: "The two sides reached a consensus, will not fight a trade war, and will stop increasing tariffs on each other," state-run news agency Xinhua reported Sunday.
An earlier joint statement issued in Washington said Beijing would "significantly" increase its purchases of American goods, but offered few details. (BattleForWorld: This sounds like Beijing will be buying more US Treasury bonds to help the US deficit. And is this agreement linked to preconditions?)
END
---
Trump says 'we've already lost the trade war'
YAHOO – April 6, 2018: U.S. President Donald Trump said on Friday the United States has already lost any trade war, as he defended his proposed tariffs against Chinese goods, saying the move might cause "a little pain" but the United States will be better off in the long run.
"We've already lost the trade war. We don't have a trade war, we've lost the trade war," Trump said in a radio interview with New York radio show, 77 WABC's "Bernie & Sid."
"I'm not saying there won't be a little pain, but the market has gone up 40 percent, 42 percent so we might lose a little bit of it. But we're going to have a much stronger country when we're finished.
END
---
China Prepares Emergency Response Plan Amid Trade Showdown With US
SPUTNIKNEWS – April 18, 2018: Beijing believes that its trade conflict with Washington will have limited impact on the country's economy and that the effects of this conflict can be controlled.
China has drawn up an across-the-board list of urgent measures as the war of words over US-China trade relations has threatened to escalate into open economic conflict with each side threatening to levy heavy taxes on each other's imports.
Beijing has all the political instruments it needs to respond to this trade conflict with the United States and minimize its economic effect, National Development and Reform Commission spokesman Zeng Peiyan said in a statement on Wednesday.
We have an emergency response plan at various levels and political means to retaliate to the trade challenges, initiated by the United States," Zeng added.
END
---
China Slaps 25-Percent Duty on 106 US Goods, Including Cars and Soy Beans
SPUTNIKNEWS – April 4, 2018: With another mirror move, reported by Xinhua on April 4, Beijing has made another step in retaliating to the tariff war initiated by US President Donald Trump.
"The State Council of China has decided to impose a 25-percent duty on 106 items of 14 categories of goods imported from the United States, including soybeans, cars and chemical products,"  according to the Chinese central television.
Last month, US President Donald Trump signed a memorandum to impose new tariffs on imports from China, which he said would make the US "a much stronger, much richer nation."
END
---
China Increases Tariffs 15-25% on US-Imported Goods As Response to US Trade Barriers From April 2
SPUTNIKNEWS – April 1, 2018: China suspends tariff reduction obligations on 128 imported products originating from the United States and is imposing additional tariffs on the basis of the current applicable tariff rates.
In order to protect China's interests and balance the losses caused by the United States' imposed tariffs (i.e. 232 measures) on imported steel and aluminum products to China's interests, the Customs Tariff Commission of the State Council has decided to suspend duty concessions on certain imported products originating in the United States, according to State Council Customs Tariff Commission.
To suspend tariff reduction obligations on 120 imported products such as fruits and other products originating in the United States, China has imposed additional tariffs on the basis of the current applied tariff rates and has imposed a tariff rate of 15%.
END
---
US Stocks Sink Amid China's First Round of Retaliatory Tariffs
SPUTNIKNEWS – April 2, 2018: Financial markets in the United States took another tumble on Monday on the heels of Beijing's announcement of tariffs on US products in retaliation to US President Donald Trump's decision to tax up to $60 billion worth of goods imported from China.
The Dow sank from 24,076 at the start of trading on Monday to 23,638, a roughly 1.9 percent drop. The S&P 500 index, which tracks the 500 largest publicly traded companies on the New York Stock Exchange and Nasdaq, shed about 2.2 percent of its value.
Tech stocks were hit especially hard: Amazon dropped after Trump
Only fools, or worse, are saying that our money losing Post Office makes money with Amazon. THEY LOSE A FORTUNE, and this will be changed. Also, our fully tax paying retailers are closing stores all over the country…not a level playing field!
Only fools, or worse, are saying that our money losing Post Office makes money with Amazon. THEY LOSE A FORTUNE, and this will be changed. Also, our fully tax paying retailers are closing stores all over the country…not a level playing field!

— Donald J. Trump (@realDonaldTrump) April 2, 2018
END
---
Gold glitters & dollar declines as US-China trade war escalates
RT – April 2, 2018: The price of the traditional safe haven gold increased on Monday after Beijing introduced retaliatory measures against American goods coming to China.
After falling in the past three trading sessions, the yellow metal surged over $8 per troy ounce to $1,335. "The trade war is going on and it is getting worse, so that might be the reason that people are selling dollars and buying gold," said Yuichi Ikemizu at ICBC Standard Bank in Tokyo, as quoted by Reuters.
China has introduced additional tariffs of up to 25 percent on 128 US products including frozen pork, wine and certain fruits and nuts, in response to Washington's duties on imports of aluminum and steel.
END
---
Trade war retaliation: China slaps US with up to 25% bigger import tariffs
RT – April 2, 2018: Beijing is hiking up tariffs on more than 128 US imports, including fruit and pork, as part of a tit-for-tat response to US President Donald Trump's $60 billion package of tariffs imposed against China.
END
---
US friendly suggestion to China: Buy more American gas if you don't want more tariffs
(In the "enhanced" Silent Revolution Of Truth Compilation Edition, the free PDF book: Download and read Zbigniew Brzezinski advocating that all kinds of tricks should be used to pull China away from Russia, pages 1409 and 1410. Foretold decades ago. Note: Use the page number display located at top right to find the correct page. UPDATED, PDF Format – Links: Book Summary | and Download Book )
RT – March 23, 2018: Donald Trump's economic adviser has a suggestion as to how China can avoid more tariffs on its goods – buy more liquefied natural gas (LNG) from America.
"China needs to import very, very large amounts of LNG and, from their point, it would be very logical to import more of it from us, if for no reason other than to diversify their sources of supply," said US Secretary of Commerce Wilbur Ross in an interview with Bloomberg. "It would also have the side effect of reducing the deficit."
On Thursday, Trump slapped China with $60 billion in tariffs on imports, adding that "this is the first of many" trade actions, as he signed the memo. The US trade deficit with China stood at $375 billion in 2017. A lot of the imported goods are from American manufacturers, who send raw materials to China due to cheap labor. When the goods are shipped back to the US, they are considered imports in the trade balance.
However, Washington's demand for China to buy more American gas is unlikely to cut the deficit, according to a Bloomberg-polled analyst Anastacia Dialynas. Beijing has commitments with other countries, and only 40 million tons of China's 2030 imports aren't already under contract, which accounts only for $13.5 billion at current prices.
END
---
CHINA FIGHTS BACK: TARGETS 128 AMERICAN PRODUCTS
CNBC – March 22, 2018: The highlight of the article is that China plans to announce reciprocal tariffs on 128 U.S. products that include pork, wine, fruit and steel. And that Beijing will take measures against the U.S. goods in two stages if it cannot reach an agreement with Washington.
The U.S. goods, which had an import value of $3 billion in 2017, include wine, fresh fruit, dried fruit and nuts, steel pipes, modified ethanol, and ginseng. Those products could see a 15 percent duty, while a 25 percent tariff could be imposed on U.S. pork and recycled aluminium goods, the statement said.
The statement did not go into greater detail. U.S. agricultural products, particularly soybeans, have been flagged as the biggest area of potential retaliation by Chinese President Xi Jinping's administration.
END
---
China's Stocks Plunging on News of US Tariff Hike
SPUTNIKNEWS – March 22, 2018: Chinese markets face a severe drop, opening on Friday (March 23, 2018) morning after the United States government raised tariffs against Chinese imports.
Hong Kong's benchmark Hang Seng Index was down 3.67 percent, while the Shenzhen stock exchange saw the SZSE Component Index drop 3.42 percent. At the Shanghai stock exchange, the Shanghai Composite Index benchmark fell 3.07 percent to 3163.21 points.
Earlier, US President Donald Trump signed an order that opens the door for new tariffs against Chinese imports which was backed by some domestic companies, but has sent the US stock market plunging, increased concerns about a trade war, and received a swift response from Beijing.
END
---
U.S. stocks fell sharply on Thursday, pressured by worries of a potential trade war and a decline in tech shares
CNBC – March 22, 2018: U.S. stocks fell sharply on Thursday after President announced trade measures against China, and traders pressured by worries of a potential trade war and a decline in tech shares. The broader market was also pressured by a decline in bank stocks.
The Dow Jones industrial average dropped 724.42 points to close at 23,957.89, with Caterpillar, 3M and Boeing as the biggest decliners. The 2.9 percent decline was the worst since Feb. 8.
END
---
China 'would fight to the end' in trade war with US – Embassy
RT – March 22, 2018: China would "fight to the end" in a trade war with the US, using "all necessary measures," according to an embassy statement. The comments come after US President Donald Trump announced $60 billion in new tariffs against China.
In the statement, China's US Embassy said the country doesn't want a trade war, but "will not recoil from one" should it come to it. It also accused the US of "ignoring rational voices," and of disregarding "the mutually-beneficial nature of China-US trade relations and the consensus reached by the two countries of managing differences constructively through consultations."
"If a trade war were initiated by the US, China would fight to the end to defend its own legitimate interests with all necessary measures," it added. China strongly opposes what it described as a "typical unilateral trade protectionist action" taken by the Trump administration on Thursday. It said the US action will "directly harm the interests of US consumers, companies, and financial markets."
The embassy urged the US to "cease and desist, make conscious decisions and avoid placing China-US trade relations in danger," as it could "end up hurting itself."
END
---
The unbalancing of the Global Order has shifted to a new phase
BATTLE FOR WORLD – March 22, 2018: March 22, 2018: This brief video clip from the Matrix sums it all up with annotations.
Oracle: …You and I may not be able to see beyond our own choices, but that man can't see pass any choice.
Neo: Why not?
Oracle: He does not understand them, he can't,  to him they are variables in an equation, one at a time each variable must be solved and countered. That's his purpose to balance the equation. (BattleForWorld: In the economic sense, President Trump is trying to balance the economics in the math, but there are deeply finer things that he does not understand. He understands much of the business side of it, but the political and geopolitical sides he has to learn as he goes along. And during the process he will see things much clearer if he's strong enough to stand against threats by the Ruling Elites against him. If he's bought out, he's just like all the other presidents.)
Neo: And what's your purpose?
Oracle: To unbalance it.
Neo: Why? What do you want?
Oracle: I want the same thing you want Neo. And I am willing to go as far as you are to get it.
Neo: The end of the war?
Oracle: (nods yes.)
Neo: It is going to end?
Oracle: One way or another… If there is an answer, there's only one place you are going to find it.
Neo: Where?
Oracle: You know where.
Neo: (blinks his eyes.)
Oracle: And if you can't find the answer, then I am afraid there may not be no tomorrow for any of us.
Neo: What does that mean?
Oracle: Everything that has a beginning, has an end. I see the end coming. I see the darkness spreading. I see death. And you are all that stands in his way. (BattleForWorld: President Putin stands in the way of the globalist dictatorship ones – US, UK and EU.)
Neo: Smith. (BattleForWorld: The architect's assimilator into one world globalization. The movement is trying to assimilate everyone – into world governance, surveillance, etc.)
Oracle: Very soon he's going to have the power to destroy this world. But, I believe he (i.e. the movement of deception, fake news, world domination) won't stop there. He can't. He won't stop until there is nothing left at all.
Neo: What is he?
Oracle: He's you. Your opposite. Your negative. The result of the equation trying to balance itself out. (BattlleForWorld: To form a one world dictatorship.)
Neo: And if I can't stop him? (BattleForWorld: The movement of globalization dictatorship.)
Oracle: One way or another Neo, this war is going to end. Tonight, the future of both worlds will be in your hands or in his."
-The Matrix Revolutions. Transcript by BattleForWorld
END
---
US prepares for tariffs on China
RT – March 23, 2018: Even as mixed messages from the Trump administration on trade wars that have left markets confused, the US will impose $60 billion in tariffs on China as early as this week. "Boom Bust" host Bart Chilton joins RT America's Ed Schultz to discuss.
END
---
US to temporarily exempt EU, 6 other economies from metal tariffs
RT – March 22, 2018: The EU and six other economies will be exempt at least temporarily from the steel and aluminum tariffs US President Donald Trump has imposed, a top US trade official said Thursday. US Trade Representative Robert Lighthizer told a Senate committee that Trump authorized a "pause" in the imposition of the tariffs, which take effect Friday, AFP reported. (BattleForWorld: China was the target obviously. The EU gets a break because they are helping the US to fight President Putin. Also, China plays an important role in helping the EU with their debt.)
END
---
The Reason Behind The United States Mischief With North Korea – America-China Financial Wars
BATTLEFORWORLD – April 29, 2017 (updated August 13, 2017): Why is the United States being mischievous in South East Asia? Well, the truth is that Donald Trump during his US presidential campaign was very vocal leading up to the election, saying that it was always about China, China, China, but after the election he realized that China did not swallow the bait in the way that he had anticipated. And so Trump has decided (or rather the Ruling Elites have decided for him in foreign policy) to move onto North Korea, Iran and Syria, starting war conflicts and bellicose fearmongering, to panic the holders of US Dollars back into the United States Treasury Bond Market, to keep the interest rate low, so that the financial Ruling Elites can continue their Ponzi scheme (Wall Street speculative bubble markets, etc.). This is the United States cleaver way of earning ghost money…into the treasury to continue with business as usual.
China and Russia are well aware of what is going on, and that the United States is a big paper tiger. And so China and Russia will at some future time bring their gold plan online (and this is the pending endgame) to neutralize the US mischief making of terrifying others into supporting their dollar Ponzi scheme at the barrel of a gun.
And so people, do not fall for the news media fearmongering campaign about Kim Jong-un of North Korea itching to start nuclear war. Because the United States is very scared to start World War III, and it knows that if it does, a catastrophic earthshaking moment awaits.
Max Keiser (10:58mins into the video): The question is, with all that issuance, how come that there is not more of inflation (in the United States)? And the answer is that, when the United States create their trillions of dollars worth of debt, they also LINK IT TO ACTS OF FOREIGN POLICY AGGRESSION, to scare people out of other economies into the U.S. Dollar Security, like the U.S. Treasury Bond. This is why the U.S. invaded Iraq, (wanting) to bomb North Korea perhaps; this is why the U.S. is hostile toward Iran… They (the U.S.) want to get all these dollars that are overseas (to) PANIC into coming into dollars, coming back into the U.S., to keep the U.S. Treasury Rates low. And with low interest rates you can issue more debt, more debt, more debt, etc.
END
---
EU Mulls Joining US in Trade War With China in Bid to Ease Tariffs – Reports
SPUTNIKNEWS – April 19, 2018: According to The Wall Street Journal, citing unnamed European officials, the European Union might have found a way to put an end to the trade war with the US and prevent the introduction of steel and aluminum tariffs due to be imposed on the 28-member bloc in  two weeks. The officials have reportedly drafted a "simplified version of the Transatlantic Trade and Investment Partnership," which represents a "peace offer" to Washington, initiated by Germany, which is particularly afraid of an "escalating trade war" with the United States.
The EU has considered "joining forces with the US" in addressing what both sides regard as "China's unfair trade practices," the officials told the media outlet. The final agreement may include coordinated actions against Beijing within the framework of the World Trade Organization (WTO), as well as the European governments' responsibility to exert more pressure on China.
END