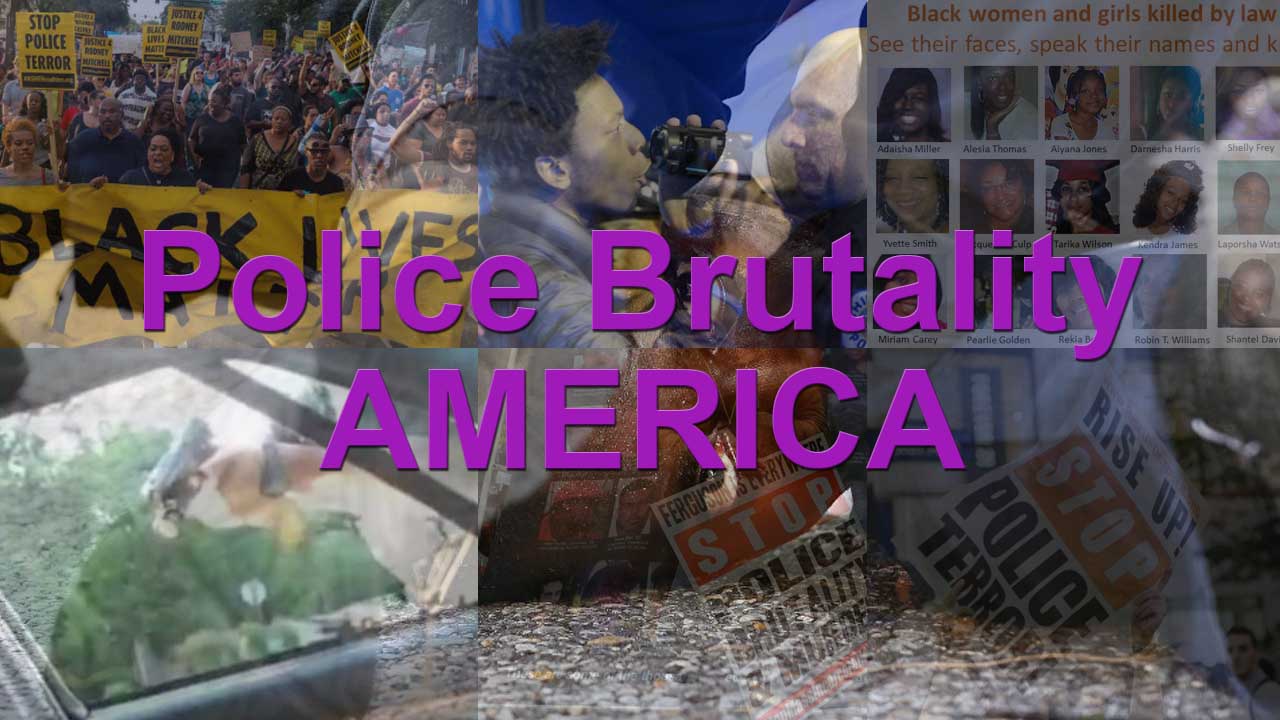 (In the "enhanced" Silent Revolution Of Truth Compilation Edition, the free PDF book: Download and read the information provided from afar about the United States of America misbehavior toward Afro-Americans and more, pages 369, 370, 372 and 373. Note: Use the page number display located at top right to find the correct page. UPDATED, PDF Format – Links: Book Summary | and Download Book )
SPUTNIKNEWS – March 20, 2018: New documents published by The Intercept Monday highlight surveillance practices used by the FBI and US Department of Homeland Security (DHS) to track black activists and disrupt leftist movements.
The documents, which were shared with the publication after two civil rights group obtained them through a Freedom of Information Act lawsuit, revealed that federal surveillance of black activists went beyond tracking targets' online fingerprints and instead extended to sending federal employees on stakeouts outside citizens' residences.
"I definitely think they're at war with black people… as that article shows, they didn't go after white supremacist groups with the same rigor," Ragland told show hosts Eugene Puryear and Sean Blackmon. "I think the fact is they see black folks as people to fear and they reinforce that and reinforce all kinds of racist tropes… and that paper that came out about the FBI targeting black people… seeing black identity groups as potential threats, I think it's just continuing this kind of very myopic view of our groups and just racist views. It feels incomprehensible, but it just fits with history… we've seen this before."
"Though the FBI has denied they're monitoring activities protected by the First Amendment, its continued history of surveilling and repressing black movements dating back to the 1960s shows that a "racist ideology" underpins its work", Ragland told Blackmon.
"To fight the paranoia that comes from constant interference and infiltration, Ragland said, activists must "develop strong relationships" and not continually share plans on social media."
Listen to "No Limits to FBI Spying on Black Lives Matter Activists" on Spreaker.
END
---
Childish Gambino – This Is America (Official Video)
BATTLEFORWORLD – May 12, 2018: Childish Gambino video about police brutality in America.
END
---
Autopsy Shows Stephon Clark Shot 8 Times by California Cops, Mostly in Back
SPUTNIKNEWS – March 30, 2018: An independent autopsy of Stephon Clark, the unarmed black man killed by Sacramento police March 18, revealed Friday that Clark was hit by eight of the 20 bullets fired at him.
Conducted by renowned forensic pathologist Dr. Bennet Omalu earlier this week, the autopsy revealed that Clark was shot six times in the back while two other bullets hit him toward the back of his ribcage and thigh. Bullets punctured his left lung and damaged his vertebrae.
​"You can reasonably conclude he received seven gunshot wounds from his back," Omalu said at the Friday news conference. "Each one of these bullets possessed a fatal capacity. All he needed to have died was just one of them."
"These findings from the independent autopsy contradict the police narrative that we've been told," Benjamin Crump, the family's lawyer, said in a statement. "This independent autopsy affirms that Stephon was not a threat to police and was slain in another senseless police killing under increasingly questionable circumstances."
END
---
Sacramento Police Release Footage of Fatal Shooting of Unarmed Black Man
SPUTNIKNEWS – March 22, 2018: The Sacramento Police Department released multiple videos Wednesday night that showed the moment Stephon Clark, an unarmed black man, was gunned down in his grandparents' backyard March 18.
END
---
Racism led to the shooting death of Stephon Clark – civil rights activist
RTAMERICA – March 23, 2018: Fear, inexperience and lack of training have all been cited as excuses to why shootings like this are permissible by police departments across the country. RT America's Anya Parampil speaks with civil rights activist Perry Redd about the concerted effort from the right to divert attention from law enforcement reform.
END
---
Watchdog: Refusal to Charge Louisiana Policemen Reveals Flaws in US Law System
SPUTNIKNEWS – March 27, 2018: A decision by the US state of Louisiana not to file criminal charges against two police officers involved in the fatal 2016 shooting of a black man reflects nationwide failure to hold law enforcement responsible for police brutality, the American Civil Liberties Union (ACLU) said in a press release on Tuesday.
"Alton Sterling was shot to death by two Baton Rouge police officers who were on top of him as he lay on the ground," ACLU Louisiana Executive Director Jane Johnson said in the release. "His death is yet another example of police brutality against people of color and our country's systemic failure to hold law enforcement accountable for that brutality."
Earlier on Tuesday, Louisiana Attorney General Jeff Landry announced that criminal charges would not be filed against the officers involved in the incident.
END
---
Autopsy disputing police account of shooting prompts anger
YAHOO – March 31, 2018: Calls for justice and charges against two police officers who fatally shot an unarmed black man aren't abating in California's capital city after an autopsy showed Stephon Clark was shot in the back, a counter to the department's statement that he was approaching officers when he was killed.
"His back was turned — he didn't get a chance," said Latarria McCain, who joined several hundred Friday in a downtown protest that lasted more than four hours, causing disruption and blocking traffic but largely remaining peaceful.
END
---
North Carolina officer shoots, kills man during traffic stop
YAHOO – April 1, 2018: A white North Carolina police officer shot and killed a black passenger who refused orders not to reach for a gun after a late-night traffic stop led to a physical struggle, authorities said Saturday.
The shooting happened after Officer D.E. McGuire stopped a car containing two men and a woman about 10:30 p.m. Friday during a routine patrol northeast of downtown, according to a Winston-Salem Police Department news release.
Edward Van McCrae, 60, was in the rear seat and began making suspicious movements, police say. McGuire told McCrae to stop reaching for concealed areas of the vehicle, but McCrae continued, according to the news release.
"After being removed from the vehicle, Mr. McCrae physically struggled with Officer McGuire and refused multiple verbal commands by Officer McGuire to 'stop reaching,'" the news release said. "As the struggle continued, a handgun became visible to Officer McGuire."
END