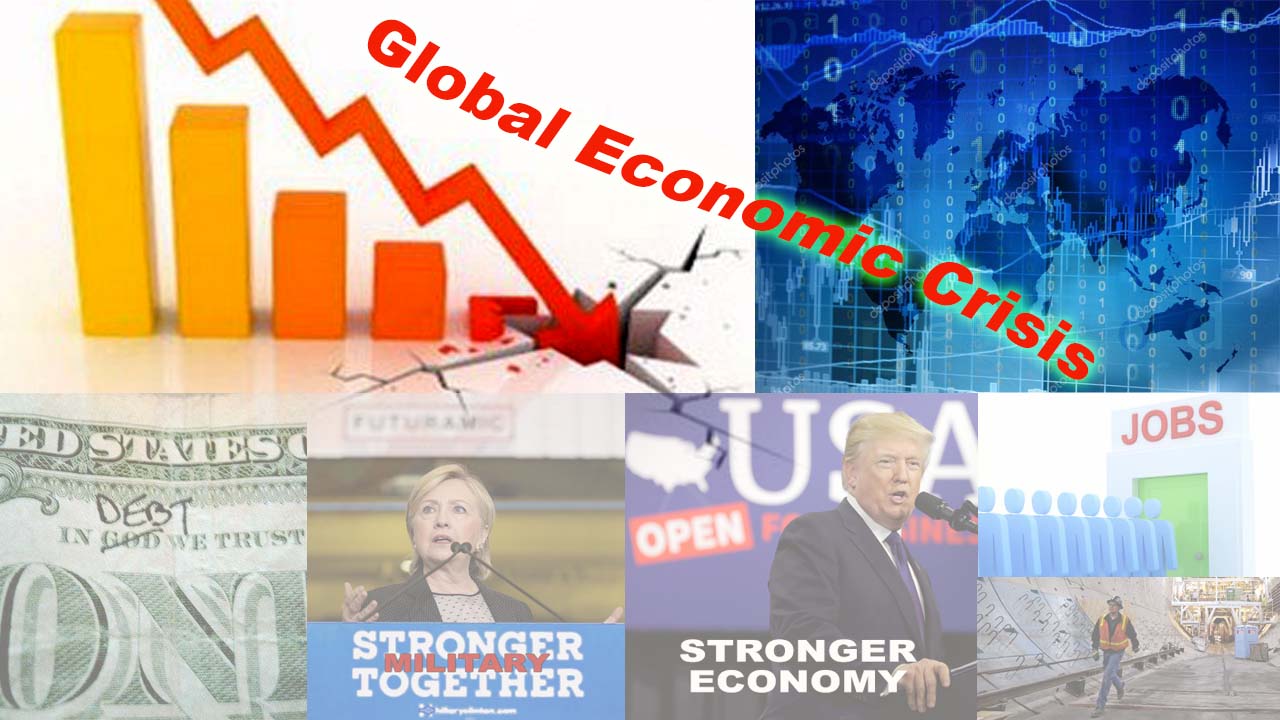 (BATTLEFORWORLD: In the "enhanced" Silent Revolution Of Truth Compilation Edition, the free PDF book, and read about the pending the economic crisis, page 1413. And even Zbigniew Brzezinski spoke about the approaching massive depression [i.e. economic collapse], page 1264. UPDATED, PDF Format – Links: Book Summary | and Download Book)
BATTLEFORWORLD – February 6, 2018: The US economy is a mess and will eventually cause a dollar crisis. Economic growth cannot be sustained because of to the US debt, but this is ignored and more magical fluff is driving the US economic helm and this will become very dangerous financially at a future time. What is going on now is pump and dump and musical chairs casino games.
If President Trump does the right thing to fix the American economy, he will not be a popular guy, because that means massive budget cuts and austerity in the US. And if the economic big crash train is speeding up showing obvious sign in public, Trump will be a one term president. And as usual, the Democrats will say, they can fix it, but nothing tangible must be expected because the economic mess is herculean.
If Hillary was president, to keep the Military Industrial Complex Deep State alive would require implementing massive austerity on the people to extract and deposit that money into the military and surveillance war chess, but with Trump, he's trying to do both, social and military, but there is just not enough money to talk about social fixes and infrastructure projects for America.
Maybe what will happen is that the ills of the economy will be overpowered with public facades of success and growth to stay ontrack into the eventual plan of doom at some future time.
END
---
MARKET WILL 'IMPLODE' — ONE DAY, says Icahn
CNBC – February 6, 2018: Billionaire Carl Icahn told CNBC on Tuesday there are too many exotic, leveraged products for investors to trade, and one day these securities are going to blow up the market. (BATTLEFORWORLD: These exotic investment articles expanded the market into new investment schemes.)
The market is a "casino on steroids" with all these exchange-traded funds and exchange-traded notes, he said.
These funds, especially the leveraged ones, are the "fault lines" that will eventually lead to an earthquake on Wall Street, he said. "These are just the beginnings of a rumbling."
END
---
Dow Recovers Some Ground After Historic 1600-Point Drop
CNBC – February 6, 2018: "This sell-off, in the bigger scheme of things, is not that big. But it is very important in psychological terms," says one strategist.
U.S. stocks fell sharply Monday, extending a steep sell-off from the previous session, as investors rushed for the exits in the wake of rising interest rates. …Stocks were pressured by a fast rise in interest rates last week.
"Breaking the early lows of the day means the correction could go on for longer," said Art Cashin (BATTLEFORWORLD: The building up again for another dump.)
"As soon as we broke the 50-day moving average … we saw volatility spike," said Jeff Kilburg, CEO of KKM Financial. "It's just been downhill from there."
"What we noticed in January was that stocks and bond yields wanted to run through their year-end targets" to start off 2018, said John Augustine. …"I think both markets just need to take a breather." He also noted these pullbacks in bonds and stocks should be viewed as buying opportunities by investors.
END
---
Year's gains wiped out
BLOOMBERG – February 6, 2018: U.S. stocks plunged…with the Dow Jones Industrial Average sinking…as equity selloff reached a fever pitch amid rising concern that inflation will force interest rates higher. Treasuries rallied and gold rose on haven demand.
"This is classic risk off that may not end any time soon," says Win Thin, head of emerging-market currency strategy at Brown Brothers Harriman. …The dollar stabilized while the yen advanced. …Friday…pointed to quickening inflation, which would lead to higher rates.
"What was driving the market up in January? It wasn't the fundamentals, as good as they were, it was excessive confidence (BATTLEFORWORLD: i.e. hype)."
END
---
Robo-Adviser Sites Suffer Outages, Cut Clients Off From Accounts
BLOOMBERG – February 6, 2018: The glitches at the robo-advisers represent a setback for a niche of the financial market industry that has been booming as people have become more comfortable making investment decisions without speaking to human advisers. Vanguard Group and Charles Schwab Corp. reported outages on Monday and said those didn't recur today.
END
---
Will Machines Crash Market?
BLOOMBERG – February 6, 2018: Banks and hedge funds that rely on artificial intelligence threaten to inject risks into the financial system that could exacerbate a future crisis, according to global regulators. …The financial industry's rush to adopt AI raises the potential that firms will become overly dependent on technologies. …Robotic technologies designed to lessen human involvement. …"These risks may become more important in the future if AI and machine learning are used for 'mission-critical' applications
END
---
Banks Shutter 1,700 Branches in Fastest Decline on Record
WSJ – February 6, 2018: Banks are closing branches at the fastest pace in decades, as they leave less profitable regions and fewer customers use tellers for routine transactions. …Along the way, lenders realized they could maintain their deposit levels with fewer locations in a digital world.
END
---
Inflation specter spooks bonds
YAHOO – February 6, 2018: Asian share markets were set for a rough ride on Monday as fears of resurgent inflation battered bonds, toppled Wall Street from record highs and sparked speculation central banks globally might be forced to tighten more aggressively.
END
---
Correction Has Started
WSJ – February 6, 2018: Stocks around the world went nearly two years without a major bout of volatility. That long period of calm vanished within a matter of days.
END
---
DOW -666
CNBC – February 6, 2018: "The key for the market today is rising interest rates," said Mike Baele. …"The old adage is: 'Bull markets don't die of old age, they are killed by higher interest rates.' That looms large." …"The reaction in the bond market is due to the rise in average hourly earnings," said James Ragan. …"We've been expecting a pullback for a while, said Gene Goldman.
END