Space War July 2020 – Target Iran with fires and explosions
BATTLE FOR WORLD | July 23, 2020: Even through the coronavirus COVID-19 is causing relentless problems in the United States, the ruling elites there pushing for war do not turn away the opportunity to create mischief elsewhere.
In the year 1982 powerful forces in the United States was readying the Space Shuttle orbiter on a desperate secret military mission to orbit a sophisticated new spy satellite to fly over Russia. It was an armored laser-firing satellite designed to survive attacks by Russian space weapons long enough, because it was made from Tungsten, to radio back reconnaissance data back to the U.S. grabbed from Russia using the satellite. 
Derived from the larger Space Shuttle orbiter, following in the same covert footsteps, in the year 2006 the Boeing X-37 Orbital Test Vehicle (OTV) took flight and as the development of the project progressed news bits were leaked about secret missions the craft was carrying out, but the news was not much to gather anything informative from and so secrecy continued for many years. 
In February 2020 a strange news article appeared in the press about a pair of Russian satellites tailing a multibillion-dollar U.S. spy satellite hundreds of miles above the Earth's surface. This was the first appearance of the cover story about a Russian spacecraft that was maneuvering toward the American satellite shortly after it was launched into orbit in November (2019), at times creeping within 100 miles of it. Gen. John "Jay" Raymond, commander of the newly minted U.S. Space Force, said: "We view this behavior as unusual and disturbing." And "It has the potential to create a dangerous situation in space." Expressing that the U.S. government is concerned and has informed Moscow through diplomatic channels.
Then in May 2020 news appeared in the press that the X-37B space plane is back in orbit again. It's unclear if a few copies of this mystery plane exists or there's just one? And the interesting thing was the article in defensenews noted the following:
"The Air Force disclosed a number of the experiments that will be conducted onboard, most notably one that will deliver solar power to the ground from space via radio frequency microwave energy."
"One question that has loomed over the X-37 is whether it has counter-space capabilities and could be used to test offensive technologies. Some space researchers believe the vehicle was used to launch three cubesats that were not registered in international tracking databases."
"It suggests that the X-37B may have a mission to serve as a covert satellite deployment platform. The secrecy surrounding both the X-37B and the deployment may indicate they are part of a covert intelligence program, but it may also indicate the testing of offensive technologies or capabilities."
(BattleForWorld: Readers, keep these thoughts in mind as quoted from defensenews.)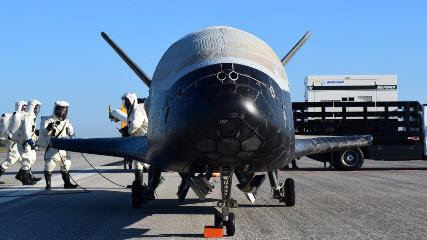 Boeing X-37B space plane.
On July 4, 2020, perhaps some type of special celebration, an article appeared in spacenews, and quotes follows:
"An experiment launched May 17 onboard the U.S. Air Force's X-37B Orbital Test Vehicle-6 is based on over a decade of work focused on a modular space solar satellite capable of beaming energy to Earth. Developed by the U.S. Naval Research Laboratory (NRL) in Washington, the hardware is called the Photovoltaic Radio-frequency Antenna Module, or PRAM for short. PRAM is an outgrowth of NRL effort in developing "sandwich" modules where one side receives solar energy with a photovoltaic panel, electronics in the middle convert that direct current to a radio-frequency signals and the other side has an antenna to beam power away. Given PRAM results, a next step would be fabricating a fully functional system on a dedicated spacecraft to test the transmission of energy back to Earth that could potentially help power remote installations like forward operating bases and disaster response areas."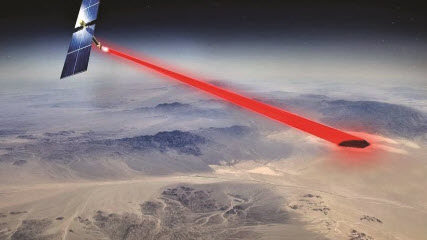 US Military space plane experiments with beaming electric power to Earth.
This type of technology idea about beaming electric power back to the Earth is not new, because the NAZIs also drafted such a possibility, but their idea was called the "Nazi 'Sun Gun' Aimed To Burn Cities Using Huge Space Mirrors".
An article from huffpost, quote: "That seems to be the takeaway from a long-forgotten article in Life magazine's July 23, 1945 issue, titled 'The German Space Mirror.' The article, which has been making the rounds on the Internet, credits unnamed U.S. Army experts for revealing a Nazi plan to construct the extraordinary device. Consisting of a reflective, slightly concave disk approximately one mile in diameter, the sun gun would focus solar rays onto enemy cities — and burn them. 'My space mirror,' he wrote, 'is like the hand mirrors that schoolboys use to flash circles of sunlight on the ceiling of their classroom. A sudden beam flashed on the teacher's face may bring unpleasant reactions.'"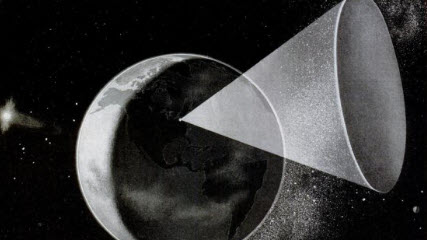 NAZI space mirror weapon to start fires and burn cities.
With the X-37B space plane back in orbit, as usual, silence about its mission continues.
On July 5, 2020 news from AP reported: "Iran on Sunday confirmed that a damaged building at the underground Natanz nuclear site was a new centrifuge assembly center, the official IRNA news agency reported. Iranian officials had previously sought to downplay the fire, which erupted early on Thursday, calling it only an 'incident' that affected an 'industrial shed.' Iran experts…raised questions about whether Natanz again had faced sabotage by a foreign nation… . The Natanz fire also came less than a week after an explosion in an area east of Tehran that analysts believe hides an underground tunnel system and missile production sites."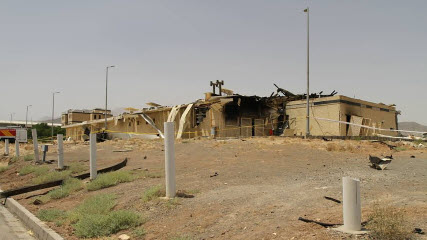 The Atomic Energy Organization of Iran on July 2, 2020, shows a building after it was damaged by a mysterious fire.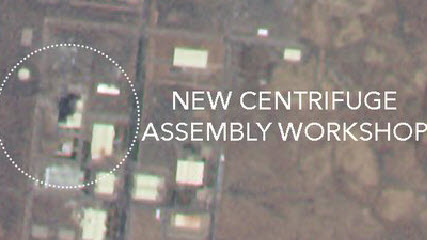 Damaged building after a fire and explosion at Iran's Natanz nuclear site on July 3, 2020.
On July 5, 2020, Sputnik news article, quote: "After an explosion at the Natanz Fuel Enrichment Plant, unconfirmed reports have begun to circulate claiming that Iranian officials regard the incident as 'sabotage' and have warned that there will be retaliation against any country that conducts such attacks. The former U.S. national security adviser, John Bolton, while speaking to a CBS News host, said that if sabotage is behind the recent explosions at Iran's 'nuclear and missile facilities', those responsible should be given 'more power', and could 'try the same on North Korea' if they had 'spare time'.* When asked on the possibility of sabotage in the blasts, Bolton outlined that nobody has 'claimed credit' for the incidents, and took a note that 'the Iranian government is trying not to comment on it'. [And] Bolton suggested that if someone is trying to 'take down' the Iranian nuclear and missile program, they should be supported, and perhaps, they could do the same to North Korea 'if they have some spare time'."
*(BattleForWorld: Evidently, some type of achievement was made. And since Iran facilities were damaged, Bolton seems to have a good hunch about the saboteur – a friendly one at that. And there are only a few names that are constantly calling for the targeting of these facilities in Iran.)
On July 4, 2020, rferl news article, quote: "Fire broke out at an Iranian power station and chlorine gas leaked at a petrochemical plant on July 4, two new incidents in a string of fires and explosions in recent weeks at Iranian facilities. The blaze affected a transformer in the power station in the southwestern city of Ahvaz and was put out by firefighters, said Mostafa Rajabi Mashhadi, a spokesman for the state-run power company Tavanir, according to the semiofficial news agency Tasnim. There were partial power outages, but Mashhadi said electricity had been restored."
On July 14, 2020, timesofisrael news article, quote: "A fire broke out Wednesday at an Iranian shipyard in the southwestern port of Bushehr, damaging several vessels under construction without causing any casualties, local media reported. 'An extensive fire has engulfed Delvar Kashti Bushehr boat factory,' with thick smoke covering the area south of Bushehr city, state television IRIB reported. At least seven ships caught fire, the Tasnim news agency reported. The cause of the fire was unknown, Bushehr government official Jahangir Dehghani was quoted as saying by the semi-official ISNA news agency. …The incident was the latest in string of mysterious fires and blasts to rock the country. Several of the recent disasters have struck sensitive Iranian sites, leading to speculation that they could be part of a sabotage campaign engineered by Israel."
(BattleForWorld: What has become evident now is that at various locations inside Iran, mysterious fires and explosions are being set off.)
On July 18, 2020, Sputnik news article, quote: "A powerful explosion has occurred at an oil pipeline in Iran's Khuzestan province, Israeli media reported. Footage of a huge blaze was posted on social media. However, there has been no confirmation from Iranian officials of the incident."
(BatleForWorld: Involved in these mysterious fires and explosion are the the US X-37B space plane and satellite[s]. The satellite is using a slow-release of an energy beam directed at ground targets with the aid of the Sun. The Russians kept track of the US satellite warfare as it was being directed from space to slowly cause stress on ground targets inside Iran setting them ablaze. These incidents are being reported in the media with no clear idea as to what is going on. But the Russian space command watched all of it as it unfolds. So there is already a cover story released in February about a pair of Russian satellites tailing a multibillion-dollar U.S. spy satellite hundreds of miles above the Earth's surface.)
(BatleForWorld: Is something about to change in Syria between Israel and Russia?)
On July 21, 2020, avia-pro news article, quote: "Russian fighters intercepted Israeli planes minutes before attack on Syria. – Russian fighter jets were taken into the skies minutes before Israeli attacks on Syria. Despite claims that Russia may not have control over the airspace over the region, it turned out that a few minutes before the IDF strike, Russia had lifted its military aircraft from the Khmeimim airbase, which allegedly took off in a southeast direction. The rise of Russian aviation assets was recorded at 21 hours 47 minutes, while Israel launched an attack at 21 hours 48 minutes. Given the distance from Khmeimim airbase to Damascus, Russian aircraft could have covered it in a matter of minutes, but analysts believe that Russia rather prevented the IDF from continuing its strikes, as the attack was carried out from airspace controlled by the Israeli military."
And on July 21, 2020, bbc news article timely hit-piece on Russia, quote: "UK government 'badly underestimated' the Russian threat and the response it required… No 10 said the government was 'fully aware of the significant and enduring threat' Russia posed."
(BattleForWorld: The cover story begins.)
On July 23, 2020, thesun news article reports "Russia has secretly tested an anti-satellite weapon in space, warns US Space Command. Its experts said the Kremlin's military push to use weapons in space puts 'US and Allied space assets at serious risk'. In a press release, US Space Command said its researchers have "evidence that Russia conducted a non-destructive test of a space-based anti-satellite weapon.""
"On July 15, 'Russia injected a new object into orbit from Cosmos 2543', it said. This is a Russian satellite which was earlier this year located looming close to an American satellite. Gen. John 'Jay' Raymond, Commander and US Space Force Chief of Space Operations added: 'Russia released this object in proximity to another Russian satellite' on July 15. …He added: 'This is further evidence of Russia's continuing efforts to develop and test space-based systems.'"
(BattleForWorld: The Russians disabled or destroyed the US satellite that was beaming energy onto surface targets mysteriously setting them on fire and causing explosions inside Iran. And to cover up the covert activity of the US satellite, the story quickly shifts to Russia testing an anti-satellite weapon in space. But the real weapon that was being used is the US covert satellite from space.)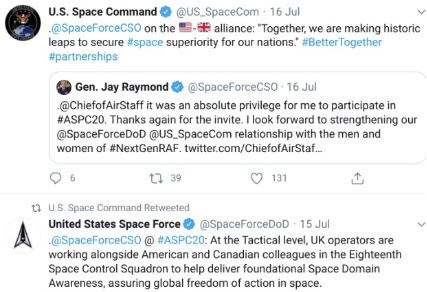 Twitter postings. The US, Canada and UK teaming up in space.
On July 23, 2020, RT news article, quote: "The Russian and French foreign and defense ministers will hold a 2+2 meeting in Paris, a senior diplomatic source in the French capital has told TASS. The date of the meeting will be announced later. 'The ministers will meet in Paris as part of the French-Russian Security Cooperation Council,' the source said late Wednesday. 'Political directors of the French Foreign Ministry and the Armed Forces Ministry held consultations with their Russian counterparts in Paris on July 16 ahead of this meeting,' according to the report. It added that the talks focused on the issues of strategic stability and regional crises."
(BattleForWorld: And finally, artwork emulated from nature, or more accurately nature's artwork emulated by technology. The latter is correct. Annotated pictures follows, duplicating the recent events set-off covertly by the U.S. in Iran.)
On July 22, 2020, radio news article reports about a massive thunderstorm hitting New York City. "…The moment the Statue of Liberty was struck by a massive lightning bolt on Wednesday. …High winds near Ellis Island. …Lightning strikes the Hudson River during a thunderstorm in New York City this evening".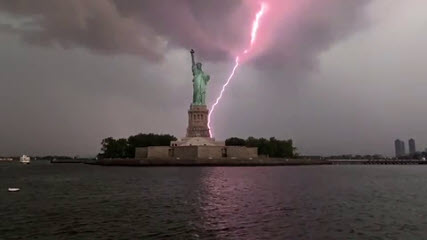 Lightning strikes the Statue of Liberty.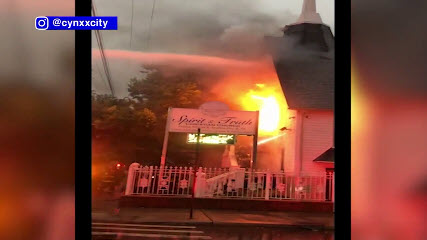 The same thunderstorm shortly after sent a lightning bolt striking into a church catching it on fire.
(BattleForWorld: The powerful forces, the ruling elites, in the United States, behind the use of space-based weapons, are going to carry out more covert actions and wait for the other side to respond. And as always, cover stories will be planted in media beforehand to hide their tracks.
In conclusion, the recent mysterious fires and explosions inside Iran was caused by U.S. covert satellite[s] and Russia went into action to disable it. And one can only expect the information war now directed at Russia and China to only intensify.)
On July 23, 2020, RT news article, quote: "Several passengers aboard an Iranian passenger plane have reportedly been injured after an encounter with an [US or ] Israeli fighter jet over Damascus. Iranian media say the dangerous maneuver forced the airliner to rapidly drop altitude. Passengers injured after 'Israeli fighter jet' buzzes Iranian airliner over Syria. …The footage allegedly shows an Israeli fighter jet maneuvering dangerously close to the Iranian aircraft. Another clip shows passengers screaming as the cabin is visibly shaking."

Video of the incident, involving US/Israeli fighter jet buzzing an Iranian passenger plane.
(In the Silent Revolution Of Truth, Compilation Edition, Volume 2, the free PDF book: Download and read the United States space shuttle X-37B and its secret mission, page 285.  Note: Use the page number display located at the top of the page to find the correct page. Free Book, PDF Format – Links: Book Summary | and Download Volume 2 Book)
END