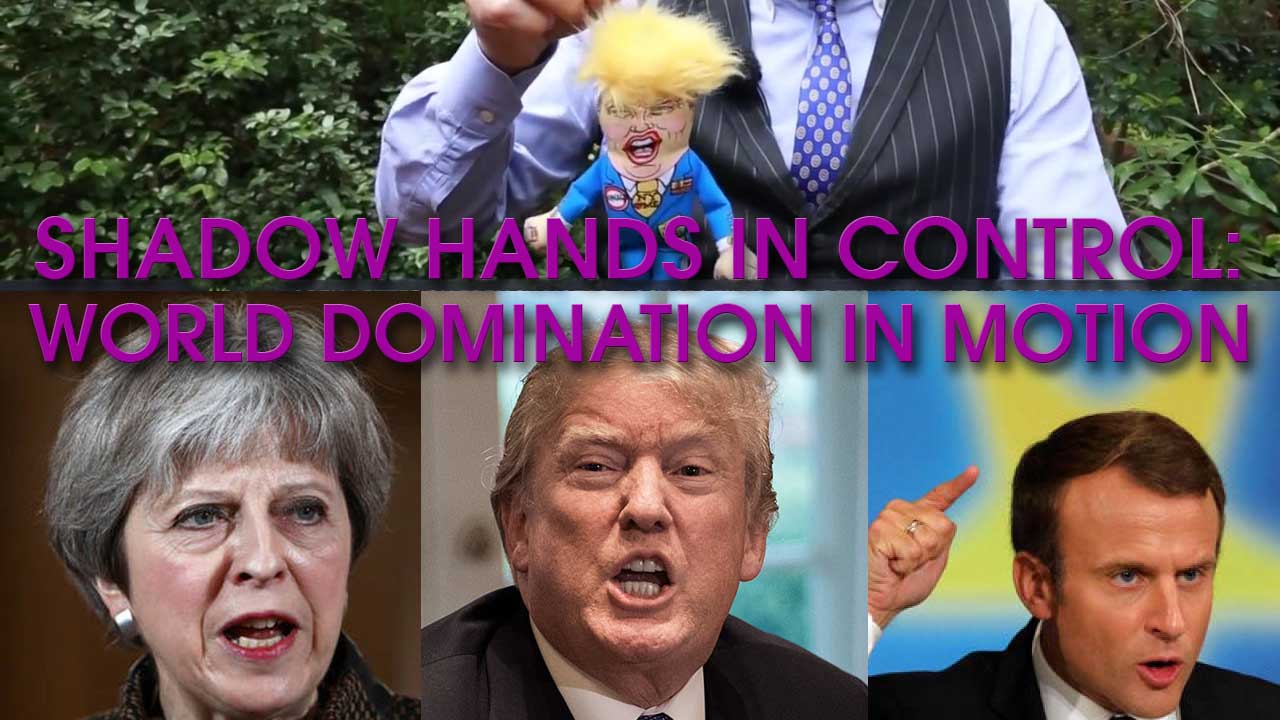 BATTLE FOR WORLD – April 16, 2018: It is now clear what is going on. The shadow ones in Israel with their allies are behind the warfare in Syria… The fabricated chemical attack by the militants backed by the West on April 7 and thereafter the event gained traction in western media to go to war.
The Israeli military then launched a missile strike at the Syrian T-4 air base in Homs from Lebanese territory on April 9.  The staged chemical attack in Syria gained massive news traction in the West and brought together the UK, the US and France into taking unilateral action. The Israeli military had already opened the gateway launching the first strike and it was now the UK, the US and France's turn.
Russia informed the misled troika that if their military positions inside Syria was attack, they would retaliate. And on April 14 with precautions taken the militaries from the UK, the US and France all launched an attack inside Syria with the Syrian military shooting down 71 missiles (and 29 missiles were mysteriously lost) and a few of the missiles hit desperate targets that had nothing to do with the chemical attack staged by the militants supported by the West. It became apparent that the attack mission by the UK, the US and France had failed, but the media fanfare continued, saying that the mission was successful with President Trump threatening that the US military might strike again.
Obviously, Israel was not happy with the results of the attack mission and knew that if it was to be repeated it would not be quick enough for Trump to announce another attack because of obstruction from parliamentary questioning of Theresa May and Emmanuel Macron about their unapproved military action, and the OPCW fact finding mission in Syria is gathering information regarding the chemical attack that took place there, etc., and the western backed militants would have to stage another false-flag with the media again stirring up momentum to manipulate the public and that would take time before another strike happens. And Israel knows that their military is the only one that can carry out additional strikes and get away with it always. And true to form, on April 17, the Israelis and the US did "a joint electronic attack" to get targeting information about the Syrian radar system. And so the shadow ones in Israel and abroad have become desperate. And they are trying to start a new war in the Middle East involving Iran, and and all this is in the interest of Israel because they want to dominate the Middle East region with Arab vassal states.
Watch this video with excerpt by Ken O'Keefe from RT's Crosstalk:
The Ruling Elites Want A New World War – CrossTalk: Iraq – 15 Years On
END
---
Western-Produced Weapons End Up In Terrorists' Hands In Syria – The Proof
RT – July 31, 2018: According to an investigation by war correspondent Robert Fisk a large batch of weapons, discovered in formerly terrorist-controlled areas of eastern Aleppo in Syria, came from the West. Robert Fisk tracked serial numbers on the missile casings, and tried to find out how those weapons THEN ended up in the terrorists hands.
END
---
Moscow and Damascus to stabilize the situation in Syria, letter sent to US Dunford
SPUTNIK NEWS – August 5, 2018: The article highlights that Valery Gerasimov, the head of the Russian Armed Forces General Staff, informed the Chairman of the Committee of the Chiefs of Staff of the US Armed Forces, General Joseph Dunford, about measures taken by Moscow and Damascus to stabilize the situation in Syria, the Russian Defense Ministry said.
In a statement the ministry said: "The Russian Defense Ministry confirms that a letter was sent in July to US Joint Chiefs of Staff Chairman Gen. Joseph Dunford via an existing confidential communications channel."
Particularly, it was said about the readiness of the Russians to work with the Syrian authorities on providing security guarantees to refugees from the Rukban camp in the US-controlled area of al-Tanf and create the necessary conditions for their return to their homes.
A proposal was also made to coordinate issues of humanitarian demining, including in Raqqa, addressing other urgent humanitarian problems to speed up the establishment of a peaceful life throughout Syria and neutralizing attempts to attract terrorists into their ranks," the Defense Ministry noted.
END
---
Free Syrian Army Militants and US Preparing Chemical Provocation in Syria's Deir ez-Zor
SPUTNIK NEWS – June 11, 2018: Russian Defense Ministry spokesman Maj. Gen. Igor Konashenkov said Monday (June 11) that militants of the Free Syrian Army had already brought canisters with chlorine to a settlement in Deir ez-Zor to stage another "chemical attack against civilians."
(BattleForWorld: The United States Ambassador to the United Nations Nikki Haley is probably already being prepped by the neo-conservatives and the Zionists about what to say in her pending speech to the UN Security Council about Syria's Assad using chemical weapons again and that the vassal countries need to bomb Syria. And maybe Ms. Haley will fire-up some drama speech and show pictures and even have at her side a canister of the alleged chemical weapon to convince the vassal countries. Another sad scene in this sick geopolitical play.)
"According to the information received via three independent channels in Syria, the command of the so-called Free Syrian Army with assistance from the servicemen of US special operations forces is preparing a serious provocation with the use of toxic substance in Deir ez-Zor province," Konashenkov said.
"The staffed video, after it is disseminated in the western media, should become new grounds for the US-led coalition to carry out a missile strike against Syrian state objects and to justify militants' offensive against Syrian government troops on the eastern bank of Euphrates," Konashenkov added.
END
---
NATO Weapons Found in Syria Suggest Preparation for Chemical Attack
SPUTNIK NEWS – May 22, 2018: The discovery of gear meant for protection against chemical weapons was part of a vast stock of NATO weapons found Monday by the Syrian military and members of the Russian Center for Syrian Reconciliation in territory recently freed from militants.
Commenting on Monday's weapons discovery, which included gas masks and other equipment, in addition to heavy weapons, retired Lebanese Brigadier General Amin Hteit warned that the chemical protection equipment pointed to a possible preparation for another false-flag attack involving the use of chemical weapons.
"The warehouse find includes a great deal of equipment associated with chemical attacks," the former officer said, speaking to Sputnik.
This means that an incident involving a chemical attack was prepared by NATO countries, with the militants given everything they needed to accomplish it. NATO countries, first and foremost the United States, organize such provocations to allow them to further blame the Syrian government," Hteit added.
END
---
Israeli Weapons Among Arms Handed Over to Syrian Army By Terrorists in Damascus
SPUTNIK NEWS – May 12, 2018: The Syrian Army, backed by the wider coalition of government forces, has made sweeping gains in Damascus in recent months, liberating the entire East Ghouta region via operation Damascus Steel, and recovering chunks of territory in south Damascus, where the Daesh* terror organization maintains a presence.
Terrorists in the south Damascus towns of Babila, Yelda and Beit Sahem handed over their "medium and heavy weapons" to the Syrian Army on Friday, according to reports by the Syrian Arab News Agency (SANA.) The militants will now be transported to the Idlib governorate as part of the agreed transfer deal.
A local SANA reporter said the militants handed over an array of armaments, including weapons produced by Israel. The list of relinquished weapons includes machine guns, sniper rifles, mortar launchers, improvised explosives and landmines.
Both Iran and Syria have accused Israel of aiding terrorists, including Daesh fanatics, in Syria, especially in Damascus and near the Golan Heights.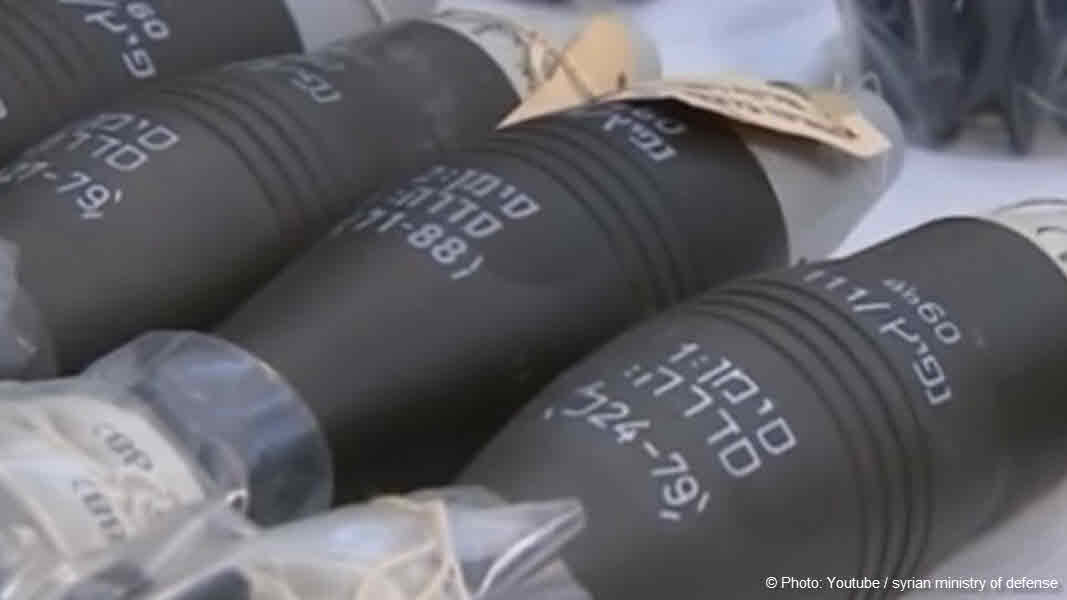 END
---
Syrian script was written in forgotten war on Yugoslavia
RT – May 8, 2018: By now largely forgotten, the 1990s NATO intervention in Yugoslavia paved the way for US-led regime change wars and "humanitarian" bombings: first Iraq, then Libya, and now Syria. RT's Yulia Shapovalova looks back at 1999, and Nebojsa Malic talks with RT America's Anya Parampil about failing to learn from history.
END
---
Russia 'won't allow' another US military action in Syria based on false flag – OPCW envoy
RT – April 26, 2018: Russia's envoy to the OPCW said it was crucial to avoid new false-flag attacks in Syria and that Moscow "won't allow" US military action there, as he described details of Russian findings on the site of the alleged Douma incident.
New false-flag operations against Damascus are "possible, since our American partners are once again threatening to take military action against Syria, but we will not allow that," Russia's permanent representative to the Organization for the Prohibition of Chemical Weapons (OPCW), Aleksandr Shulgin, said during a press conference in The Hague on Thursday.
END
---
Russian envoy says US, UK, France at war with OPCW
TASS – April 28, 2018: The United States, France and the United Kingdom have literally plunged into a war on the Organization for the Prohibition of Chemical Weapons (OPCW), Russia's Permanent Representative to that organization Alexander Shulgin said on Saturday.
According to the Russian diplomat, by delivering a missile strike on Syria these three nations have demonstrated that "they have no regard to the OPCW and are utterly disrespectful to its technical secretariat in the person of OPCW Director General Ahmet Uzumcu."
"In this light, it becomes obvious that it is not Russia but the United States, France and the United Kingdom that are conducting a real war on the OPCW," he stressed.
END
---
US Threatens Syria With New Provocations but Russia Will Not Let It Happen – Envoy at OPCW
SPUTNIK NEWS – April 26, 2018: Head of the Russian delegation Alexander Shulgin said that Moscow sees the alleged chemical attack on April 7 as a provocation, which it warned about in advance. He added that Russia will not allow new such provocations against Syria.
He noted that the only evidence — a "sloppily staged" video shot by a pseudo-humanitarian organization, White Helmets that was intended to "touch hearts". Same strategy as in previous false flag attacks.
He suggested that none of the representatives from the countries that committed the attacks are present at the press conference, because they are afraid to look in the eyes of the young Syrian boy who the witnessed the fake White Helmet's video being shot.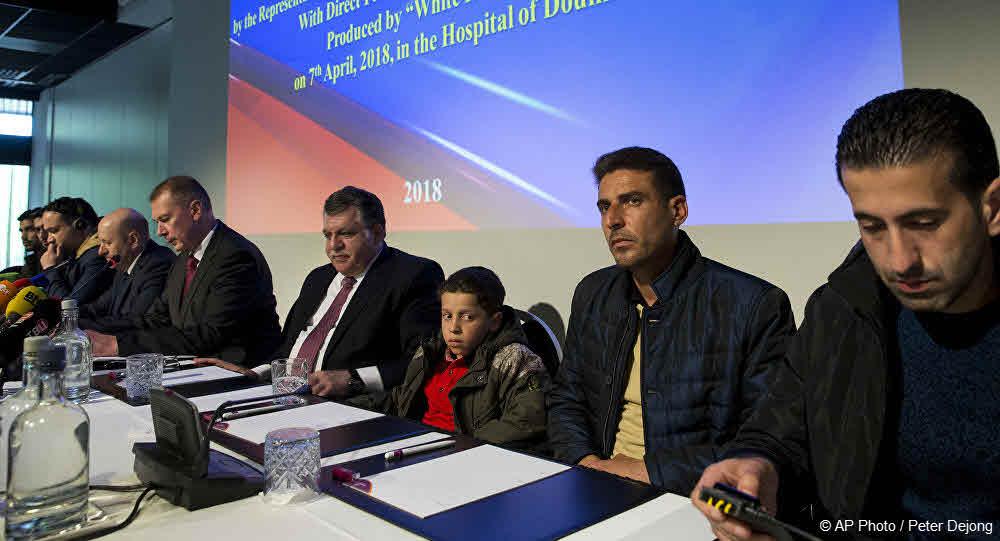 RT – April 26, 2018: Witnesses of the alleged chemical attack in Douma, including 11-year-old Hassan Diab and hospital staff, told reporters at The Hague that the White Helmets video used as a pretext for a US-led strike on Syria was, in fact, staged.
"We were at the basement and we heard people shouting that we needed to go to a hospital. We went through a tunnel. At the hospital they started pouring cold water on me," the boy told the press conference, gathered by Russia's mission at the Organization for the Prohibition of Chemical Weapons (OPCW) in The Hague.
(In the "enhanced" Silent Revolution Of Truth Compilation Edition, the free PDF book: Download and read about the United States and the West using "fake news" to spread wars, antagonize Russia, etc., pages 1072, 1098 and 1374. And the United States and the European Union Dictatorship provoking Russia will only make the country of Russia stronger!!!, page 1443. And President Putin alluded that there was some sort of deception going on with the American presidents and politicians, page 581. And the United States military was purposefully created to aggressively go after and overthrow governments, page 1412.  Note: Use the page number display located at top right to find the correct page. UPDATED, PDF Format – Links: Book Summary | and Download Book)
END
---
US State Department cuts off financing of White Helmets in Syria
TASS – May 3, 2018: The US Department of State has halted its financing of the non-governmental organization, White Helmets, which had been working in war-torn Syria, CBS television channel reported.
According to the US-based TV-channel, the government of the United States accounted for about a third of the overall funding of White Helmets, a humanitarian group that allegedly worked in Syria to help civilians.
"Now they are not getting any US funding as the State Department says the support is 'under active review,'" CBS reported adding that the organization had not been receiving financial funds from the United States for several weeks already.
White Helmets was one of the first among other non-governmental organizations to make allegations that chemical weapons were used in Syria's Douma, Eastern Ghouta, on April 7.
According to the statement posted on the organization's website on April 8, chlorine bombs were dropped on the city to kill dozens and poison other local civilians who had to be brought to hospital.
END
---
Syrian Army Finds Terrorists' Depots With Chemicals Produced in UK, Germany – Envoy
SPUTNIK NEWS – April 26, 2018: The article highlights that the Syrian army had found terrorists' depots with chemicals produced in the United Kingdom, Germany, etc. – envoy reported.
The Syrian government troops continue making surprising discoveries during their campaign to put and end to the war and reinstate order in the country.
"In the depot with chemical weapons left by terrorists in Douma, we have found chemicals from Germany, the United Kingdom, from the Porton-Down laboratory in Salisbury," Syria's deputy envoy to the Organization for the Prohibition of Chemical Weapons (OPCW) said after a briefing in The Hague on April 26.
END
---
Russia has proof White Helmets staged their runner of chemical attack — ambassador
TASS – April 26, 2018: Russia can prove that the footage containing the scene of an alleged use of a warfare chemical agent in the Syrian city of Douma was crudely staged by the so-called White Helmets, Alexander Shulgin, the Russian envoy to the Organization for the Prohibition of Chemical Weapons said on Thursday.
He said it at a news conference where eyewitnesses of the April alleged chemical attack in Douma made their first-hand evidence.
"We can prove today that the White Helmets' runner was a crudely staged product," Shulgin said. "Consequently, the references our Western partners – we call them 'partners' – make to the runner as a piece of evidence of the chemical attack are simply null and void."
"Our news briefing today was aimed to show precisely this fact," he said.
END
---
Israeli PM Netanyahu Reportedly Coordinated Strike on Syrian T-4 Airbase With US
SPUTNIK NEWS – April 18, 2018: Last week, the Russian Defense Ministry said that two Israeli warplanes had carried out an attack on the Syrian T-4 airbase in Homs; Tel Aviv, however, preferred to keep silent about the alleged incident.
According to the Wall Street Journal, citing unnamed intelligence officials and other sources briefed on the matter, the Israeli prime minister had received US President Donald Trump's tacit consent to target Iranian air-defense system deployed at the Syrian Tiyas airfield. After their conversation, Netanyahu reportedly ordered an airstrike on the facility to curb Iranian forces from using new anti-aircraft battery against Israeli jets.
END
---
Israeli defense minister claims right of 'total freedom of action' in Syrian airspace
RT – April April 16, 2018: Israel will not accept any limitations to its operations in Syrian airspace against 'Iranian threat', the defense minister said, expressing hope that "communication" lines with Moscow will help avoid any "friction" in the air.
On Tuesday morning, a series of missile strikes once again targeted Syrian military infrastructure. The Pentagon, which led the coordinated April 14 assault against Syrian targets with its British and French allies, denied its involvement in attacking a new set of targets. Israel, which struck Syria's Tiyas (T-4) airfield in Homs province on April 9, also failed to acknowledge bombing its neighbor.
Yet the new attack against Syria comes just hours after Israeli Defense Minister Avigdor Lieberman vowed to protect the country's national interests through breaching Syrian airspace if necessary.
"We will maintain total freedom of action. We will not accept any limitation when it comes to the defense of our security interests," Lieberman told Walla News on Monday, noting that "all options are on the table."
END
---
US Reporter in Douma: Nobody Heard or Saw Anything Like a 'Chemical Attack'
SPUTNIK NEWS – April 16, 2018: An American journalist who gained access to the war-torn town of Douma, where the US, France and the UK charged that Syrian President Bashar al-Assad used chemical weapons against civilians, says he found "no evidence" of a chemical weapons attack.
"We were brought in with a government escort and shown the areas where the chemical attack allegedly happened. We were able to speak with residents in the area. We were even able to visit the hospital where the White Helmets showed the videos of people being hosed down," reporter Pearson Sharp of OAN revealed in a report from the ground in Syria Monday.
"When I went into the town, we didn't know what to expect, but we were brought to one of the neighborhoods close to where the attack happened. I spoke with a number of residents, probably about 10 residents in that neighborhood. This was about a block and a half from where the attack supposedly happened… Um, not one of the people I had spoken to in that neighborhood said that they had seen anything or heard anything about a chemical attack on that day [Saturday, April 7]," Sharp said.
The reporter said he later spoke with another 30 to 40 residents of the town. "I went up to random people. I know there's a lot of concern from people that the residents being interviewed are plants — they're Russian operatives or they're staged interviews or things like that. We just randomly went up to different people — nobody came up to us — and interviewed probably 30 to 40 people. Consistently, not one person in the town said they heard anything about an attack," Sharp said.
END
---
OAN's Pearson Sharp Refutes MSM Reports of Alleged Syrian Chemical Attack
ONE AMERICA NEWS NETWORK – April 18, 2018: The people of Syria are speaking out against media reports that suggest Assad has planted informants to deny the alleged chemical attack in Douma.
END
---
Russia Has Found People Who Participated in Making Video of "Chemical Attack in Syria" – Envoy
SPUTNIK NEWS – April 16, 2018: Russian experts who conducted the verification of reports on the use of chemical weapons in the Syrian city of Douma, found participants of the video's filming, which was presented as evidence of the supposedly occurring chemotherapy, according to the Russian Envoy to the OPCW.
Not a single witness, not one poisoned person in the hospital could be found. No remains of chemical weapons were found. But we have managed to find direct participants in the filming of the production video, which was presented as 'proof' of the chemical attack," Shulgin said.
END
---
'Whole Douma story was staged': Journos struggle to find proof of 'chemical attack
RT – April 25, 2018: RT's Murad Gazdiev highlights a number of eyewitness accounts from Douma, Syria that people directly involved in the notorious "chemical attack" video actually had no idea about the alleged use of chemicals there.
END
---
Russian Military Finds Chemical Weapons Warehouse in Syrian Douma – Reports
SPUTNIK NEWS – April 17, 2018: Russian troops found a warehouse of substances necessary for the production of chemical weapons in Syrian Douma, media reported Tuesday, citing chemical defense specialist Alexander Rodionov.
The discovered substances, such as thiodiglycol and diethanolamine, are necessary for the production of sulfur and nitrogen mustard gas. In addition, a cylinder with chlorine, similar to that used by militants for setting up the wide-spread fake story, was found in the warehouse. It can be concluded that this laboratory was used by illegal armed groups for the production of poisonous substances," Rodionov said, as quoted by the Zvezda TV channel.
The tensions in Syria have increased sharply in the recent weeks after several media outlets, citing Syrian militants, blamed Damascus for using chemical weapons in the city of Duma in the Damascus suburb on April 7. The Syrian Foreign Ministry denied the claims, saying that the use of chemical weapons in Eastern Ghouta may have been planned by terrorist groups.
END
---
UK Journalist Visits Syria, Local Doc Tells Him Douma Victims Suffered From Oxygen Starvation, Not 'Chem Attack'
THE INDEPENDENT – April 17, 2018: This is the story of a town called Douma, a ravaged, stinking place of smashed apartment blocks – and of an underground clinic whose images of suffering allowed three of the Western world's most powerful nations to bomb Syria last week. There's even a friendly doctor in a green coat who, when I track him down in the very same clinic, cheerfully tells me that the "gas" videotape which horrified the world…the 58-year old senior Syrian doctor then adds something profoundly uncomfortable: the patients, he says, were overcome not by gas but by oxygen starvation in the rubbish-filled tunnels and basements in which they lived, on a night of wind and heavy shelling that stirred up a dust storm.
END
---
Syria: Russian military finds alleged chemical weapons lab in Douma
RUPTLY – April 17, 2018: An alleged chemical arsenal was discovered by Russian servicemen in the basement of a high-rise apartment building in the Eastern Ghouta city of Douma on Tuesday.
END
---
Ex-UN Commission Member: Militants' Lab Equipment in Douma Made in UK or Germany
SPUTNIK NEWS – April 18, 2018: Russian military forces unearthed a warehouse of substances essential for the manufacture of chemical weapons in the Syrian city of Douma in Eastern Ghouta.
"The equipment found in the laboratory, including the chemical reactor, and shown in the video was made in the West, highly likely – in the UK or Germany," Igor Nikulin, a military expert and a former member of the UN's biological commission, told Sputnik.
On April 17, Russian troops uncovered a lab in Douma, which, according to chemical defense specialist Alexander Rodionov, could have been used by terrorist groups for the production of chemical weapons.
The substances discovered, such as thiodiglycol and diethanolamine, are necessary for the production of sulfur and nitrogen mustard gas. In addition, a cylinder with chlorine, similar to that used by militants to set up the widely spread fake story, was found in the warehouse. It can be concluded that this laboratory was used by illegal armed groups for the production of poisonous substances," Rodionov said, as cited by the Zvezda TV channel.
END
---
WATCH Syrian Boy in White Helmets FAKE Chemical Attack Video Reveals Truth
SPUTNIK NEWS – April 18, 2018: Earlier the White Helmets, a Western-backed NGO known for its ties with terrorist groups, released a video showing alleged victims of the false-flag chemical attack in Douma. The US and its allies used the video as a pre-text to conduct a missile strike on Syria.
The Russia 24 TV channel released an exclusive interview on April 18 with a boy, who participated in filming a fake video, as evidence of the false-flag chemical attack in Douma by the White Helmets. In the interview, Hassan Diab says that he and his mother heard loud voices on the street, urging everyone to rush to the hospitals. When Hassan entered the hospital, unknown people grabbed him, poured water on him and then put him with other patients.
We were in the basement. Mom told me that today we don't have anything to eat and that we will eat tomorrow. We heard a cry outside, calling "go to the hospital." We ran to the hospital and as soon as I entered, they grabbed me and started pouring water on me," Hassan Diab said.
"There were no chemical weapons. I smoked outside and felt nothing. I entered the hospital and saw my family. Militants gave them dates, cookies and rice for participating in this film and released everyone to their homes," Hassan's father said.
Нашли мальчика, которого 7 апреля заставили участвовать в инсценировке в больнице Думы. «Расплатились» финиками и печеньем. Подробности скоро на сайте КП. pic.twitter.com/rUfLslD805

— Александр Коц (@sashakots) April 18, 2018
END
---
UN to see interview with Syrian boy pressed into White Helmets staged Douma attack video
TASS – April 19, 2018: A TV report about an 11-year-old from Syria's Douma who was snared into taking part in the White Helmets' staged chemical attack video will be shown to the representatives of the UN Security Council members, Russia's Ambassador to the UN, Vasily Nebenzya, told the Rossiya-1 television channel in an interview on Thursday (April 19).
Earlier, the Rossiya-24 round-the-clock channel aired an interview with the boy who was ensnared into participating in a staged video of an alleged chemical attack in Syria's Douma. In the TV report, the 11-year-old explains how he appeared in the faked chemical attack video spread by the NGO known as The White Helmets. In the same TV story the boy's father says that "the militants gave the boy some dates and cookies to eat" and then let everybody go home. The man says his son had been well all the time and there were "no chemical weapons at all."
"We already have a subtitled copy of the video at our disposal. We will distribute it among the member-countries (of the UN Security Council – TASS) and journalists. At the forthcoming meeting of the UN Security Council we will let everybody see it on the big screen," Nebenzya promised.
END
---
Father of boy in White Helmets footage to testify that 'no chemical weapons used in Douma'
TASS – April 19, 2018: The father of a Syrian teenage boy who can be seen in a video the White Helmets NGO presents as evidence government troops used chemical weapons is prepared to testify before any international organizations that Douma saw no chemical attack.
"My boy had no traces that might indicate he had been harmed by chemical weapons. He looked slightly frightened but healthy. My family and myself are prepared to testify at any place around the world, be it Geneva or New York, chemical weapons had not been used," the boy's father Omar Diab told the media on Thursday.
His eleven-year-old boy earlier told the Rossiya-24 television channel that Jaysh al-Islam militants had given him some date fruit and pastries for participating in the faked video.
END
---
Russian diplomat slams Douma images after alleged chemical attack as '100-percent fake'
TASS – April 19, 2018: Images from Syria's Douma with people allegedly injured in a chemical attack are a 100-percent fake, Russian Foreign Ministry Spokeswoman Maria Zakharova said on Thursday in comments on White Helmets' allegations about chemical weapons used in Douma on April 7.
"A lot of fake materials were spread on social media – images, videos from the alleged sites. Indeed, these locations can be confirmed, but in many cases the situation and the circumstances of what was going on there are invented," the diplomat said.
"This is a 100-percent fake. How is it that dead kids are moved from place to place, if the key goal is to confirm the fact that the attack occurred? Because to spread fake evidence they needed an emotional coloring, they had the task to divert attention from factual inconsistencies," she said.
END
---
Militants May Plot Chemical Attack to Set Stage for Joint Offensive in Syria
SPUTNIK NEWS – April 18, 2018: A military diplomatic source reported on Thursday that Militants in south Syria are planning to launch simultaneous chemical attacks against government forces.
Militants may plot a chemical attack against civilians to set stage for joint offensive, according to the military diplomatic source. The source said that militants are going to launch attacks on government forces in Daraa, al-Baath and suburbs.
Al-Nusra Front* terror group has been advocating joint offensive against government troops on claims of violations of de-escalation regime, the source said.
"Nusra's joint operation headquarters invited other groups in early April… to stage a simultaneous offensive against government troops," the source claimed.
The groups seek to create an autonomous state in areas under their control with US support, the military diplomatic source said.
END
---
Syrian Research Center Struck in US Missile Attack Specialized in Life-Saving Drugs – Employee
SPUTNIK NEWS – April 19, 2018: The Syrian Scientific Research Center in Barzeh, which was left in ruins by last week's US-led missile strikes, specialized in research into cancer drugs and production of life-saving medicines that have been in short supply due to Western sanctions, Saeed Saeed, the head of one of the center's units, told Sputnik.
"Our research institute worked in two directions. [First of all, the center] specialized in the development of chemical formulas for cancer drugs because — due to US and EU embargo — Syria has been unable to import anti-cancer medicines," Saeed said.
He noted that the center also specialized in the production of snake venom and scorpions stings' antidotes and also supplied the life-saving drugs to the neighboring countries.
"The second direction was the production of medicines for hospitals across Syria, as well as serums and antidotes for snake venom and scorpions stings. Our center was the only in the region that produced these drugs over 20 years, and the neighboring countries of Jordan and Lebanon used to purchase them from [Syria]," he pointed out.
END
---
US Lawmaker: Government 'Provided Zero Real Evidence' of Chemical Attack
SPUTNIK NEWS – April 2018: On Thursday, US Congressman Thomas Massie announced that the US director of national intelligence, the defense secretary and the secretary of state had "provided zero evidence" showing Syrian President Bashar al-Assad used chemical weapons against the Syrian people in Douma.
"In briefing to Congress, DNI, SecDef, and SecState provided zero real evidence. Referenced info circulating online. Which means they either chose not to provide proof to Congress or they don't have conclusive proof that Assad carried out gas attack," Massie, a Republican representing northern Kentucky, said in a tweet.
"Either way, not good," the lawmaker concluded.
Senator Rand Paul, also a Republican representing Kentucky, said earlier this week, "I still look at the attack and say, you know, either Assad must be the dumbest dictator on the planet — or maybe he didn't do it. I have yet to see evidence that he did do it."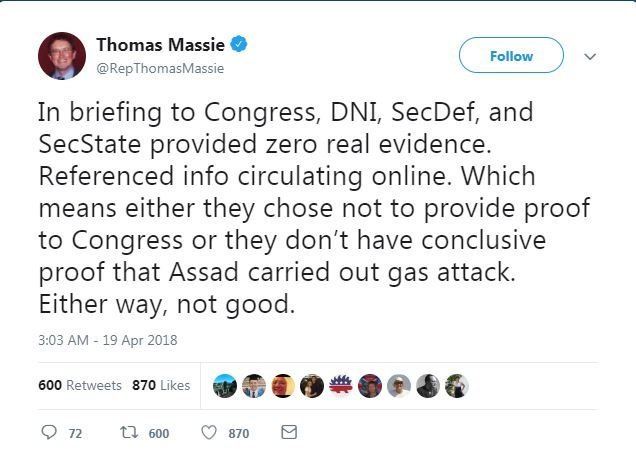 END
---
Russian Military Finds Precursor to Chemical Weapons in Terrorists' Lab in Douma
SPUTNIK NEWS – April 20, 2018: Russian servicemen have found another evidence of manufacturing of military poisonous substances by Jaish al-Islam terrorists in the Syrian town of Douma, where on April 7 a false-flag attack took place, serving as a pretext for the US and allies to blame the government and strike the country.
"During the examination of the chemical laboratory a lot of hexamin was discovered, which is yet another proof that militants had been producing chemical weapons," a specialist of Russia's radiological, chemical and biological defense corps, Alexander Rodionov, told journalists on April 20.
He explained that the substance is used for making explosives as well as sarin-type military poisons such.
END
---
Chemical substance of hexamine found in Douma laboratory – Russian MoD
RT – April 21, 2018: Russian broadcaster VGTRK released video on Friday showing an alleged chemical laboratory in Douma, suspected of belonging to militant group Jaish al-Islam.
END
---
Syrian Army Finds US-Produced Missiles in Militants' Armory in Dumayr
SPUTNIK NEWS – April 21, 2018: The Syrian government forces on Friday have found large amounts of militants' weapons, including those produced in the United States, in the city of Dumayr, located north-east of the Syrian capital of Damascus, local media reported.
On Thursday, the Syrian state TV reported that militants from the Jaysh al-Islam armed group were surrendering their weapons and had started to leave the city with their family members.
In the southern part of Dumayr, the Syrian army has found several US-produced TOW anti-tank missiles, a large amount of rockets and mortars, as well as RPGs, Grad rockets, dozens of improvised explosive devices, mines, and remote detonators, SANA news agency reported on Friday citing its war correspondent.
END
---
Syrian Army Uncovers Cargo of Israeli-Made Arms Smuggled to Terrorists – Reports
SPUTNIK NEWS – May 4, 2018: In late April, several Syrian military bases were struck by missiles in the Hama and Aleppo provinces, with some media suggesting that Israel might be behind the attacks – Tel Aviv, however, refused to comment on the incident.
While Israel has repeatedly expressed concerns over Iran's entrenchment in Syria and its alleged smuggling of weapons to the war-weary country, it appears that the Syrian army has identified and seized a huge cargo of Israeli-made arms, munitions, explosives, as well as digital equipment and drugs, as they were reportedly destined for the terrorists in the northern suburb of Homs.
Having stepped up their offensive on the militants south of Damascus, the army units have also uncovered another stockpile of weapons manufactured in Israel and chemical materials, hidden in a network of tunnels in the areas of al-Hajar al-Aswad and Moghadam.
Last month, the Syrian Arab News Agency (SANA) reported explosions near the cities of Hama and Aleppo, which appeared to be missile strikes on arms depots that were allegedly being used by Iranian-backed forces. A report by the Israeli newspaper Haaretz suggested that the IDF might be responsible for the incident, citing Defense Minister Avigdor Lieberman saying that Tel Aviv would continue to declare that it had freedom to operate in Syria.
END
---
Militants hand 30 armored vehicles to Russian military in Syria
TASS – April 21, 2018: Russian servicemen have seized 30 armored vehicles, machine guns and mortar launches at militants' weapons depot in the past 24 hours, Major General Yuri Yevtushenko, the chief of the Russian center for reconciliation of conflicting sides in Syria, said on Saturday.
"Under control of officers from the reconciliation center, extremists have handed 30 armored vehicles, three vans with large-caliber machine guns, six mortar launchers, three anti-tank guided missiles, 23 tactical missiles, 111 mines, 60 hand grenades, and more than 63,000 munitions for small arms to the Armed Forces of the Syrian Arab Republic," Yevtushenko said.
The Syrian government forces have taken control of the arsenals containing a large amount of munitions.
Over the past 24 hours, Russian military doctors provided medical services to 60 Syrians, including 15 children, Yevtushenko added.
END
---
Syrian Militants Hand Over Missiles Made in USA and Israel
SPUTNIK NEWS – April 23, 2018: According to an agreement reached between Damascus and the militants, they handed over dozens of armored vehicles, as well as small arms, anti-tank weapons and US and Israeli-made missiles.
The state-run Syrian Arab News Agency (SANA) has released footage showing militants handing over a large cache of arms, including missiles allegedly made in the United States, to the government in Eastern Qalamoun, northeast of Damascus.
This wasn't the first time the Syrian media released a video of weapons that were captured from terrorists, some of which were allegedly made in NATO states and Israel.
END
---
OPCW Collects Samples in Douma in Connection With Alleged Chemical Incident
SPUTNIK NEWS – April 21, 2018: The Fact-Finding mission of the Organisation for the Prohibition of Chemical Weapons (OPCW) has visited one of the sites in the Damascus' suburbs of Douma to collect samples in connection with the alleged April 7 chemical attack, the OPCW said Saturday.
"The samples collected will be transported to the OPCW Laboratory in Rijswijk and then dispatched for analysis to the OPCW's designated labs," the OPCW said in a statement.
"The OPCW will evaluate the situation and consider future steps including another possible visit to Douma," the organization added.
END
---
Tomahawk: Secrets Learned From US Weapons in Russia's Arsenal
SPUTNIK NEWS – May 31, 2018: Russia's Radio-Electronic Technologies Concern (KRET) has confirmed that its engineers are using unexploded Tomahawk cruise missiles from April's failed US airstrikes on Syria to help develop new electronic warfare systems. Sputnik looks back at some of the other weapons Russia captured and reverse engineered from US overseas wars over the years.
Tomahawks From Syria
Last but certainly not least are the Tomahawk missiles captured after the US, British and French strikes on Syria on April 14. Finding two unexploded Tomahawks (thought to be of the latest Block IV generation), the Syrian military immediately handed them over to Russia.
Speaking to Sputnik on Tuesday, Vladimir Mikheev, an advisor to the first deputy general director of KRET, confirmed that the captured missiles will be used to boost the capabilities of Russian electronic warfare systems.
Having this missile in hand, we can clearly understand what channels of communication, information and control, navigation and range finding it has…Knowing these parameters, we will be able to more effectively counter these cruise missiles at all stages of their combat deployment," Mikheev said.
And that "The electronics of the current version of the Tomahawk [include] the latest-generation TERCOM [navigation] system, as well as a system of target search and detection. An analysis of these systems will complement the picture, and help expand the capabilities of our early warning systems when detecting missiles of this type," he said.
END
---
Only 23 Missiles From US Destroyers Reached The Targeted Syrian Airfield
SPUTNIK NEWS – April 7, 2017: Only 23 missiles from US destroyers reached the targeted Syrian airfield, it is unclear where the other 36 landed, the ministry said. (BATTLEFORWORLD: What happened to the other 36 cruise missiles? Were they shot down or disabled and if so, by whom?)
"On April 7, at the time between 3:42 and 3:56 a.m. Moscow time [00:42-00:56 GMT] a massive missile attack by 59 Tomahawk cruise missiles was carried out from two destroyers of the US Navy [Ross and Porter], from the Mediterranean Sea, near the island of Crete, targeting Syrian airfield Ash Sha'irat [Homs Province]. According to the Russian data recording technology, only 23 cruise missiles reached the Syrian airbase. It is not clear where the other 36 cruise missiles landed," Konashenkov said at a briefing. Link: Read Complete Article
References – Links:
[ 6 MiG-23 aircraft destroyed in US strike on Syrian airfield, runway undamaged – Russian MoD ]
END
---
Low Efficiency: Only 23 Tomahawk Missiles Out Of 59 Reached Syrian Airfield, Russian MoD Says
BATTLE FOR WORLD – March 20, 2018: As President Trump went into the White House the Deep-State neoconservatives had warfare in the planning for him to attack Syria. And Trump's naivete to the world's geopolitics believe that he was on a mission of good when he gave the orders to launch missiles at Syria based on fraudulent reasons given to him. And according to an article by SputnikNews, Russia's Rossiyskaya Gazeta daily cited military experts as saying that the Rychag-AV jammers added significantly to reducing the effectiveness of the US air strike on Syria's Ash Shairat airbase in April 2017. And now we know that in the background, hidden hands were responsible for the US missiles launched at Syria to go blind and miss their targets.
RT – March 20, 2018 (posted April 7, 2017): The Russian Defense Ministry says the US missile strike on a Syrian airfield wasn't very effective, with only 23 out of 59 Tomahawk missiles reaching their target. The locations of the remaining 36 missiles' impact is now unknown, the ministry added.
The ministry described the combat efficiency of the strike as "quite poor."
"On April 7, 2017, between 3:42am and 3:56am Moscow time, two US Navy destroyers (USS Porter and USS Ross) fired 59 Tomahawk cruise missiles at Shayrat airfield in Homs Province, Syria, from an area near the Island of Crete in the Mediterranean Sea.
"According to our sources, only 23 of them reached the Syrian airbase," Russian Defense Ministry spokesman Major-General Igor Konashenkov said, adding that the points of impact of the other 36 cruise missiles remain unknown.
END
---
Syria hands over to Russia two unexploded cruise missiles found after US strike – source
TASS – April 18, 2018: Two cruise missiles found unexploded by the Syrian military after the US missile strike on April 14 have been handed over to Russia, a source in the Syrian defense ministry told TASS on Thursday.
"Two cruise missiles that did not detonate during the US missile strike on Syria overnight to April 14 were found by the Syrian military. Both are in rather good condition. These missiles were handed over to Russian officer the day before yesterday (April 17)," the source said, adding that both "were sent to Russia by plane yesterday (April 18)."
The United States, the UK and France said the strikes had been a response to an alleged chemical attack in Syria's Douma on April 7 reported by some non-governmental organizations, including White Helmets.
The Russian foreign ministry dismissed that as fake news. The Russian defense ministry stated that White Helmets were an unreliable source, notorious for disseminating falsehoods. The Russian center for the reconciliation of conflicting parties on April 9 examined Douma to find no traces of chemical weapons. Earlier, various official Russian agencies repeatedly warned that preparations had been underway in different parts of Syria for provocations and simulations of chemical attacks that would be blamed on government forces.
END
---
US Special Ops Command: Electronic Weapons Are 'Disabling' US Aircraft in Syria
SPUTNIK NEWS – April 26, 2018: The commander of US Special Operations complained during a recent speech in Florida that electronic weapons are "disabling" US aircraft flying in Syrian airspace.
"Right now in Syria we are operating in the most aggressive [electronic warfare] environment on the planet from our adversaries," General Raymond Thomas said during a speaking engagement at the US Geospatial Intelligence Foundation on Tuesday.
"They are testing us everyday, knocking our communications down, disabling our EC-130s, etc." the general said, referring to the US Air Force's Compass Call electronic attack aircraft, Breaking Defense reported. Some reporters attending the event heard the general say AC-130. These gunships also used in US special ops and have at least one electronic warfare officer on their flight crew lists, according to a US Air Force fact sheet.
It's not clear who exactly Thomas meant when he said "enemies," but Russia is known to have developed advanced EW capabilities, according to EW specialist Lauri Buckhout, a retired US Army colonel. "The Russians have redone and reengineered their entire EW fleet in the last 20 years… The Russians put in millions on upgrades after Georgia," the veteran told Breaking Defense, in reference to the 2008 conflict in the South Ossetia and Abkhazia regions, which Georgia claims as part of its territory but whose self-determination Russia supports.
"They've ended up with killer capabilities, jamming in a multitude of frequencies for hundreds of kilometers," Buckhout said, clarifying that there are other vulnerabilities in US systems that Russian electronic weapons could target, too.
Strategic analysts in the United States observe that one of the most remarkable aspects of Russia's EW capability is how widely integrated it is across domains. "We can't just strip out the EW capability and look at it separately (from) cyber, SIGINT (signals intelligence), air defense," Roger McDermott, a fellow at the Hudson Institute in Washington, said at an event in February.
END