RT – June 12, 2018: North Korean leader Kim Jong-un and US President Donald Trump have signed a "historic" document that would lead to "major change" (many around the world are hoping). they announced at a joint news conference after their first face-to-face meeting in Singapore.
(BattleForWorld: I hope many are not fooled by the Hollywood screen drama regarding the Kim and Trump historic meeting. This many are hoping will hype-up the possibility even more of a Trump second term in the White House. But the neo-conservatives and the Zionists have more geopolitical drama for Trump that could overshadow the atmosphere of Kim Jong-un and US President Donald Trump first meeting. Many will think this, that peace equals capitalism, because that is what they are offering Kim's North Korea: eatery places, low wage factory jobs, the buying of US Treasury Bonds, construction projects, etc. and most importantly, weapons to fight the Chinese. It's an opportunity to pull North Korea away from China, but for how long? Capitalism is like a Hollywood production, the scenes keep changing. And as John Perkins said, the United States will first send in the economic hit-men to try and soften the government leadership using capitalism. Kim owns a chain of restaurants, etc. And if the hit-men fail to corrupt the leadership with capitalism, the jackals are sent in to assassinate the leadership of the North Korean government, if that fails, the next step in military invasion, and examples are Iraq, Libya, Syria, Iran, etc. Russia and China are watching all this drama being played out, because they know what the moves are – all the tricks that are involved. Unpeace at the barrel of a gun.)
END
---
Economic Hitman – The Jackals > Military > Profit
BANANENREPUBLIK IN DEUTSCHLAND – June 12, 2018: Former so-called economic hitman, now whistle-blower: John Perkins.
END
---
Kim Presented With New Seafood Restaurant in North Korea Ahead of Meeting Trump
SPUTNIK NEWS – June 12, 2018: Before starting his voyage abroad to meet with the US president, North Korean leader Kim Jong-un reportedly inspected a restaurant and instructed its management to pay special attention to the menu for international guests.
DPRK Supreme Leader Kim Jong-un visited a new restaurant in the country's capital, as reported by the Korean Central News Agency.
Respected Chairman Kim Jong Un visited the newly completed Pyongyang Taedonggang Seafood Restaurant alongside his wife First Lady Ri Sol Ju. Appreciating the design and construction style of the restaurant, he personally named the new building during his visit. pic.twitter.com/gcLqGkGozw

— Comrade Natalie 🇰🇵 (@NatalieRevolts) June 9, 2018
END
---
Trump Showed Kim An iPad Video Of North Korea's Future – Beach Condos And Hotels
DAILY MAIL – June 12, 2018: The article highlights that Donald Trump included a Hollywood-produced video in his presentation to Kim Jong-un during nuclear talks in Singapore. The four-minute film showed Kim as a leader at a crossroads and urged him to choose a more economically and technologically open future. And that part of the footage included a wide shot of a beach and an image of speedboats. Trump said he saw the video and thought North Korea has 'great beaches' and is situated perfectly between the economic powers of China and South Korea. The main image, showing a pair of condominium spires, was shot in Miami He said he encouraged Kim to consider a future that included condo and hotel developments in his country.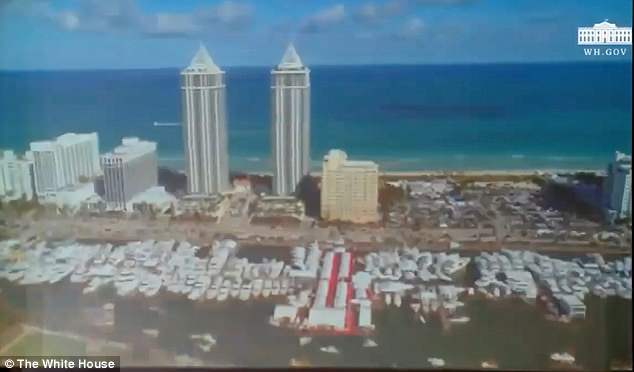 Photo from White House presentation shown by President Trump on iPad to DPRK Supreme Leader Kim Jong-un.
END
---
Classified Israeli Report Hints Trump-Kim Summit a Glorified Photo Op
SPUTNIK NEWS – June 14, 2018: According to a classified report from the Israeli Foreign Ministry, the meeting between US President Donald Trump and the North Korean supreme leader Kim Jong Un in Pyongyang was a glorified photo opportunity in which the US "retreated from its positions."
Regardless of the smiles in the summit, many in Japan, South Korea and the US Congress doubt that North Korea is sincere in its intentions. Our assessment is that regardless of President Trump's statements about quick changes that are expected in North Korean policy, the road the [sic.] real and substantive change, if it ever happens, will be long and slow," the classified report, obtained by Axios' Barak Ravid Thursday afternoon, states.
END
---
Gazprom Returns to Idea of Building Gas Pipeline to South Korea Through DPRK
SPUTNIK NEWS – June 15, 2018: The article highlights that the Russian gas giant's announcement comes in the wake of the recent warming of relations between Seoul and Pyongyang, and a general cooling of tensions in the region.
The political situation at the moment is now somewhat different, and the South Korean side has appealed to Gazprom regarding the resumption of this project," Gazprom board of directors deputy head Vitaly Markelov told reporters, speaking about the pipeline idea.
"A series of negotiations has been conducted on this issue, and negotiations are continuing," Markelov added.
The idea of a Russian gas pipeline into the Korean peninsula first appeared in 2008, when Gazprom and Korea Gas Corporation signed a memorandum of understanding on the delivery of gas supplies from the Sakhalin-Khabarovsk-Vladivostok pipeline to South Korea, with 700 km of the proposed 1,100 km pipeline passing through North Korea. The pipeline would have had a capacity of about 20 billion cubic meters per year, with deliveries divided between North and South Korea.
END
---
Why Trump-Kim Summit is 'Big Win' for China and Loss for EU
SPUTNIK NEWS – June 13, 2018: The June 12 meeting between US President Trump and North Korean leader Kim Jong-un may usher in a new era for the Asia-Pacific, CNTV Panview analyst Tom McGregor told Sputnik, predicting certain bumps in the road of the US-North Korean deal's implementation and explaining why the Singapore Summit means a big win for China.
The Trump-Kim summit in Singapore on June 12 has emerged as an historic meeting for the ages that sets the stage for Asia to prevail as the powerhouse region for our world in the 21st century, while the United States remains actively engaged in partnership with the continent," says Tom McGregor political analyst and Asia-Pacific commentator for China's national TV broadcaster CNTV.
According to the Beijing-based analyst, Kim Jong-un's decisions to move forward on global peace "took tremendous courage on his part and he deserves praise for doing so."
At the same time, McGregor highlights that those "critics who are blasting [US President Donald] Trump for even holding dialogue with Kim are either blinded by political partisan lunacy or fail to comprehend why diplomacy should play a crucial role to resolve international disagreements."
If Kim sought to keep his nukes, he would have no reason to meet Trump, face-to-face," the analyst, who has predicted from the outset that the historic meeting would take place against all odds, noted.  "You can't trump the Trump. He's from New York and earned billions of dollars making huge real estate business deals.
"Take a note that European Union member-states and all other Western countries outside Asia (except for Russia) had no engagement whatsoever with the talks," McGregor underscored. "A few days earlier Trump had departed from a G7 Summit in Canada without even signing a simple joint communique — that signals the EU is not worthy of consideration when addressing major diplomatic issues impacting the world at large."
END
---
South Korea and the World Bank Expand Successful Partnership to Tackle Critical Development Challenges
WORLDBANK – June 12, 2018: Building on a successful partnership over the last four years, the World Bank and the Government of (South) Korea agreed this week to a three-year extension of the World Bank Group Korea Office Trust Fund Agreement.
During its first phase of operations from 2014 to 2018, the office supported a broad range of development partnerships and programs by leveraging the World Bank's knowledge and convening power and Korea's impressive development experience.
The new agreement covering the office expansion over the next three years combines the World Bank's priorities and Korea's comparative advantages.
The Republic of Korea has graduated from IBRD, but actively engages with the World Bank Group in productive ways as a knowledge and learning partner, and an important contributor to the International Development Association (IDA) and World Bank Group trust funds to address global development challenges.
END
---
Biggest risk to world economy is war if US clashes with North Korea
THE TIMES – June 12, 0218: Times writers chart the potential flashpoints and challenges that lie ahead for leaders of the world economy in 2018.
Mr Trump signed off on his tax cuts just before 2017 was out, handing him his first legislative victory since taking office in January. The cuts will have a significant impact on the American economy and will send ripples across the world.
END
---
Jared Kushner Swore at Israel's Ambassador for Acting Like He Owned the Place
HAARETZ – June 13, 2018: The article highlights states that on February 13, 2017, the day that Michael Flynn was forced out as national-security adviser, Dermer reportedly went to the White House to try to arrange for Trump to sign secret documents, as other presidents had done, which the Israelis saw as an American commitment not to ask them to give up their undeclared nuclear arsenal. Dermer asked to meet privately with Flynn, prompting aides to explain that he could not dictate whom he wanted to meet with. Advisers felt like they were being taken advantage of, said the Haaretz article.
(BattleForWorld: I wonder if Kim Jong-un is going to see this bit of news about Israel wanting Trump to sign secret documents on not to talk about Israeli nuclear arsenal.)
END
---
Russia Ready to Assist in N Korea's Denuclearization
SPUTNIK NEWS – June 12, 2018: Russia welcomes the summit between North Korea's leader Kim Jong-un and US President Donald Trump, however, one round of negotiations is unlikely to lead to any significant results, Deputy Chair of the Russian lower house's Defense Committee Yuri Shvytkin told Sputnik on Tuesday.
The very meeting between Kim Jong-un and Trump, taking into account that the initial positions, which currently exist, are quite unfavorable for the holding of the meeting,… is welcomed. But at the same time I believe that today one round of talks, one summit will not yield any considerable results," Shvytkin said
"Russia is ready to facilitate a peace settlement on the Korean Peninsula, the process of the denuclearization should be decided on within the group of six negotiators. Pyongyang, for its part, expects security assurances from the international community, first of all, from the United States," Dzhabarov indicated.
END
---
Russia urges North Korea, US to take action for settlement of Korean Peninsula situation
TASS – June 12, 2018: The article highlights that Moscow considers the termination of provocative actions to be an important step towards reduction of tensions on the Korean Peninsula. Russia's Foreign Ministry has urged the United States and North Korea to thrash out modalities of multilateral consultations for settlement of the situation, according to the statement released on Tuesday (June 12).
"We are convinced that the termination of provocative actions is an important step towards reduction of tensions around the peninsula and creation of confidence there," the statement said. "We are urging the partners to start developing the modalities of multilateral consultations, which we consider targeted at creation of a sustainable mechanism of peace and security based on legal interests of all Northeast Asian countries taken into consideration," the ministry added.
END
---
No, Thanks: Why Russia is Wary of Borrowing Abroad
SPUTNIK NEWS – June 12, 2018: Worried by Russia's small foreign debt, international creditors are advising it to borrow more, but Russia's Central Bank believes that investments, not loans, are the way to go.
Russia's $525-billion foreign debt is dwarfed by $7.5 trillion in Britain, $5 trillion in France, $4.8 trillion in Germany and a whopping $21 trillion in the US.
This tell-tale ratio was not lost on IMF Managing Director Christine Lagarde who, when speaking at the recent St. Petersburg International Economic Forum, described Russia's foreign debt as "considerably small" and said that it should borrow more.
(BattleForWorld: Russia knows the economic hitman game play, and so they do not fall for the tricks. Right now, in the Ukraine, the economic hitman are at work overtime blinding the Ukrainians [and Eastern Europe] government and population with glitz and glamour, the entrappings of capitalism – accumulating massive debt.)
END
---
Summits are tricky: Kennedy, Nixon and Reagan learned the hard way
PILOT ONLINE – June 12, 2018: In his 1961 inaugural address, President John F. Kennedy spoke about the possibility of daring diplomacy to thaw even the coldest of relationships: "Let us never negotiate out of fear. But let us never fear to negotiate."
Those words, often cited by President Barack Obama, could also be repurposed by President Donald Trump — if the 45th president were into quotations — as he embarks on the highest-stakes U.S. summit in a generation, sitting down in Singapore Tuesday with Korean dictator Kim Jong Un.
Historians generally share that conclusion. Their understanding of that and other consequential summits, like President Richard Nixon's 1972 trip to China and the meeting between President Ronald Reagan and Russia's Mikhail Gorbachev in 1986, especially worries them about grave risks of Trump's brash, media-centric diplomacy as he comes face-to-face with Kim.
It's been less than a year since Trump threatened to "annihilate" Kim, whom he called "Rocket Man." He has since softened his words, but he believes his bellicose rhetoric, amplified on Twitter, had a significant role in getting North Korea to suggest face-to-face talks.
"Given his admiration for Nixon, Trump could be using it as a model," said John A. Farrell. But Nixon's efforts to scare Russia did not bear fruit. What did work was his 1972 visit to China, which restored a diplomatic relationship between the two world powers. That triumph occurred only after years of diplomatic spadework, including a secret visit Henry. Kissinger to China a year earlier.
END